Jersey-born and based international Blues Star Giles Robson's intimate show 'Up Close With The Blues' has sold out 10 nights in one of the most highly competitive ticket sales environments in the world.
One of the greatest celebrations of arts and culture on the planet, The Edinburgh Fringe has nearly 60,000 performances of over 3,500 shows across 320 venues and is surpassed only by the Olympics and the World Cup in terms of global ticketed events. Robson's show also stood out because it was one of the festival's most expensive tickets.
The show 'Up Close With The Blues' tours globally, performed in beautifully intimate venues handpicked by the show's star, the internationally acclaimed blues master Giles Robson. The venues are chosen for an atmosphere and feeling that enhances the beauty, emotion and humour of the blues.
The show took place in Ryrie's Bar, presented in the wonderfully atmospheric upstairs room of the exquisite, lovingly restored 160 year pub on Edinburgh's Haymarket. Top Edinburgh reviews site Arts Reviews Edinburgh has described the experience of the 'Up Close With The Blues' a 5 Star review: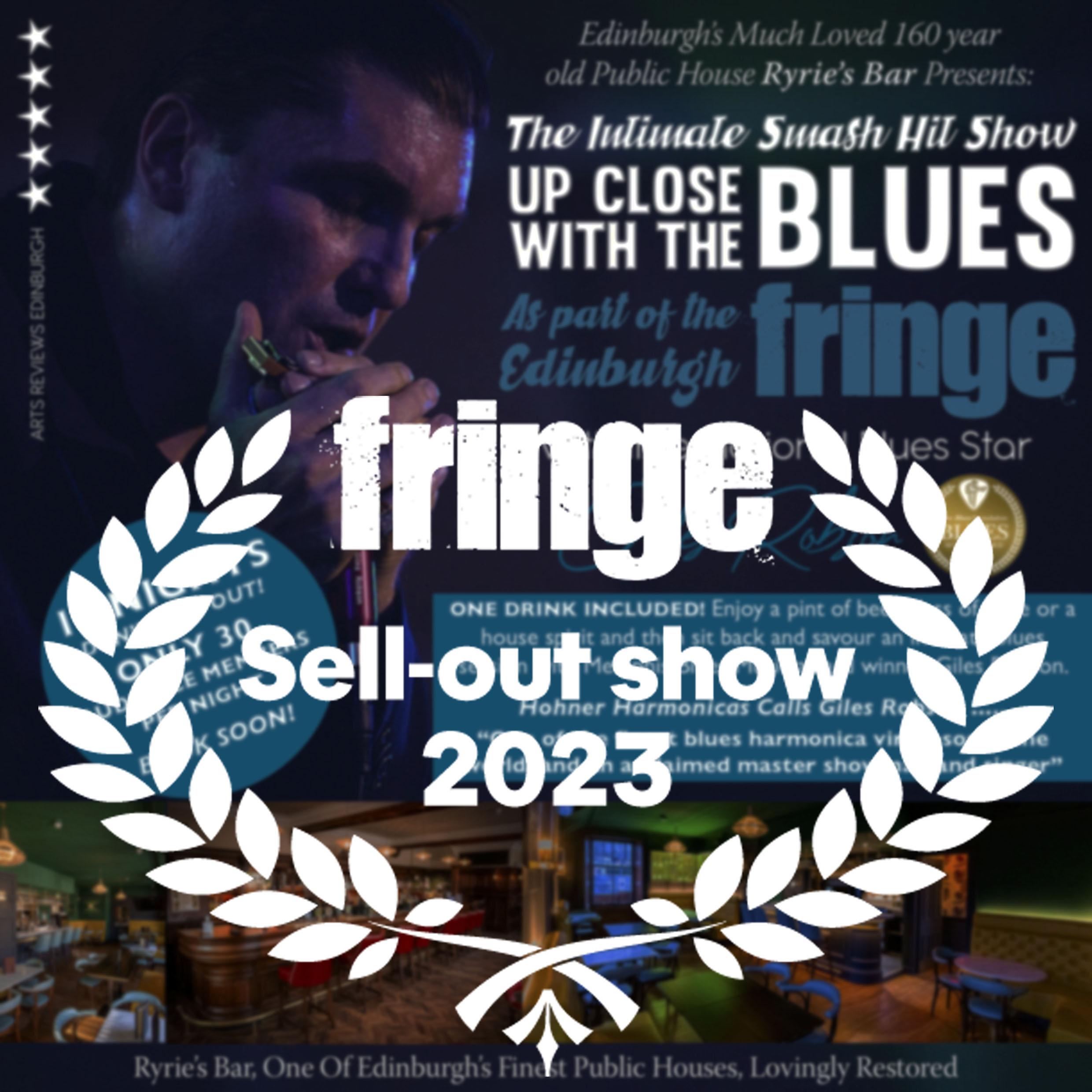 "Blues music as it is meant to be heard – in a small setting, close to the audience, not on a huge stage where the audience are small shapes on some distant horizon. The blues is full of warmth and humour, and it is this same personal warmth and humour that Giles Robson so effortlessly brings to stage with him to put his audience at ease and connect with them immediately. A virtuoso display of just what a range and depth of music and emotion the blues-harmonica is capable of in the right hands. Giles also is a fine blues vocalist, and for me it is always the human voice that is ultimately the defining sound of The Blues."
Giles was accompanied by leading Edinburgh guitarist Sandy Tweeddale. Tweeddale is well known for his time with famous Scottish blues band Blues 'N Trouble and his own solo and band shows across the Scottish capital. On the last night Robson and Tweedale were joined by two world leading double bass playing players – Joeseph Trudgeon from Bristol and Smitti Supab from New Orleans with whom they had met in an after hours jam in The Royal Oak – a famed jazz and folk pub.
You can catch Giles Robson in Jersey on at his monthly residency at the Porter's Store in the basement of the Pomme D'Or Hotel  Thursday October 26th, Thursday 30th November, Thursday 21 December.
---
Pictured: Blues Harmonica player and singer Giles Robson and Sandy Tweeddale on guitar playing a concert at Ryries Bar, August 10th 2023 in Edinburgh. Photo Credit: Arch White