Cinema and the arts are more paramount than ever in these times when Covid-related rules have meant the arts have suffered during the past year.
Cinestef at The Savoy has now reopened and offers three movie showings a week on Tuesdays, Thursdays and Sundays.  You can enjoy the comfy couches and seats, a meal and drink while watching the films on a big HD screen and 5.1 sound system.
Every week, Stefan Rousseau, the curator of these movies nights, will offer you a short review of each film shown.
Here is this weeks line-up…
Tuesday 20th April 6pm – Druk aka Another Round
Druk aka Another Round (2020) by Thomas Vinterberg (Festen/The Hunt) with Mads Mikkelsen (Casino Royale, The Hunt, Dr Strange, Rogue One), in Danish with English subtitles on Tuesday 20th April from 6pm.
Thomas Vinterberg became an international sensation and the revelation of 1998 with the masterpiece that is Festen.  He then moved to the USA for a series of interesting but not very successful films.
He came back at the forefront of independent world cinema with the fascinating and intense The Hunt with Madds Mikkelsen.  The duo is striking again with the extravagant starting point that our bodies have a permanent need of alcohol.  Four teachers decide to test this theory fully.
The film goes beyond all expectations, using comedy at times and being a joyful celebration of humanity on the whole but also scanning the human soul and its cracks.  Mikkelsen and his friends have to lose their bearings to find themselves again.  Vinterberg and Mikkelsen reminds us that we need to live, dance, make love, again and again, that we should be guided by the love of life.
This message has never been more important than now as is this great work of art.
---
Thursday 22th April 6pm – THX1138
THX1138 (1971) by George Lucas with Robert Duvall and Donald Pleasance on Thursday 222nd April from 6pm.
George Lucas is the man we all know as the creator of the most popular modern mythos, the Star Wars saga. He is also the man behind the Indiana Jones saga as well as the father of blockbusters, merchandising and the concept of a full universe surrounding his creations.
But before all this, he was a very passionate and idealistic student in filmmaking. This is his first movie called THX1138.  It is a visually stunning dystopian sci-fi film which has for its main goal, to make comments on consumer society, normalization, the general stupor created by television's omnipresence, the role of the church, and the repressive nature of the society of the late 60's.
He used 1984, Brave New Worlds and Fahrenheit 451 as models and sources of inspiration mixed in with French New Wave cinematic novelty.  It is as symbolic, abstract and allegoric in its visual and narration, as Star Wars is all about heroic storytelling, western tropes and flashy visuals.  Lucas is helped by an omnipresent sound design which is often taking over dialogue to become very meaningful.  Not to be missed!
---
Sunday 25th April – The Thin Red Line
The Thin Red Line (1998) by Terrence Malick (Days of Heaven, The New World, The Tree of Life) with Jim Caviezel, Sean Penn, Nick Nolte, George Clooney, John Cusack, Adrian Brody, Woody Harrelson, Jared Leto, John Travolta on Sunday 25th April from 3.30pm.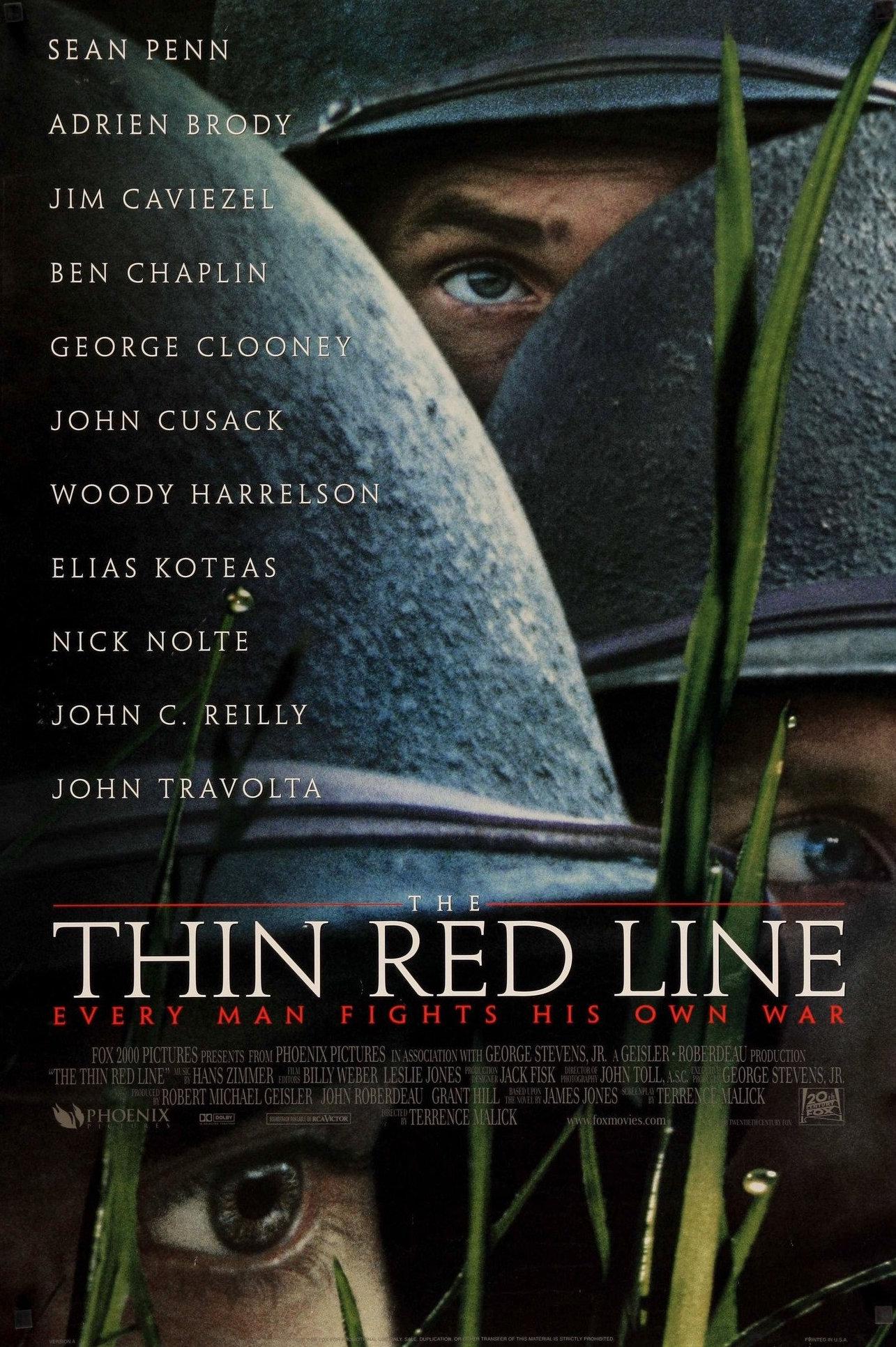 Terrence Malick is a bold filmmaker who only directed two movies in 25 years before this one, but was already a highly respected and renowned director.
Both Badlands (1973) and Days of Heaven (1978) are visually stunning, original and very cinematic.  What were the chances that 20 years after his second film, he would come back with an epic 2h50 long poetic and philosophical war film around the often forgotten episode of US Warfare, The Battle of Guadalcanal?
Nevertheless, Malick delivered a new movie that defied expectations by mixing metaphysics reflections on what makes us human with a proper war film and making it more about the characters than the battles.  Almost New Age at times, often sensual and mystical in its evocation of the original nature but also stuffy and frightening during its battles scenes.
The Thin Red Line joins the select club of War movies that transcends the genre with Apocalypse Now and Full Metal Jacket.