Cinema and the arts are more paramount than ever in these times when Covid-related rules have meant the arts have suffered during the past year.
Cinestef at The Savoy has now reopened and offers three movie showings a week on Tuesdays, Thursdays and Sundays.  You can enjoy the comfy couches and seats, a meal and drink while watching the films on a big HD screen and 5.1 sound system.
Every week, Stefan Rousseau, the curator of these movies nights, will offer you a short review of each film shown.
Here is this weeks line-up…
Tuesday 25th May 6.00pm – What we do in the shadows
What we do in the shadows (2014) by Takai Waititi and Jermaine Clement with Takai Waititi, Jermaine Clement and Cori Gonzalez Macuer on Tuesday 25th May from 6pm at the Savoy.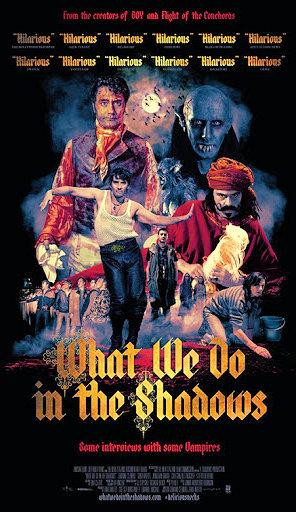 Vampires have been a source of terror but also regularly of comedic moments with more (The Fearless Vampire Killers by Roman Polanski) or less (Dracula, dead and loving it by Mel Brooks) success.
But Waititi and Clement have not opted for a parody or an openly slapstick approach, but for a radical demythification of the vampire archetypes. The movie is truly a peculiar mockumentary where vampires are in the end very human with all their flaws exposed, untouched by the passing of time as much physically as intellectually or emotionally. They are idiots, pathetic musicians, clumsy, proud and fighters.
The pathetic and the grotesque is not only very very funny but also almost touching at times and makes these character exist and endearing in the end, while on paper, they could have been simple caricatures. They are a bunch of true losers and the comic moments are often enhanced by the gap between the perception that they have of themselves, the vampire mythos and their actual reality.
For once, a movie that is openly designed for entertainment is behaving as such without using clichés, or a SFX-fest and takes the p*** of it's character and genre with a loving passion, it would be a shame to not celebrate it.  As it is also the first opus of a new comedian and artist on the international scene, this is really a no-brainer. Plus, I strongly advise you to watch the brilliant eponymous TV series by Jermaine Clement (and Waititi producing now that he is directing the likes of Thor Ragnarok and Jojo Rabbit) which is really worth your attention.
---
Thursday 27th May 6.00pm – Black swan
Darren Aronofsky is a fascinating director on all levels and Black Swan that will maintain this well deserved and justified reputation.
The classic story of the inner battle between good and evil, innocence and bestiality and also the quest for perfection, the obsessive nature of humans and martyrdom/self sacrifice have always been at the heart of his movies (Pi, Requiem for a dream, The Fountain, The Wrestler, Mother!) but never more so that in Black Swan.
Ultimate dedication, pain, schizophrenia and repressed sexuality are on the programme of this fable which is absolutely transcended by an incredibly involved Natalie Portman who delivers truly astonishing physical and emotional performances. Aronofsky shows his sense of rhythm through all the cinematographic, which means that he is in control like few other filmmakers can from the direction, the editing by the framing and the use of the sound and music for maximum meaning, impact and truly physical impact on the spectators.
If the movie is relatively simple and direct, it is also very complex and highly surreal allowing for many viewings and deeper experience each time. And an intense experience it is for sure, not the faint of her art but highly rewarding and unforgettable.
---
This is our last movie before our summer break to be back mid to end September with many more movie dining experiences between classics, independent, art and popular films.
Keep the tickets link and especially keep on reading Channel Eye Media for its excellent content and to be notified of the return of Cinestef at The Savoy.
---
All image rights acknowledged.