Skipton International, the Guernsey bank, has announced the date of this year's Skipton Cup.
The football tournament between FC Isle of Man and Guernsey FC will take place on Saturday 23rd July on the Isle of Man. It will be a 6.30pm kick off.
This follows 2020's successful tournament, when the teams bonded so well that discussions were soon underway to facilitate an annual event. Sadly, the pandemic prevented the 2021 tie from taking place.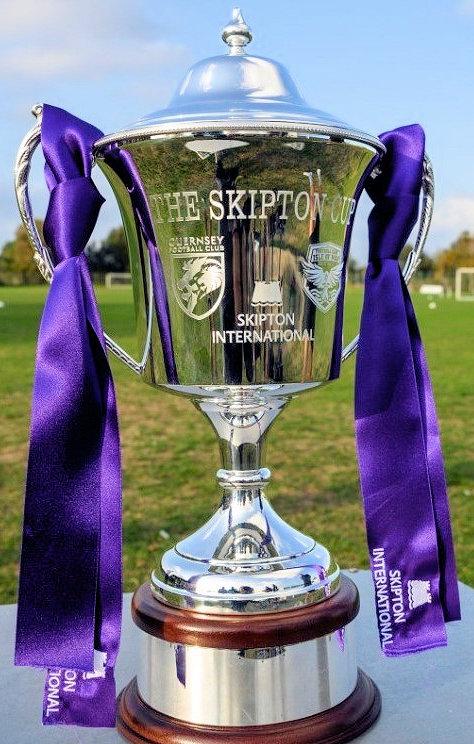 Guernsey currently hold the silverware and are keen to defend their title and both clubs are seeking to take advantage of the unique relationship the two islands have formed. Skipton International has signed a three-year agreement to sponsor the matches.
Skipton International Managing Director, Jim Coupe, said: "As an award-winning island bank, we appreciate the complexities of sporting life on a small island. The annual Skipton Cup between Guernsey FC and FC Isle of Man will ensure the competitive edge between the two will endure, providing sporting excellence for fans across both Crown Dependencies.
FC Isle of Man Football Club Chair, Gill Christian, said: "It is really exciting for the club to compete again against the Green Lions at The Bowl and it promises to be an exciting game for both sets of fans.
"FC Isle of Man, Guernsey FC and Skipton International are all organisations which build strategically and plan for the future. The Skipton Cup is an integral part of both clubs' pre-season preparations for the years to come."
GFC Director Nic Legg is equally excited about the upcoming July match: "The friendships we made in the Isle of Man the first time we played were genuine and we are very excited about travelling to the Bowl for the Skipton Cup.
"This Cup is something we will all be able to look back on fondly in years to come as an oasis of sporting joy that started amid challenging times."
---
Three-night B&B packages – including direct flights from Guernsey – are available, starting from just £395 per person. Please contact: Telephone number 01624 654654 or email travel@VisitIOM.co.uk