Imagine if travelling between Jersey, Guernsey and Alderney was as easy as catching a bus? What if there was a safe, fast, comfortable and cheap transport solution for getting around the Channel Islands. Even better, what if it produced zero carbon emissions? 
We're all used to seeing visions of the future in which electric aircraft hover from one skyscraper to the next, and while this might seem far-fetched, the reality is that the aviation industry is already heading down the path to zero-emission flight.
For the Channel Islands, the future could come sooner than anticipated as they have been selected as the launch venue for one of the most exciting technological advancements in aviation. By 2024, islanders could become the first commercial passengers in the world to be whizzing about in electric Islander aircraft. And the benefits don't just stop with clean, convenient travel. 
The Channel Islands could become a world-leading centre for the operation and maintenance of this cutting-edge aviation technology, providing hi-tech, green jobs. In the post-Covid parlance of revive and thrive, electric aviation might just provide a much-needed economic opportunity.
"We expect the first commercial passengers in the spring of 2024. Those nine passengers will herald an entirely new era in aviation. How exciting is that?" said aviation consultant Mark Harrisson of Harrisson Aviation, a consultancy spearheading plans for an electric airline in the Channel Islands.
"We want the Channel Islands to be on the world-leading edge of electric aviation because it would be something that we could all benefit from."
"This year, we have lived through the most terrible thing. So many people have lost their lives and countless others have been affected in a huge variety of ways. But what if electric aviation offers an immense and positive opportunity ?"
Why the Channel Islands?
Harrisson Aviation has launched E-Flight Systems, an organisation that is collaborating with Project Fresson. The project's electric Islander design is the vanguard when it comes to the electrification of twin-engine public transport aircraft, and with UK government backing and partners including Cranfield Aerospace Solutions, Rolls-Royce PLC, Denis Ferranti Group and Delta Motorsport, it's a project with pedigree.
The Britten-Norman Islander aircraft is at its heart and was chosen because it is rugged, simple and safe, and its original design allows for quick and cost-effective modification. It's also no stranger to the Channel Islands, having once been in regular use on inter-island routes.
Mark, a former Rolls Royce engineer who lived in Brecqhou for 18 years and Alderney for 10 years, before moving to Guernsey five years ago, explained why the Channel Islands were chosen as the location to pilot the new technology: "The short inter-island routes and the islands' mature finance industry are all an ideal match. Plus, they have high quality public relations and media services which can follow the process and present to the world the forward looking, tech savvy, positive nature of the islands, showcasing their social, economic, business and finance capabilities."
Also, the electricity provided to Guernsey is from 100% renewable sources in France, which would make the flights completely free of carbon emissions. 
"One of the very reasonable criticisms we get is that producing electricity isn't always a carbon-free process, so finding out Guernsey's electricity is from 100% renewable energy is really wonderful news".
Green Air airways
While E-Flight Systems focuses on the technical development of electric-powered planes, Green Air, which will be based in Alderney, is the airline that will put these electric planes into scheduled commercial service. 
With funding underway for an initial £7m., Green Air's first Islander will soon be purchased and sent for modification and testing at Cranfield Aerospace Solutions. If everything goes to plan, this will be the airline's first electric plane and will be flying passengers in by spring 2024.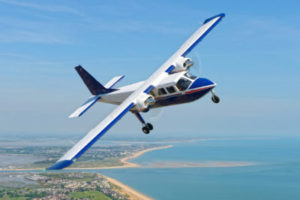 It's hoped a second aircraft can be purchased and put into operation by spring 2021, though this one will keep its hydrocarbon engine. The fleet will have five planes in total. 
"We'll start operating carbon-producing Islanders to get the airline up and running, so we can address local issues, start getting a flow of funds into the Channel Islands, and start getting the message out there – letting people get to know what the project is all about and how they will benefit from it", said Mark.
"But there has to be a profit motive or none of this will happen, so there is a separate arm of the business that will take place in parallel and provide financial stability. Operating an Islander on inter-island flights alone won't do that".
"Steady financial income for Aurigny"
Mark is in conversations with Aurigny about the possibility of wet leasing a Dornier 228NG. A wet lease is an arrangement whereby one airline – in this case, Aurigny – provides an aircraft, complete crew, maintenance, and insurance to another airline (Green Air), which acts as the broker of air travel and pays by the hours operated. 
"We would provide the passengers and arrange the routes – like Alderney to Southampton, for example. There are routes we believe would be profitable. It would offer steady financial income for Aurigny, reduce their losses, and the two airlines would work in collabroration," said Mark.
"Aurigny suffered losses of about £10m. pre-Covid – and post-Covid, you tell me? It's the tax payer who picks up the bill. We've been in conversation with them for many months, and they're in a very difficult position. What we're doing is offering them a way out of a difficult corner".
Electric ferry travel
Mark's also been in talks with Travel Trident, the ferry operator between Guernsey and Herm, about the possibility of fitting its boats with electric engine technology. 
"We're trying to get the extra funding to have the vessels modified. It's the same technology as the planes, only it's easier. That said, water and electricity and people don't mix, so it needs to be done in a very, very disciplined way".
Fighting for the future
The pandemic, Mark believes, has made clear the aviation industry's contribution to global pollution; when air travel stopped, air quality around the world improved. This, he hopes, will put push electric aviation into the spotlight and encourage governments, investors, and consumers, to support green air projects. 
"What Covid has done is show, in real time, the carbon emissions produced by the aviation industry. When air travel reduced, we saw the environmental benefits", he said.
"I'm 67 years old but for the generation in their twenties, they have to be looking to the future. There is no question, global warming is real. It's here. We've got to act very, very fast. We might be taking baby steps but if everyone takes baby steps, they soon add up".
Harrisson Aviation will be holding a presentation on Onday 5 October, 8.30am, at the Digital Greenhouse in Guernsey.