National Coding Week​ is back and this year it is highlighting how age is no barrier to learning new skills. With the 'new normal' meaning working from home or being physically distanced, most people have had to adapt and become more digitally connected.
When you are a resident of a care home, it's important to your well-being that you are able to maintain contact with your loved ones.
When lockdown happened, ​Les Hoûmets​ Care Home​ in Gorey, Jersey, sprang into action. Activities coordinator ,​James Seargeant​, spoke to residents and their families to see which technology would be best suited to helping families stay connected.
J​ames ensured that the right technology was available and he personalised the training for each resident or family. Some families were familiar with ​WhatsApp​, whilst others preferred ​Facetime ​or ​Zoom​. Some were used to video calls using a phone others preferred tablets or computers. After doing his audit he helped each resident and family member learn the necessary skills.
"There were lots of magical moments," said James, "including the time we connected one of our residents with her whole family on her birthday. She had a five way conversation with family who were in the UK. Whilst this was taking place we also had her Jersey family outside the window of the home but on the five way call as well!"
On another heart warming occasion, Hannah, the granddaughter of resident Syd, was able to perform a special song for her grandfather that she had recorded on ​WhatsApp​. James was able to play it on the big television screen so Syd could see and hear the song. It was a very special moment.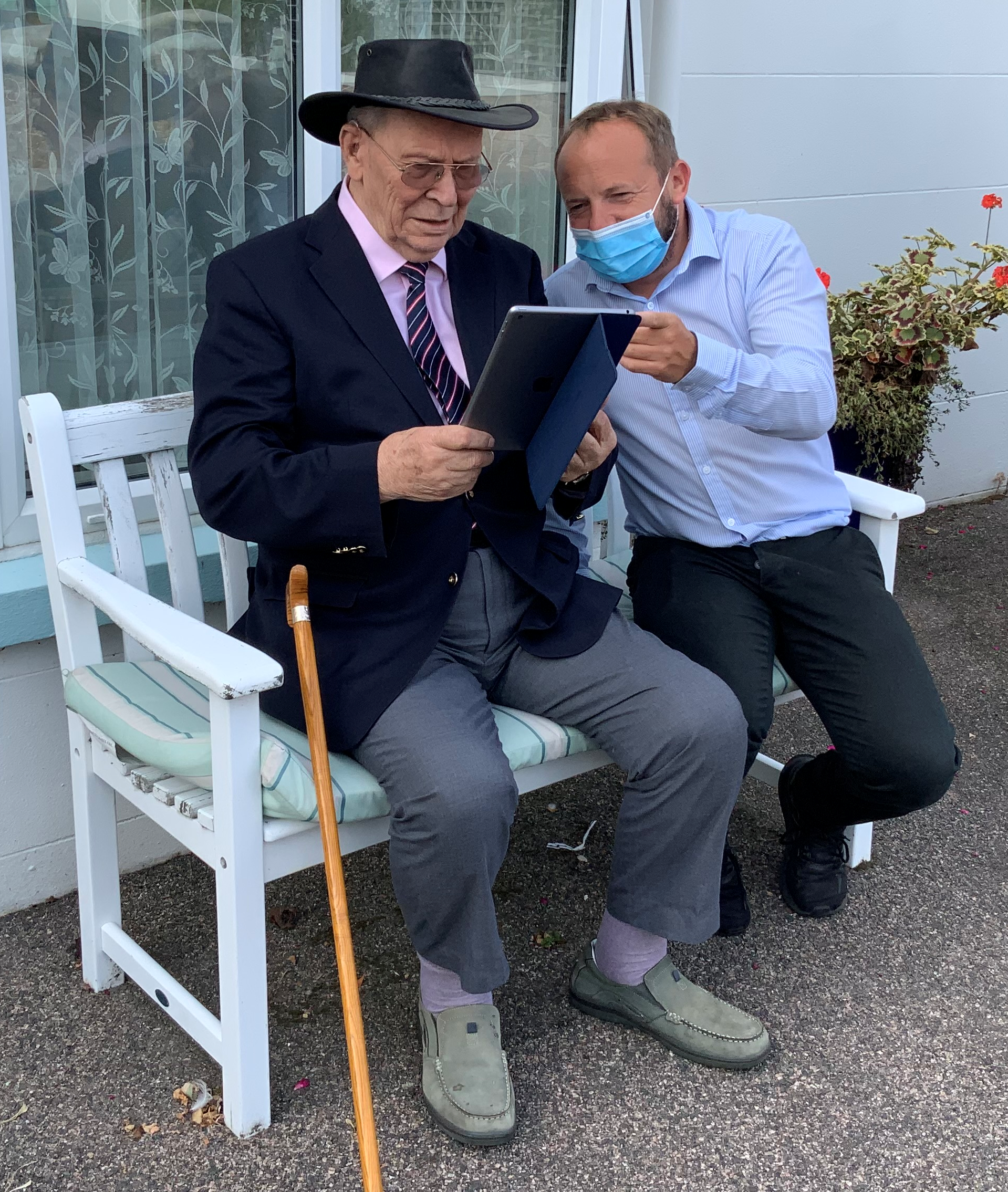 Syd is aged 83 and was the manager of the Commonwealth Games Shooting Team for the island of Jersey; he also farmed in the parish of St Martin for almost 50 years. James said: "It was a privilege to be part of these very special and moving link-ups. These magical moments lit up the days of the residents, staff and families".
Les Hoûmets​ Care Home​ is in the heart of the community and the community took the care home into their hearts during lockdown. Members of the public applauded the key workers, took part in group singing sessions and ​one local resident had brand new digital tablets sent to the home so that residents could use the technology to keep in touch.
Richard Rolfe, founder of National Coding Week, said: "This is a great example demonstrating that age is no barrier to learning new skills and that caring for our most elderly members of our community not only involves physical and medical care but care that keeps people learning and connected."
Lucie Filipponi co-owner of Les Hoûmets said: "Les Hoûmets is a very caring care home and breaks the usual stereotypes as it really is a 'home from home' – a place to enjoy a good quality of life, good food, friendships and laughter. We keep the residents safe, healthy, happy and sharp in body and mind. James and the staff have done an outstanding job."
Graeme Millar, CEO of JT who supports National Coding Week said​ :​"I don't think anyone went into 2020 believing that within a few short months we would all be confined to our homes, our only contact with the outside world being made possible by technology. We understand that nothing can truly replace face-to-face contact – but while that close personal contact posed a health risk to many of our loved ones, technology has done what it can to bridge the gap. Within our local care homes, carers and residents embraced technology like never before, surprising themselves at how simple it can be and how much enjoyment they got from chatting to family, playing interactive games and even staying fit.
"We're proud to continue to support National Coding Week in their efforts to support people of all ages and backgrounds to learn new digital skills."
This year National Coding Week has had to scale back face-to-face events due to Covid-19 but events are taking place at the ​Digital Greenhouse in Guernsey. National Coding Week is also launching the Fitness and Coding initiative that encourages people to not only learn coding but also to step away from the keyboard and do regular fitness challenges during the week. More details ​codingweek.org
---
National Coding Week, which is supported by ​JT Group​, encourages adults as well as children to learn coding or other relevant digital skills.
How to get involved in National Coding Week 2020:
● Follow on Twitter/Facebook: @codingweek Instagram: @NationalCodingWeek
● Tweet your support using the hashtag #NationalCodingWeek
● Visit the website ​codingweek.org​ for the coding and fitness challenge