This Sunday, 1st October, the annual Standard Chartered Jersey Marathon 2023 is taking place. It is an international running event that brings together the local community and raises vital funds for charity.
With a professional yet friendly atmosphere, the Jersey Marathon welcomes runners of all ages and abilities; elite athletes compete for prize money and course records, whilst many runners participate to do something truly amazing for themselves and for the benefit of others. Corporate teams work together to take on the Relay Race and vie for the prestige of winning their industry trophy, while families, junior and short course athletes test themselves over the Marathon Mile distance through the heart of our town
Every runner has a story and this year's participants share theirs with Channel Eye.
Today, we meet Alastair and Sha… (click here to read Chris, Guillaume and Chrissy's stories from yesterday)
Alastair Christie, lives in Jersey (age: 58)
For a number of years, I have arranged a rota of Guide Runners to enable those with a visual impairment (VI) to participate in Parkruns. When Sha Khan, one of the VI runners mentioned that he wanted his first ever full marathon to be the Standard Chartered Jersey Marathon 2023, I thought it would be good to pull together a group of Guide Runners for him.
What is a Parkrun? Parkrun is a collection of 5-kilometre events for walkers, runners and volunteers that take place every Saturday morning at more than 2,000 locations in 22 countries across six continents.
Five of us, including me, will guide him on a relay leg. I will play my part in ensuring that, not only does he complete the marathon, but that he also has the very best experience possible, successfully and safely enjoying his achievement to the full.
This is the first time that I am running in this event, which I'm drawn to because it's local. I'm looking forward to a different running experience, and the atmosphere of the marathon, as well as guiding our runner on his journey to achieve his goal.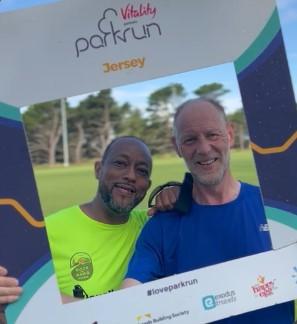 Participating in the weekly 5km Parkrun is my training. I've got the fourth relay leg of the Standard Chartered Jersey Marathon, which is a couple more kilometers extra than the Parkrun. The challenge is to slow down to the pace of someone doing the full marathon.
I'm really looking forward to it! The other Guide Runners are more experienced at running, so they have helped our VI runner with his training. My role is to prepare the whole Guide Runner team; organising the kit and thinking about all the things that could go wrong and doing our best to ensure that these are mitigated. All of us are experienced at guiding our runner, and we know how best to communicate with him and how he likes to be guided. The priority is to provide a safe marathon experience for him!
We're raising money for local charity Healing Waves. This is a charity that has supported my daughter and many of her friends as well, and is a charity close to my heart.
Healing Waves enables individuals with physical, neurological and mental health challenges to access the ocean in a safe way, and to participate in surf, paddle and flow-rider sessions.
I started running more when I heard about Parkrun coming to Jersey. Since doing the first one on the Island in 2017, I try to do them all. It's part of my Saturday routine with my daughter. Running is great for our health and mental wellbeing, as well as Parkrun being a fabulous community event. Organising the rota of Guide Runners adds an extra enjoyable element to it.
Sha Khan, lives in Jersey (age: 52)
The Standard Chartered Jersey Marathon is my first marathon.
Since I started running, my dream was to run one, but I knew I would need a high level of support due to my Visual Impairment. In 2021, I suffered a deterioration in my vision, which led to me living a very different life today. Through this significant life change, I was lucky to be a part of a small caring community, who provided me with all the support I needed. My loving family were there to support me in every way they could, but when I turned to running, they knew their limits. I soon discovered that Jersey has world class athletes and running clubs, who and which are ready and willing to make all sport inclusive.
These clubs and athletes helped me complete the London Landmarks Half Marathon, then, the Jersey Try-A-Tri and several other local fun sporting events.
All of these are preparing me to achieve my dream of taking part in the Standard Chartered Jersey Marathon, I still cannot believe that I am!
I reflect that not only do a tiny percentage of people run a marathon, but that a tiny percentage of that tiny percentage are people with a Visual Impairment.
I reflect that not only do a tiny percentage of people run a marathon, but that a tiny percentage of that tiny percentage are people with a Visual Impairment.
This puts into clear perspective how lucky I am to have the opportunity to run the Standard Chartered Jersey Marathon – it's a big deal for me and I want the
world to know.
I'm drawn to this marathon specifically because I have been told the event is highly organised with a focus on safety. This appeals to me as I need to feel safe because I run with my eyes shut. I will run the marathon with the support of five Guide Runners (some of the Islands finest), including Alastair Christie.
This is a first for Jersey and these Guides are making my dream come true, which is testament of the good people of the Island and to what extent they are willing to help. My Guides will be right at my side from start to end, making sure I am safe and keeping my fellow runners safe too. I am a member of two running clubs and fellow runners will also be running along with me to keep me motivated and going – how amazing. I have also been contacted by runners from Europe and the UK (whom I have never met) to say they will be with me in spirit on the day, I feel so blessed.
I would encourage people of all abilities to consider speaking with organisers of Park Run about becoming a Guide Runner, you will make such a big difference in people's lives, people like me.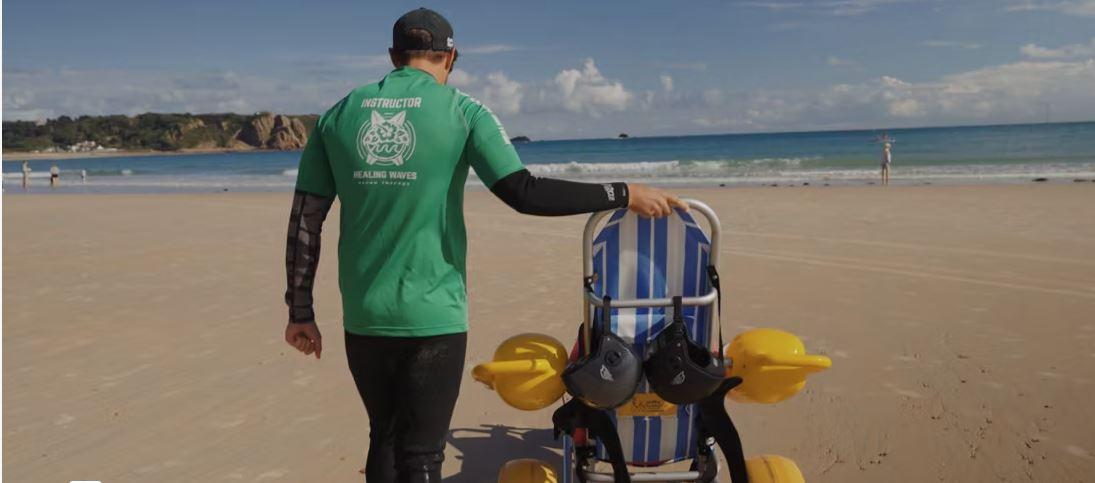 Training has been so much fun. I calculate that I have had support totalling 105 hours from 14 different Guides over a 16 week period. This has been a huge sacrifice from my Guides and words could never express my most sincere gratitude for their help, stories, tears and laughter as we ran all over the Island.
Along the way, we have been offered (and accepted) watermelon, oranges and ice lollies from local residents on the Island, there are few places where runners will experience such kindness and generosity, Jersey is just such an amazing place to train. Training has also been made easier with support from our (world class) Island coaches, always happy to provide advice and tips on have a better running experience.
With not long left to go, I have mixed emotions – happy to get it done and dusted, but sad I will not be hearing those familiar words of encouragement every Sunday morning while we run along from the regular dog walkers and fellow walkers, cyclists and runners. They all make my run extra special. I'm running for Healing Waves, which is a special charity.
I find running is great for my mental health. It helps me meet new people and make friends. Running is also great for my confidence. I have two grand daughters in Zimbabwe, who keep a close eye on my progress. So, I run not just to meet their high expectations, but make them grow knowing that no matter the challenge they face in life, if they set their minds to it they can achieve their dreams – their 'Nana' has, that's what they call me.
---
More information about the Standard Chartered Jersey Marathon can be found here.