This Sunday, 1st October, the annual Standard Chartered Jersey Marathon 2023 is taking place. It is an international running event that brings together the local community and raises vital funds for charity.
With a professional yet friendly atmosphere, the Jersey Marathon welcomes runners of all ages and abilities; elite athletes compete for prize money and course records, whilst many runners participate to do something truly amazing for themselves and for the benefit of others. Corporate teams work together to take on the Relay Race and vie for the prestige of winning their industry trophy, while families, junior and short course athletes test themselves over the Marathon Mile distance through the heart of our town.
Every runner has a story, over the next two days, this year's participants share theirs with Channel Eye.
Today, we meet Chris, Guillaume and Chrissy…
Chris Green (aka Rhino Boy Chris!) lives near Dorset (age: 48)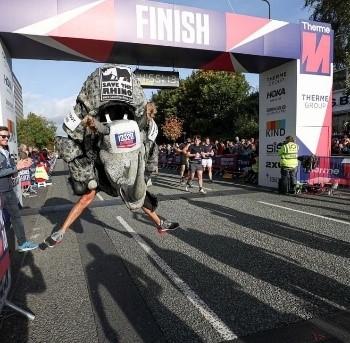 Chris is a two times Guinness World Records holder:
Fastest marathon dressed as a mammal (male)
Fastest marathon dressed as a three-dimensional animal (male)
I'm taking part in the Standard Chartered Jersey Marathon 2023 to raise awareness of the plight of the rhinos in the wild. With the species in extreme danger of extinction, I decided to do all I can to help the charity Save the Rhino International. So, I run marathons and ultra-marathons in a huge rhino costume.
To date, I've run 82 marathons and counting, and written a children's book called Matumaini – The Rhinos Hope.
Rhinos have been such a huge part of my life! They are a peaceful, gentle and magnificent species, and represent everything in this world that we need to protect. I have always loved them ever since I was lucky enough to see a mother and her calf in the wild as a young boy.
It's a shocking fact to hear, but on average three rhinos are being killed every single day through poaching and the senseless trade in rhino horn. That means in every likelihood, during the four-plus hours it takes me to run a marathon dressed in the costume, we will have lost another rhino.
I have also been inspired to fight for rhinos by the two most special people in my life – my mum and my wife. Sadly, I lost my Mum to bowl cancer some years back. Mum showed me what a special, yet fragile world this is and to cherish it always. She taught me to stand up for what is right and to protect what we love most.
I am also in awe of my wife, Kate, and the determination she has showed going through breast cancer, twice. We wrote a list of all the things we would like to do once her treatment had finished. At the very top of our list, was a desire to do more to help our most endangered animals.

This is my first ever Standard Chartered Jersey Marathon and I'm so excited. I have been fortunate enough to visit Jersey on quite a few occasions and absolutely love it! It's such a beautiful place and I have always been struck by how friendly everyone is. I'm also very lucky that I already have a great friend on the Island who I'm running with.
I'm so happy that soon the rhino costume and I will be taking part in the Standard Chartered Jersey Marathon. I always train in the rhino costume, so it's always very hard work, but also so much fun.
My advice to others is to go into the run with the aim to enjoy it. There will have been months of training and hard work that got you to this point, so the least you can do is try and soak up the atmosphere. It's very hard to beat the atmosphere of a marathon and, knowing what a fantastic place Jersey is, I believe this marathon will be one of the very best ever!
Guillaume Ruel lives in West Normandy, France (age: 25)
Guillaume has an impressive position in the World Athletics Current World Rankings.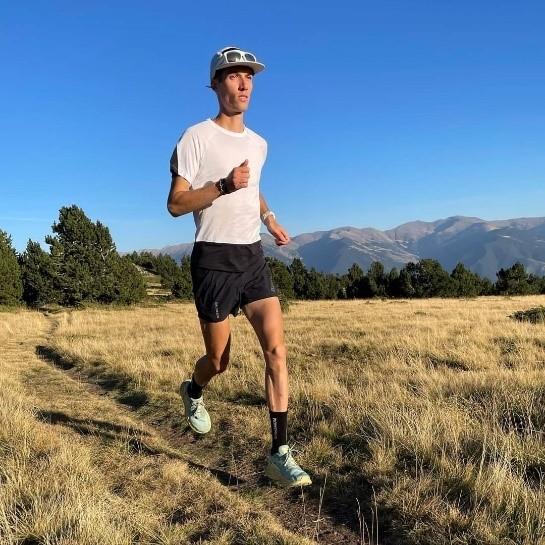 Last year, I came second in the Standard Chartered Jersey Marathon. I enjoyed the 2022 event and that's why I decided to return this year. This race is part of my preparation for my next 100K this coming January.
I live in West Normandy, so Jersey is very close to home. I think the event is organised well and I enjoy the landscape of Jersey. It's a pleasure to discover the Island by running. My wife and brother will be travelling to Jersey with me for the event.
I think the event is organised well and I enjoy the landscape of Jersey. It's a pleasure to discover the Island by running.
Marathon training is going fine. I'm running five marathons in two months, so am feeling ready! At the moment, I am in a training camp in the French Pyrenees, which is at high altitude. Therefore, with Jersey sitting at sea level, it should be easier to run.
My advice and personal tips to anyone else running the Standard Chartered Jersey Marathon are to create a safe racing strategy. The Marathon is a very hilly route from the start. Be smart on the pace at the beginning and everything will go well.
Chrissie Gorham, lives in the UK
The Standard Chartered Jersey Marathon will be Chrissy's 500th marathon!
In May 2018, Chrissy's husband, John Gorham, passed away from cancer. Since meeting Chrissy, John had run 50 marathons between 2009 and 2016, virtually all of them with Chrissy alongside him.
Chrissy is running in loving memory of John. "I continue to run because he can't…", said Chrissy.
---
More information about the Standard Chartered Jersey Marathon can be found here.