It doesn't matter what role you work in or even the industry in which you operate, chances are, you'll need to give a presentation occasionally.
That could be a presentation to win a new client, to your boss, to get them to do something you'd like, or even to your team to help them to change behaviours.
In my line of work, I'm often asked to pitch to new clients before they agree to engage with me, and those pitches usually take a long time to define and formulate. Therefore, you want to ensure that your effort is rewarded in winning as many pitches as possible.
Our latest article shows you how to win at pitches when pitching to a prospective client. We deep dive into the must-haves for your pitch deck, what you should say to clients when meeting at a pitch, and what you should avoid saying.
Get in front of your client at all costs
Pitching in person is far better than just emailing a pitch deck, as there is no way you can gauge a reaction from an email. What's more, delivering the pitch in person, face-to-face or virtually allows you to develop a deep emotional connection with your audience. Creating that emotional connection is what will help you to win the pitch.
However you deliver the pitch, you should ensure that you can see your audience and your audience can see you. Doing so lets you pay attention to their body language and how they react to your words. It will help you know if they are interested and engaged in your pitch or bored. Both will help you with your delivery.
For example, you might dwell on specific topics if your audience shows signs of a positive reaction or speed up the slides if they switch off.
What should my pitch look like?
When presenting, you should always deliver with a slide show.
Canva is a free tool that offers beautifully designed templates to pop your content into and then download as a PDF to present at your pitch. Known as a deck, make sure it's beautiful, and the design is top-notch – but don't let the design confuse what you want to convey. The information within your deck is way more important than the pretty images and graphics you might employ.
There are two main parts to a pitch deck:
What you do
How have you helped your clients
What you do
Start with a short section, at most five slides, introducing you and your business. You should include a bit about your team, including the leadership structure and where your offices are based. You want to add your capabilities too, i.e. what makes you good at what you do – what are you known for?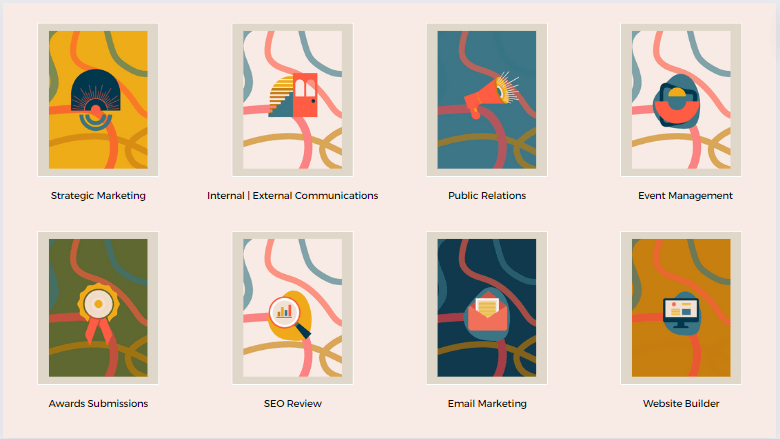 How have you helped your clients?
This is the most important part of the pitch deck, and you should provide two or three case studies. These case studies will demonstrate your client's challenge, what you did for them and how your work helped them.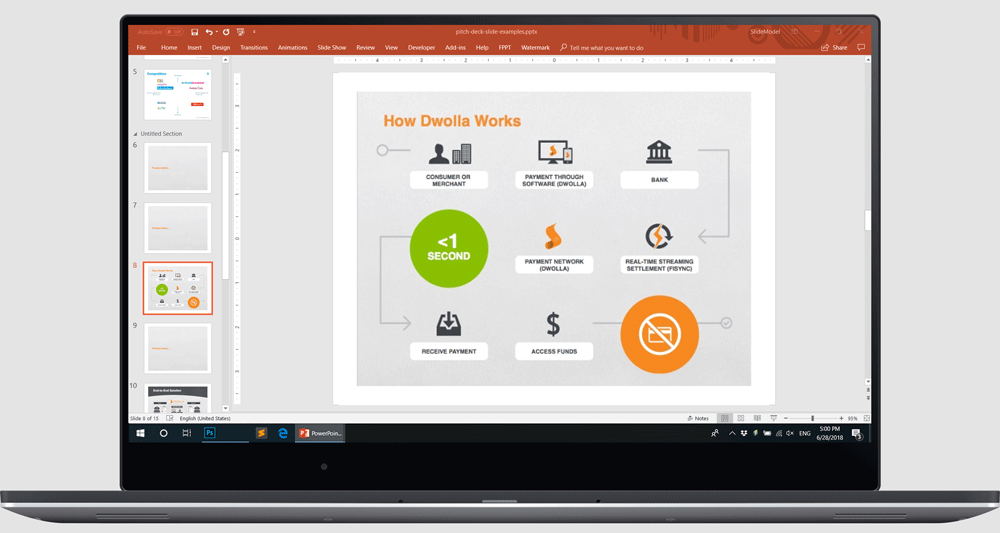 Ideally, your case studies should align with the industry of the client you are pitching to, so they can see you are already comfortable working in their field and have demonstrated straightforward ways that you can help others just like them.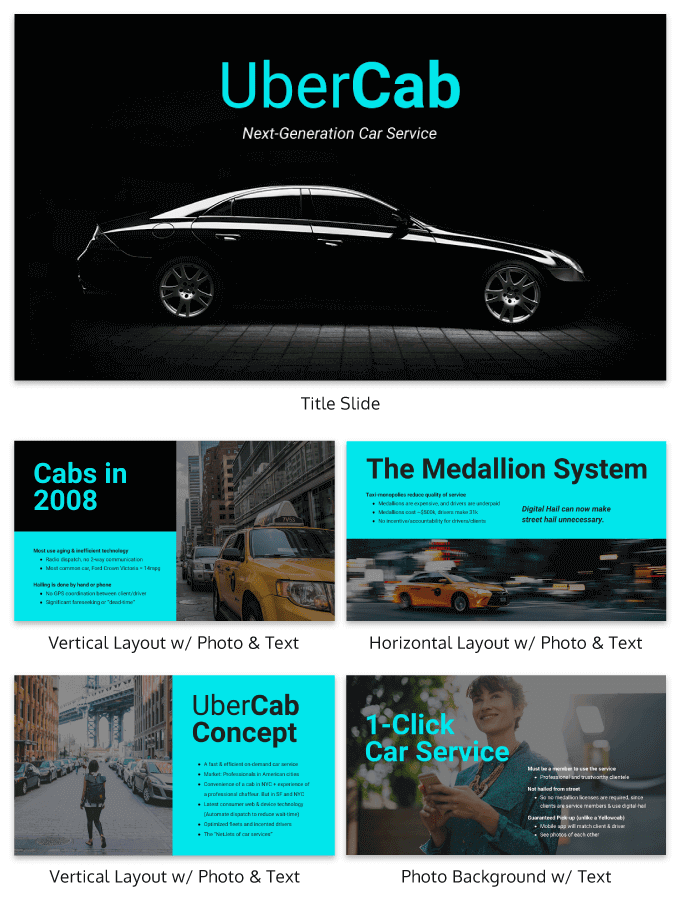 At the end of each case study, you should show the results of your work.
In other words, demonstrate the Return on Investment of your efforts. When you finish a piece of work, you should actively ask the client how your work has helped them. Take note of the results, listen and record what they say and summarise quantitatively how your work has helped. For example, have you helped your client increase web traffic? Maybe your work has helped them increase sales. Share these results at the end of each case study.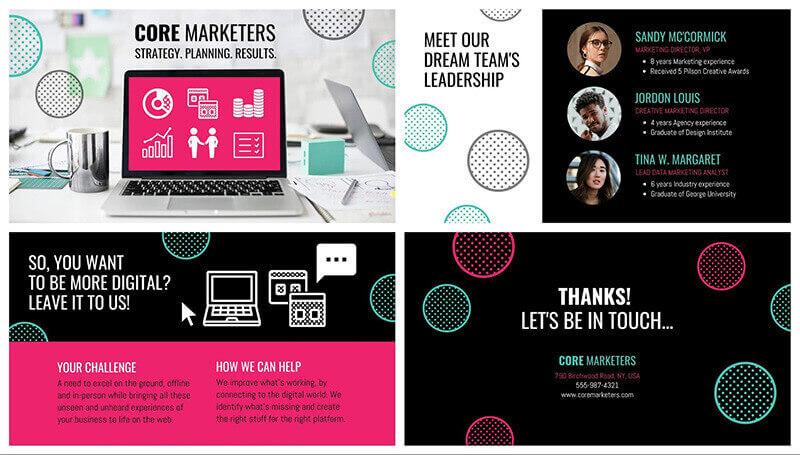 After you have delivered these two sections, you can show off with some pageantry.
This is where you showcase other work, not necessarily aligned with the client's industry by demonstrating the breadth of your work. Showing different work from different sectors can also spur deeper conversations. What's more, your presentation closes with the bits of your work that you are most proud of.
How long should a pitch deck be?
For large companies, it could be 100-150 pages long. For smaller companies, it could be around 15 pages. In essence, it's up to you how you communicate most effectively. You should also consider the client's culture before pitching.
You don't want to deliver an extended deck if they are a punchy, to-the-point brand. You'll want to keep it short and sweet. At the same time, your pitch deck might be longer if the client is very detail-focused.
What's the very first thing you should say at a pitch presentation?
The first thing you should say when you begin the pitch, once you've introduced yourself, is, "What are the challenges you are facing in your business?" or "What is the problem you are looking to solve? Or "What is your competition doing that keeps you up at night?".
You ask these questions because it helps to expose their pain points, and now that you know their challenges, you can refer back to them throughout the pitch.
Let's imagine the client says they're having trouble getting traffic to their website or haven't seen sales generate as fast as they would like since they launched their latest product. You can push on these topics when discussing your case studies or anywhere in your deck when giving your pitch presentation. By doing so, you are demonstrating that you can solve the client's current challenges.
How do you know if the pitch went well?
If the client shares their challenges with you, you have already established a rapport with them. They like or trust you enough to be honest and open with the problems their business is facing. By referring to their difficulties during your pitch, you show that you care and are keen to resolve their issues.
What's the one thing you should never do in a pitch?
You never want to use long copy or bullet points in a pitch deck. You want to use headlines or single words. If there is a lot of content on the slides, your client will be looking at the slides and not paying attention to you.
The client might also be a quick reader and be reading ahead of you and know already what you will say, so the meeting might become a bit boring.
What should you do to win at a pitch?
Practice, practice and practice! Single words and headlines on your slides can act as prompts for you so you dont give away the goodies on the slides!
If you really want to nail the pitch, why not record yourself with your phone and watch it back?
By looking back, you can determine if you keep your face peeled to the slide deck and don't face your client. Do you mumble, er, umm, hmm, too much? Are you pacing back and forth or using your hands to gesticulate too much? Do you avoid eye contact? All these things will help you to perfect your delivery and make it as sharp and powerful as possible.
So as a round-up, here are my top ten tips for winning at a prospective client pitch:
Top 10 tips for winning your pitch
Find out what they are struggling with
Listen to that answer
Establish a rapport
Don't rush into the deck. Take time to have a conversation with the client first.
Hit on those issues and challenges to let them know you heard them and you know how to help them.
Share how you have helped others
Prove those results
Don't write a book – use single words or headlines
'Wow' them with the beauty
Be human – people hire people