Branding is a funny old thing. On the one part, it's tangible and visual; think your corporate logo, the colour palette you use on your website and comms, and the fonts you adopt.
But there is a more intangible element to branding that is just if not more important than the visual, tangible concepts: it's the brand voice.
What is a brand voice?
Your brand voice is the personality your brand takes on in all of its communications.
Your voice serves as a guide of what to say and how to say it. Your voice should be unique to your company and reflect company values.
The brand voice can be what gets you noticed. It can even be how you evoke emotions in your customers, would-be customers and followers. It's compelling and can make or break your business.
When was the last time you stopped to consider your brand's voice?
Do you even believe you have one? Making sure your brand voice aligns with your proposition is vital. If it's out of step or its personality doesn't fit the brand, then you can confuse your customers or, worse still, put them off buying from you.
Our latest Marketing Masterclass covers the steps you can take to develop, harness and protect your brand voice.
Step 1: Start by evaluating your current brand
Take a look at your collateral. This could be online, i.e. your website and social media pages and offline with brochureware, signage and even uniform (if you offer it to staff). By reviewing the content you produce, you will begin to form a picture of your brand voice.
Is your content engaging? Is it fun or factual? Maybe it's compassionate and guiding?
If your voice is more than one thing, it could confuse your customers. Now is the time to redefine your brand voice and stick with one.
Step 2: Write a strategy for brand voice consistency
You've taken the time to evaluate your brand voice and also decided what voice you wish to stick with (if you've been using more than one). To ensure you can continue to produce content consistent with your brand voice, I'd recommend writing a strategy for brand voice consistency.
It's time to review your brand guidelines and, if necessary, tweak the content around voice. Here is an example of a brand voice chart and how to define your brand voice characteristics: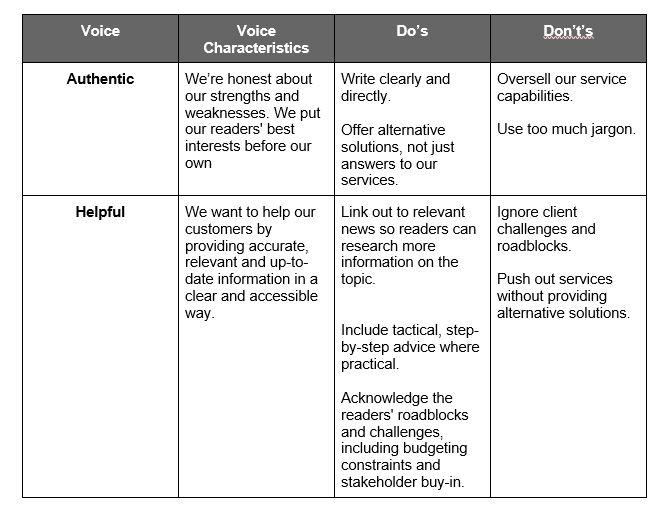 Oatly is a non-dairy milk alternative that has disrupted their industry with witty, self-deprecating humour, creating a distinguishable brand voice. As a copy-driven brand, they are opinionated, pithy, and fearless in their marketing communications.
Here are some examples of their cheeky brand voice and tone:
"It's like milk, but made for humans."
"If this side [of the oat milk carton] bores you, please read no further. Flip the carton around, and have a wonderful day. Otherwise, please do enjoy."
If Oatly were a person, they'd be brutally honest, contagiously funny, and wildly authentic.
Step 3. Create Buyer Personas
How can you be sure your content is landing if you aren't speaking in a language and way that resonates with your audience? To do that, you first need to consider carefully who your buyers are.
What do they do? How old are they? Where do they live? Could you define their values? What's important to them? What challenges do they typically face?
Once you create three or four buyer personas, you can better understand your customers and their needs. Then, when creating content, you can begin to write in a fashion that will resonate with them. By doing so, you will likely enjoy an even greater level of engagement and potential sales!
Step 4. Create consistent content
When writing your strategy for brand voice consistency, consider a content workflow to sign off content before it is published. This will ensure the messaging and content are on brand.
If you have a larger team lucky to employ more than one content creator, then you risk content being written inconsistently. By creating a workflow and sharing your revised brand guidelines with your content team, you should ensure that your content is written in a way that aligns with your brand voice.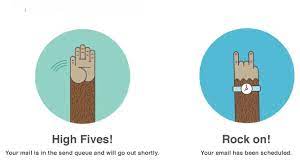 Mailchimp is a great example of brand voice and tone because their style guide is publicly available. When they write any kind of copy for their brand, their voice must fit into this mould:
We are plainspoken
We are genuine
We are translators
Our humour is dry
They keep their communication clear, entertaining, and informal with a touch of humour, but they never force a joke. Mailchimp uses positive language when writing content and avoids industry jargon at all costs. If Mailchimp were a person, they'd be supportive, friendly, and funny.
Step 5. Activate brand presence
You've taken the time to evaluate your brand voice, and you've also written a strategy to protect it too. But make sure you make it as easy as possible for your people to access your content. If you don't, you may find they attempt to create their version and miss the mark entirely, thus diluting your brand voice.
If you make lots of content (including imagery), tag it, so others can quickly source and find it. And save it where your team can quickly locate it.
Step 6. Monitor and measure
Every business is unique, so how you monitor content creation will depend on how much you create and the avenues you use to publish or display it. Now is the time to define who will monitor and evaluate your content. If you notice incorrect or improper use of the brand voice, what lessons can be learned, and how quickly can you resolve the issue?
It's worthwhile running an exercise to measure the popularity of your pre-existing content.
For example, are there specific web pages that enjoy a lot of continuous traffic? Maybe some of your social media posts have generated a lot of engagement. Once you understand what your audience wants to engage with and digest, you can plan to deliver more content of similar quality.