A strong social media presence is vital in helping you grow your brand's fan base and followers.
While having social media followers is great and offers a good litmus in terms of your brand's overall popularity, you want to turn those fans into active customers. To achieve this, you need to guide them towards your website, where they can explore your products or services and—crucially—start purchasing them.
In our latest blog, we share the process you can adopt to develop an effective and streamlined content creation process for your website.
Develop Content Clusters
If you've done your research, you'll know where to find your target audience on social media. One of the most basic approaches is to consider the demographics of your typical customer groups. For example, how old are they?
Instagram, for example, is popular with people aged between 18 and 24. While Facebook is more popular with a slightly older age range, 18 to 35 years (although, for men, it's the same as Instagram; 18-24). If your brand is B2B, you should have a LinkedIn company page.
Now that you know where your ideal customers like to hang out, you need to get them to engage with your brand by regularly serving them high-quality content that entices them to click through to your website.
Producing an ongoing stream of quality content isn't easy without planning. So, you need to develop a strategy to minimise the day-to-day stress of creating clickable content to post. This starts with creating what is known as "content clusters."
Content clusters are themed groups of ideas drawn from your target audience's research findings. They live on your website as pages, and your social media should drive users to those pages.
Here's an example of a bakery's content cluster for cakes and bakes.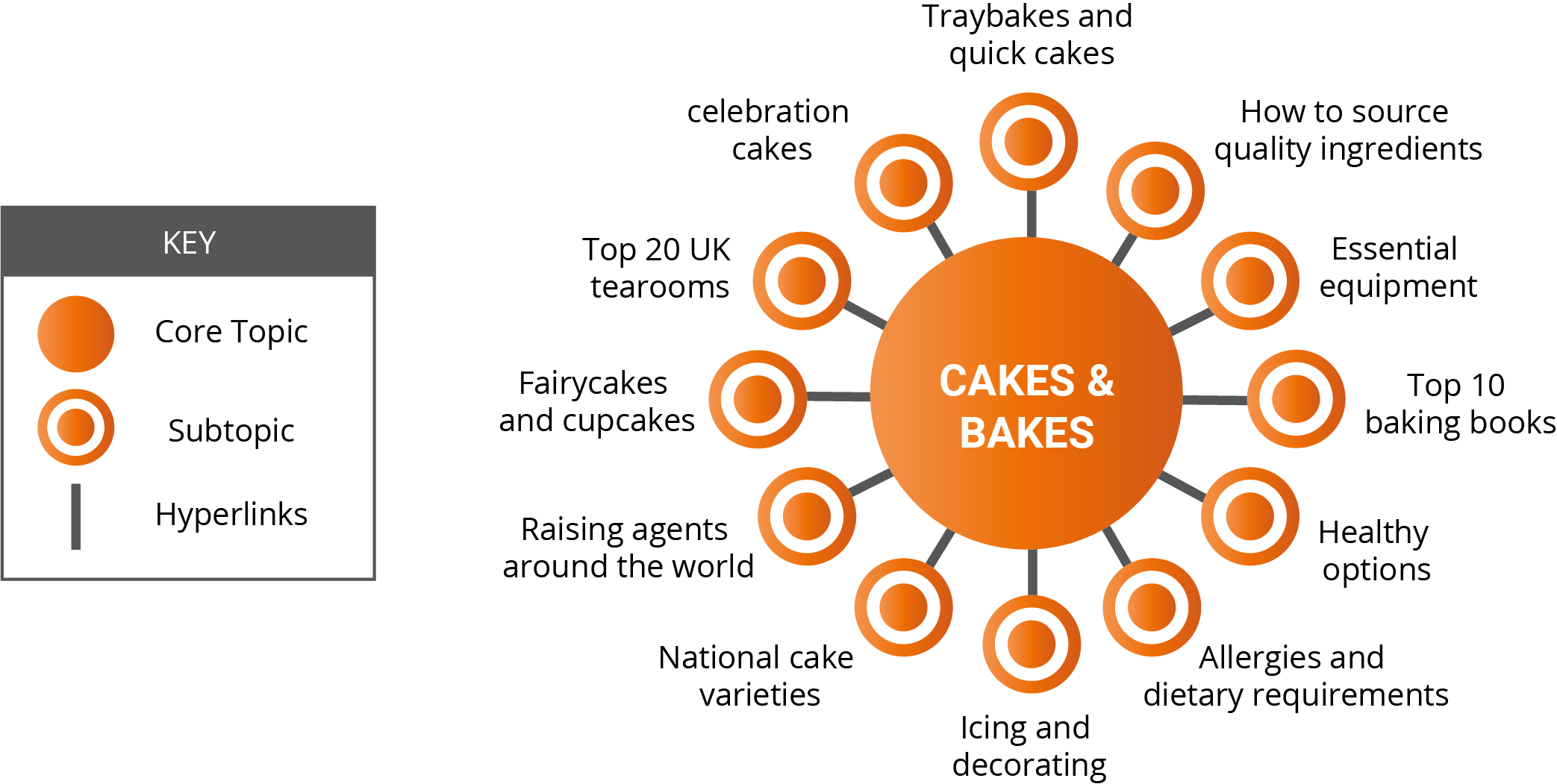 As a side note, it's worth noting that creating content clusters on your website is an SEO dream. Topic clusters help search engines better understand the hierarchy of your website. As such, they may help search engines see your site as an authority on a specific subject. It's best to hyperlink each page within the cluster to the other pages. This network of internal links tells the search engines that you are an authority with a depth of knowledge on the pillar subject. That authority improves your ranking, meaning more people will see your website when they search for related keywords.
'Pillar pages' or 'hub pages' cover a topic broadly. A bookstore might create a 'Crime' hub, for instance. Around that hub will sit several different 'spoke pages' that represent the target audience's more niche interests, e.g. 'Serial Killers', 'Crime Trilogies', 'Financial Crime', and 'Gangland Crime.' The deeper you go into each subject by adding spokes to spokes—such as 'Fraud and Collusion' as a spoke of 'Financial Crime'.
Creating a content calendar
Once you have developed enough content themes, you can develop a content calendar. One of the best ways to do that is simply in a spreadsheet. A content calendar (also called an editorial calendar) is a schedule that tracks when you intend to publish planned content on your website, be that in blog content or the creation of new pages or sub-pages, and when you plan to promote the content on your social media channels.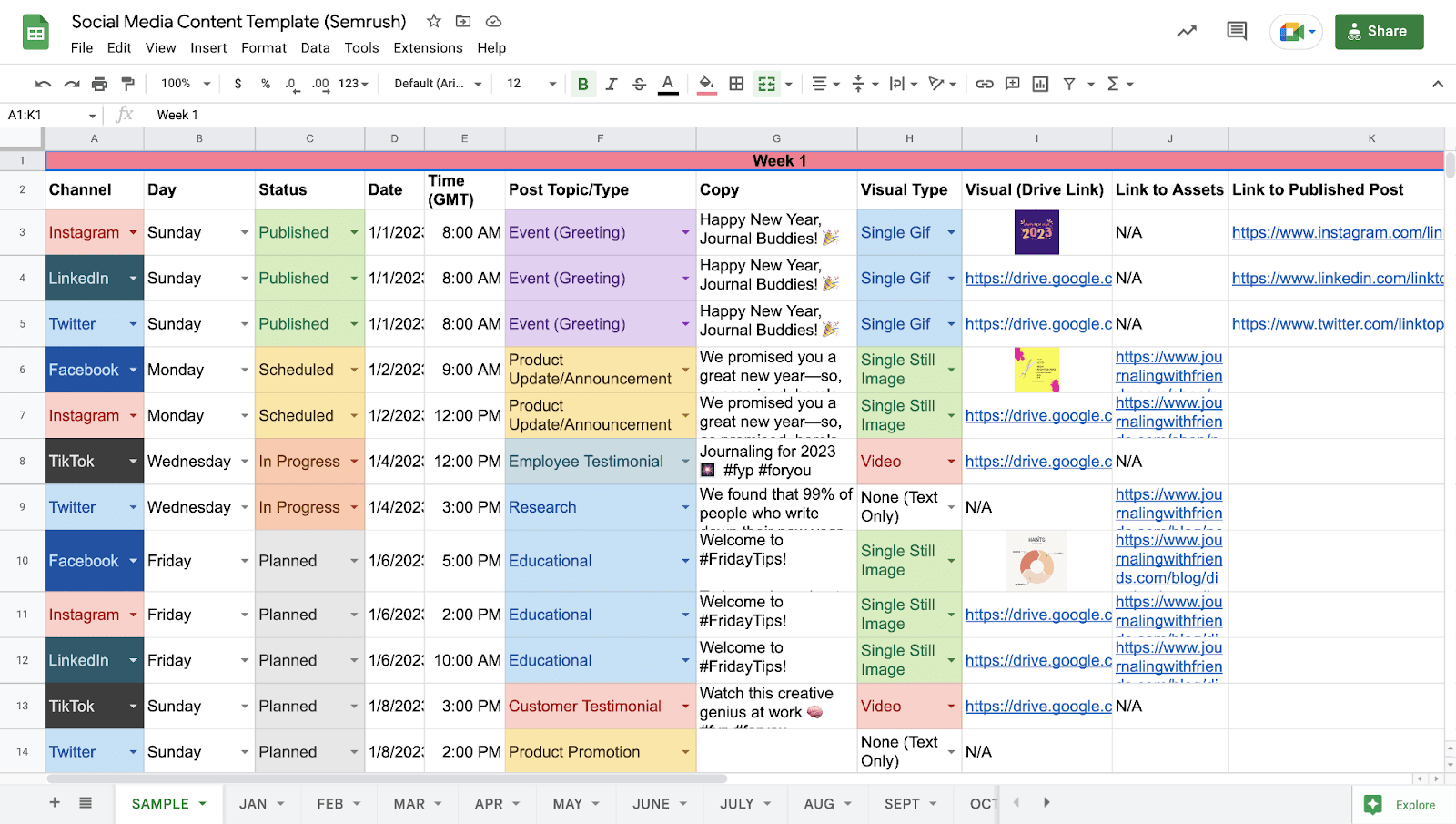 Content calendars help keep you organised and identify how much time you have to develop all the different types of content you choose to host on your website and share on your social media channels.
While creating a content calendar is a great way to keep you super organised, spontaneity doesn't need to stop. You can still create content on the fly, but just make sure to schedule in a way that doesn't confuse your scheduled content.
It's much easier to maintain a consistent content rollout when you plan the content in advance. The more organized you are in planning your content, the better. Later is a great free social media scheduling tool that you can use to schedule and quickly move content.
Incentivising clicks
Knowing which subjects you will create content on your website and when to post them on your social media are major milestones in your traffic-driving strategy. Next, you need to think about how to package them for social media so that people click through to your website.
In essence, what can you do to incentivise your followers to click on the link, the button or the image?
There are many different ways to incentivise clicks on social media including: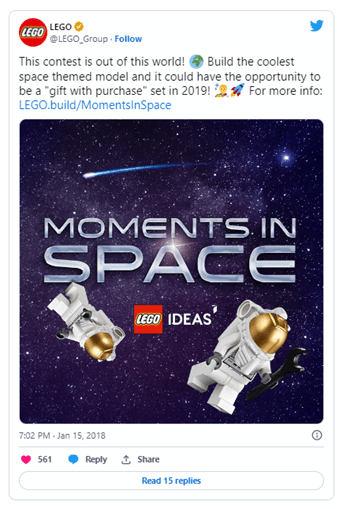 Competitions and giveaways: Running competitions that demand audiences click through to your website to win products, services, or experiences on your social media is a great way to engage audiences and develop their awareness of your offering.
Here's an example of Lego promoting a fantastic competition to have your creation turned into a free gift as part of a product range called 'Moments in Space.'
Links to downloadable materials: Promoting downloadable files (such as video content, ebooks, and white papers) on your social media channels requires your target audience to click through to your website to download them. Once there, they are much more likely to hang out and explore more of your site.
Product promotions: If you're selling particular products, launching a product promotion on social media and asking people to click through to your website to check it out is a great way to generate website traffic. This link should take them directly to a descriptive landing page encouraging them to buy. Think about the UX (User Experience) of your landing page. Make it as easy as possible for the visitor to
click Buy!
Content excerpts: Partially sharing a broader piece of content, i.e. teasing your audience that makes them want to read on with an excerpt from a blog post, is a great way to generate traffic. Readers will be compelled to click through to access the full piece of content on your website.
When is the right time to post?
You've determined your content strategy, and you've created and decided the order to publish your content. Your final decision now lies in determining the best time to post.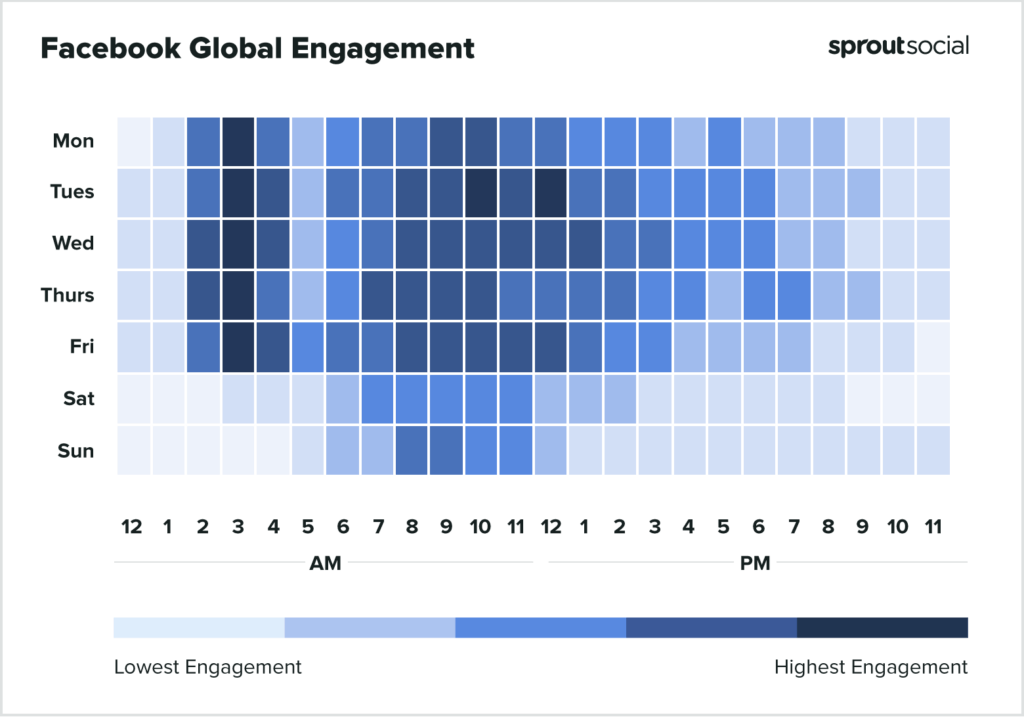 Different audiences will access content on different days of the month and at different times. Thankfully the most popular social media channels offer analytics which offers insight into when your followers are most active on your pages. Hence, you know when are the best times to post your content. If you're BIG on Twitter, Audiense is a fantastic free tool that offers a heat spot style tool that tells you when your followers are online (see below).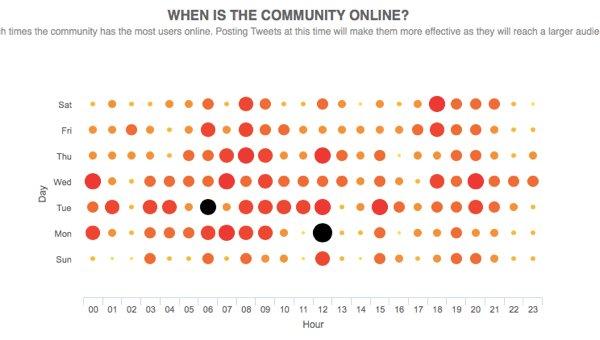 Don't forget to check out your Google Analytics occasionally, as that can tell you where your website traffic is coming from in terms of the source being your social media channels. Go to Acquisition – Social -Network Referrals.