Google Business Profile, or Google My Business as it was once known, is a great free tool that Google offers to help you spice up your online presence and attract more customers to your website.
What's so great about Google Business Profile?
If you haven't heard of Google Business Profile, it's a free tool from Google that empowers you to control how your business appears on Google Search and Maps. With GMB, you can create a visually appealing business profile, manage your online reputation, interact with customers, and skyrocket your local search rankings.
It's like having a magical wand to boost your visibility and attract more footfall to your website.
When someone Googles your business, your listing will come upon the right-hand side of the page (on desktop) with all your business info and also the reviews that your business has. On mobile, it will come up as one of the first few listings when someone Googles your business name, and it will also appear in Google Searches and Google Maps.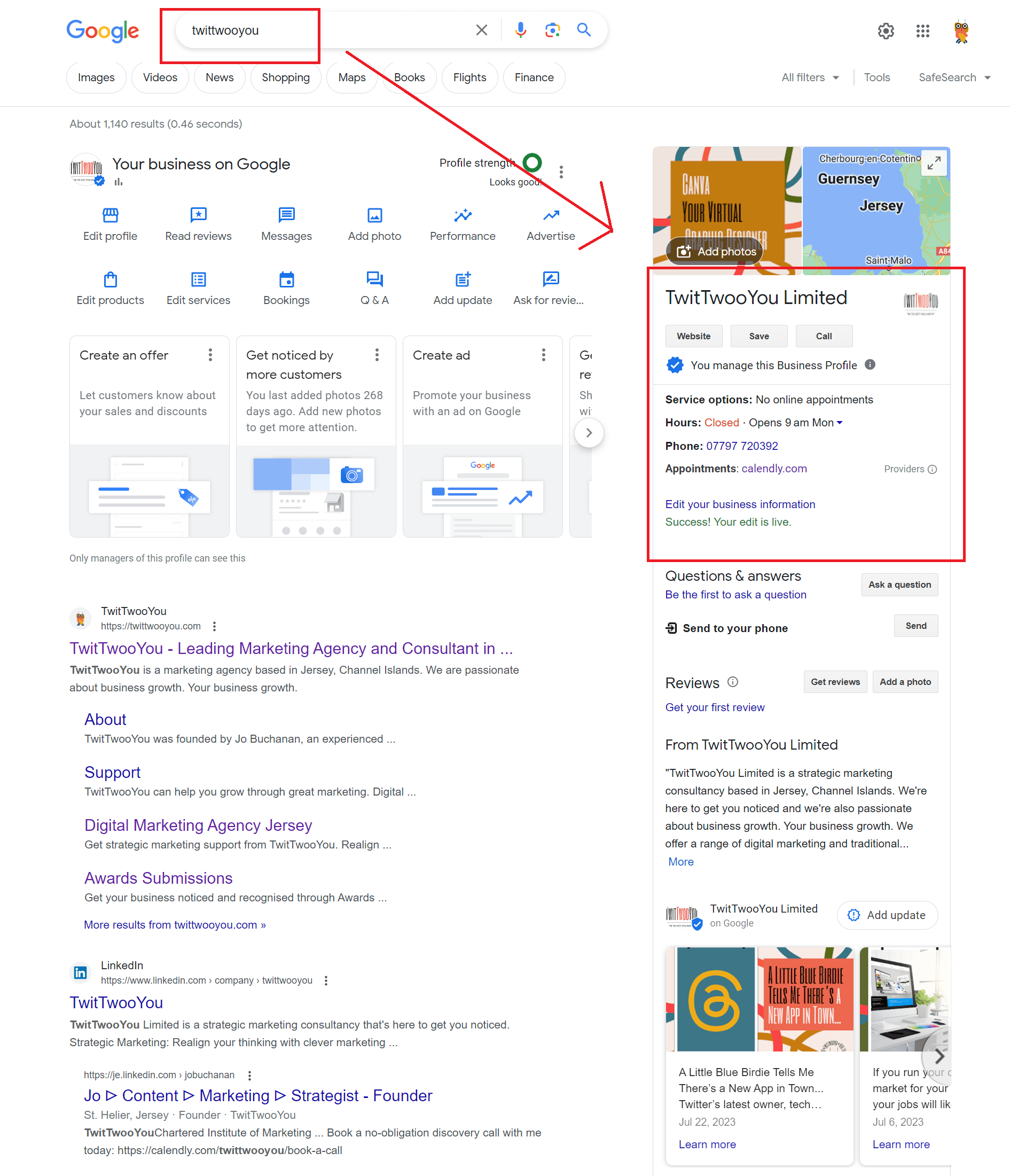 Claim Your Space on Search: Getting Started with Google My Business
First, you need to claim and verify your business on Google My Business (GMB).
Go to the GMB website and sign in with your Google account. If you don't have a Google account, set one up first. This link offers a handy step-by-step guide on how to set up a Google account.
Once your Google account is set up, follow the simple instructions to add your business details and request verification.
Getting verified
Google wants to ensure your business is legit before displaying your profile on its pages. So to do this, it asks you to complete the verification process. These days it usually asks you to video your business. It may ask you to record your premises to show you have branding on your building. On your smartphone, you can record your office area, show your business card, a work vehicle and even the uniform your staff might be wearing.
Once you submit the video, Google usually reviews it, and either approves or rejects your verification within 48 hours.
With verification, your profile will be seen by others, so this is a necessary step to complete and achieve.
Build a standout profile.
Your GMB profile is the core of your online presence, so make it shine!
Here are some tips for creating a standout profile:
Add high-quality images of your business, products, and team. Customers love to see what you offer before stepping through your door or making an online purchase.
Choose your cover photo carefully: Make a lasting first impression with an eye-catching cover photo that showcases your brand's personality.
Bite-sized business description: Craft a concise yet compelling business description that tells your story and highlights your unique offerings.
Operating hours and contact information: Ensure your contact details and business hours are accurate and up-to-date. You don't want to disappoint potential customers with incorrect information. If you work in retail, it's vital that you update your opening and closing hours during Bank Holidays etc.; otherwise, you may find customers visiting your store when it's closed.
Pick your categories wisely: Choose relevant categories that accurately describe your business. This helps Google understand your offerings and present them to the right audience.
Rock those reviews: Encourage satisfied customers to leave positive reviews. Reviews are golden tickets to building trust and credibility among your potential customers.
The Magic of Engagement
Now that your profile looks good, it's time to engage with your customers. Engaging with your customers through GMB can work wonders for your business.
Here's how to make the most of it:
Keep an eye on the Questions & Answers section on your GMB listing. Respond promptly to enquiries from potential customers and provide helpful answers.
Respond to customer reviews, both positive and negative, with grace and gratitude. Address any concerns and show that you genuinely care about their experience.
Use the GMB posts feature to share updates, promotions, events, and captivating content with your audience. Get creative and keep them coming back for more!

Here are some Google Business Profile Hacks
Geo-tagged visuals: Share behind-the-scenes photos or videos of your business, and remember to geotag them. This boosts your local relevance and helps Google connect you to nearby users.
Keyword kung fu: Sprinkle relevant keywords throughout your GMB profile and posts. This will improve your chances of appearing in local search results for those search terms.
Offer appointments: Enable the booking feature if you offer appointments or reservations. This adds convenience for customers and sets you apart from the competition.
Google messaging: Turn on Google Messaging to allow customers to contact you directly from your GMB listing. Quick responses impress both users and Google's search algorithm.
Add a Q&A: Pre-empt common customer questions by adding them to the Q&A section yourself. Answer them thoughtfully to showcase your expertise. It's time to measure your success.
After all your effort to build a standout profile, you must measure its performance. Use the insights provided by GMB to gauge your success and make informed decisions. You can track the number of views, clicks, and calls your profile receives and the customer actions taken on your listing.