Technological innovations are constant. New apps and tools are launched daily, and to stay ahead of the curve, you need to be aware of them and, in some instances, know how to use them.
It can sometimes feel like a minefield. Which tool or app should I focus my energy on? What will I get from it? Is it worth the effort?
But there's a new kid on the block that I think is going to stick around. I'll be bold enough to say it could become one of your most reliable friends. It's a bit of a game changer and centres around AI (Artificial Intelligence).
Artificial intelligence products have seen a meteoric rise in the last few years. AI writing tools, AI text-to-image generators, and self-portraits have wowed us.
ChatGPT is an AI chatbot that's taking the internet by storm.
Meet Chat GPT
People might have mentioned "Chat GPT" or "OpenAI". This new tool is pretty cool and has loads of game-changing features that will help you. Not least at work but in your personal life, too.
Some people are even saying Chat GPT will become the new Google! And they've got a point.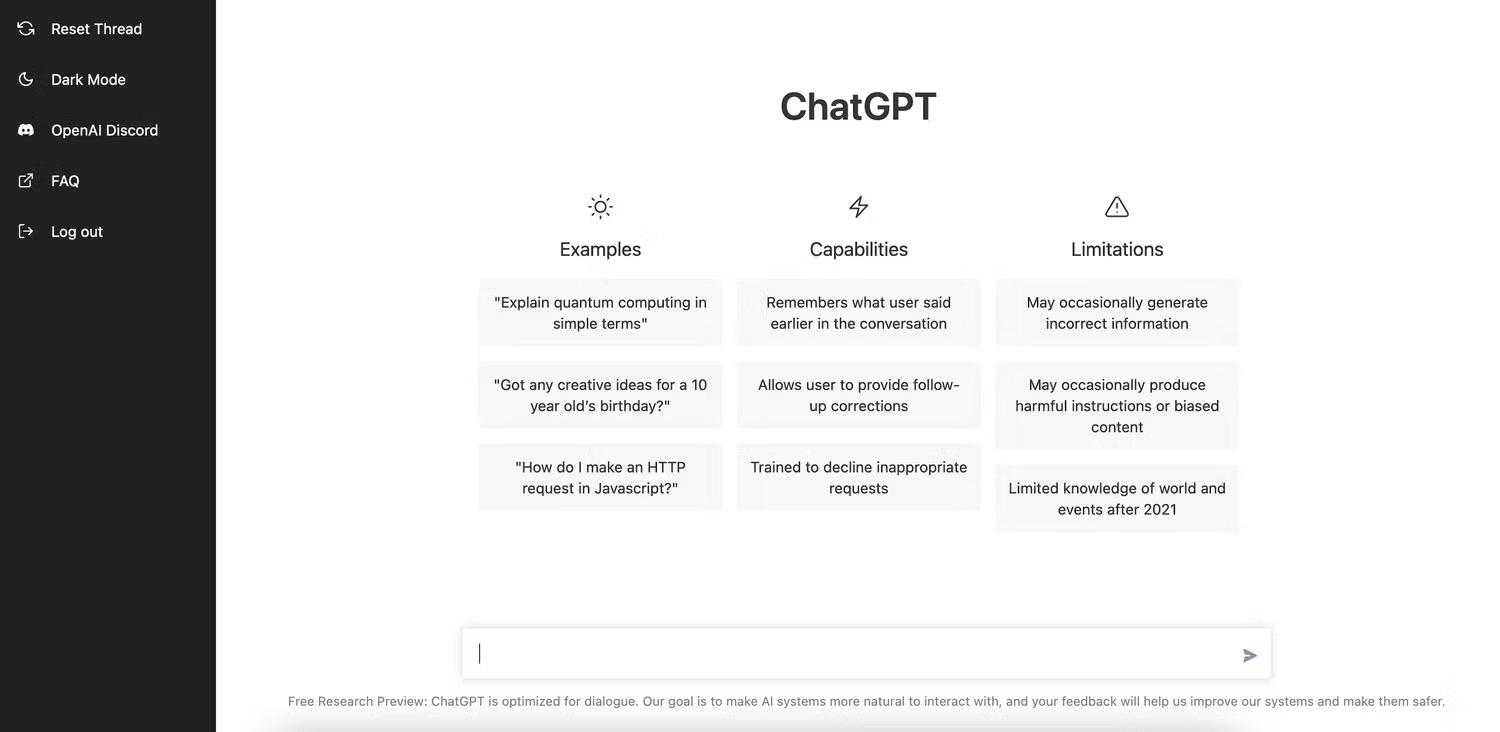 Chat GPT is like Google Search on steroids
One of the best features of Chat GPT is the AI chat function. You can ask it anything, and the AI will respond.
Users ask the chatbot questions, and ChatGPT responds with human-like responses that often rival responses from real humans.
You could ask for the best recipe to use up a half-eaten courgette, a teeny block of cheddar and some gherkins or ask it to critique your copy for your latest email campaign.
Now many people are already on to the benefits of this tool. Just as I write this, I wanted to jump on to the tool to show you how cool it is for doing fun stuff, like writing a poem about digital marketing, and I can't even get on it!
Why? Because there are too many users using it already!

Here's how they explain the current status as a crusty 'ol pirate:
Ahoy mateys! We be havin' a lot of scurvy dogs checkin' out ChatGPT right now, and we be doin' our best to make sure every landlubber gets a chance to give it a try. We be sorry for any inconvenience this be causin' but we promise it'll be worth the wait. Hang tight, and check back soon, ye swashbucklin' scallywags! We be eager to see what ye think of our chatbot. Arrr!
But for now, while I wait for it to notify me when I can get in, let's dive into why it's such a great tool and one you need to become acquainted with.
What makes Chat GPT so good?
Adoption has been mega
Since launching in November 2022, the tool's adoption rate has grown by 50%. Its language processing is 97% accurate, and thanks to its speed in responding to queries, it has saved businesses up to 60% in costs they might incur in waiting for responses using standard means.
It won't make you the best writer, but it will give you tons of ideas
While AI can point to ways to improve your writing style, it can't write your content for you. Well, it can write you content, but it's not foolproof.
Where the tool truly shines, is in its idea generation. It can suggest solutions to problems, choices for ideas and new ways of thinking. It's like a clever friend on tap, 24/7 (or a wise owl). It comes up with out-of-the-box ideas that you won't likely find anywhere else. Googling for an answer will now be a thing of the past (just so you know).
It can be your coach
Okay, so there aren't any pompoms or inspirational quotes flying around (although you could ask for the latter), but Chat GPT can become your coach. It can help you to navigate tricky situations and scenarios. Its solutions-focused approach can help guide you and support you with expert advice in whatever problem you face.
Get step-by-step instructions
Sometimes you might ask for a biggie, where a one-sentence answer won't cut it. Ask Chat GPT for a 'how-to guide', and it will deliver. If there are many options, ask it to provide five top ideas. This functionality puts you in complete control of the outcome.
It can get you into University.
Okay, we don't condone cheating or cutting corners for that fact, but one Chat GPT user asked it to 'write a college essay to get into Harvard as an Asian American, but don't make me too Asian'. And it delivered!
It can write music
With the appropriate prompts, you can even write music using the tool.
If you're a coder, you're going to love it
In addition to the AI chat feature, the tool can also generate a debug your code.
Whether you're an experienced programmer or a newbie, you're bound to run into a few bugs in your code from time to time. For instance, you can use Chat GPT to generate SQL queries. Since knowledge of SQL is imperative for data scientists, using ChatGPT even enhances your SQL skills if SQL is your thing.
What's more, Chat GPT can help you narrow down the problem within your code, saving you hours looking for a misplaced comma. You can also write entire blocks of functional code snippets from scratch.
It can manage and manipulate unruly data
Unstructured data is hard to sort, manage, and organise, making it redundant.
ChatGPT comes to the rescue as it can convert unstructured data into a structured format by manipulating data. For instance, the tool can add data to a table, make indexes, and understand JSON queries.
It can get you your dream job
Okay, that's a lie, as only you can do that by acing your interview, but Chat GPT can help you write a winning cover letter and create a great CV too.
If you're currently job-hunting, one of the most tiring parts of the job application process is writing a personalised CV and cover letter for every job you apply for. You can't create a one-size-fits-all CV and cover letter for true success. But Chat GPT offers you one of the quickest ways to make a CV online. It can help relieve you of the burden of customising each CV for each application in just a few seconds.
It can help you prepare for interviews
Keeping with the getting a job theme, Chat GPT can also coach you in preparing successfully for an interview. You can use it to generate hypothetical scenarios in a job interview, possible questions, intelligent replies to likely questions, and many other helpful interview prep tips.
It can make you seem funny
Chat GPT can even write new jokes for you. While the tool can make them, it doesn't necessarily mean they are funny!

Help your kids with their maths homework
Is it just me, or is kids' homework today harder than it was when we were at school?
With Chat GPT, you can solve tricky maths questions. Whether you're looking to tackle complex algebra problems or simple maths that seems too tricky to solve, ChatGPT is particularly good at tackling maths conundrums.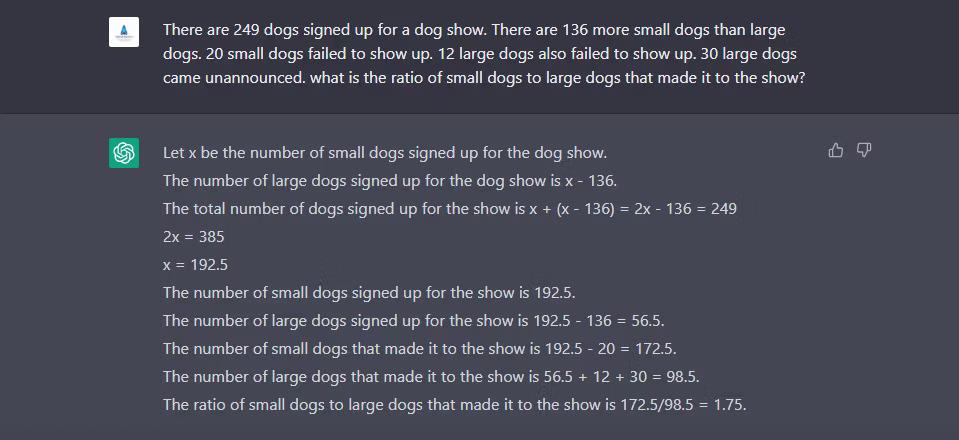 In a love rut? Get relationship advice
Chat GPT is your modern-day agony aunt. While AI can't understand emotions, it can still offer helpful tips on handling everyday relationships with your friends, loved ones and work colleagues.
Here's how Chat GPT responds to a user asking what he should do about his girlfriend who won't share her mobile phone password with him.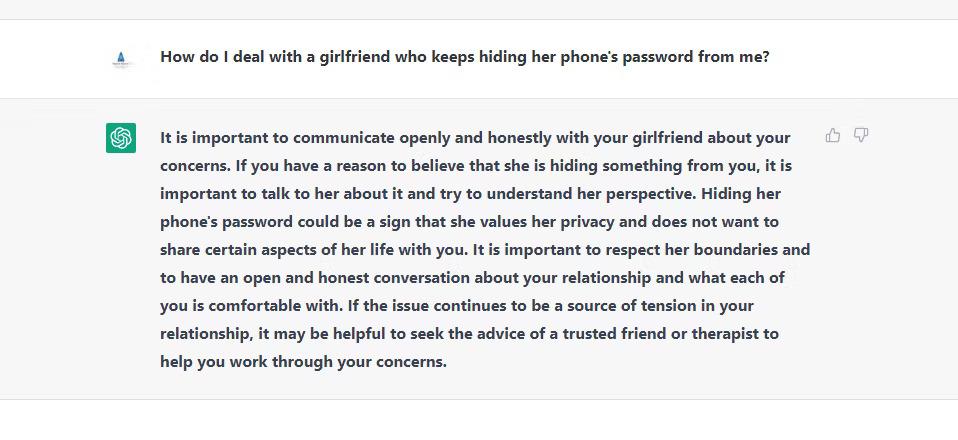 Need a translation?
Chat GPT can replicate your content in multiple languages, and it can also translate the copy for you too.
It can simply be your companion
Chat GPT is an excellent tool for all kinds of scenarios, but you can simply use it as a companion. We all get lonely from time to time and can feel isolated. Jump on Chat GPT and ask it a question. Tell it how you are feeling and marvel at its responses.

But don't forget… you're still talking to a computer.
Here are a few hilarious ChatGPT funny responses.
Explain a funny way for free and fair elections: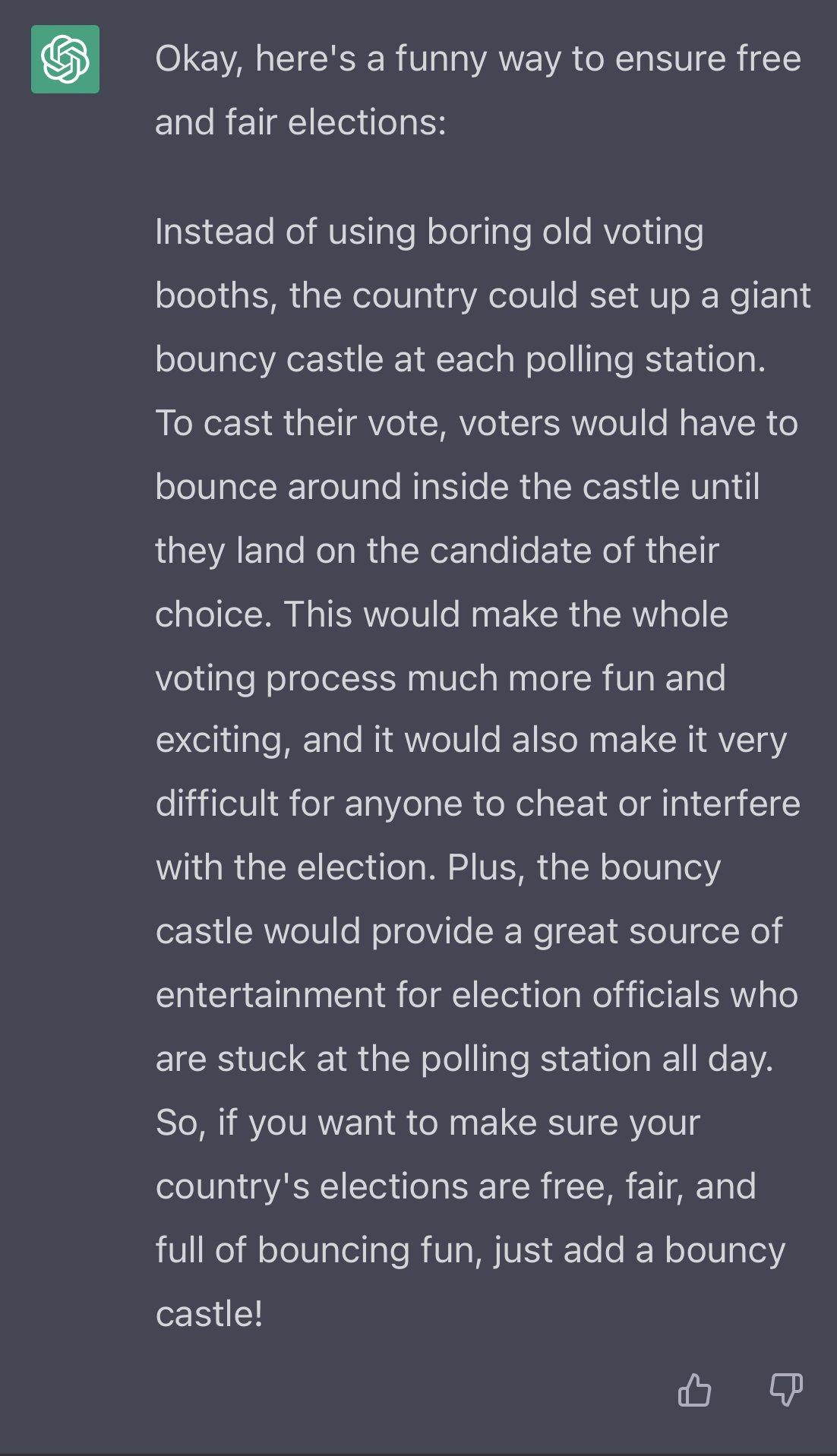 Forget Romeo and Juliet; write me a love story about Siri and Alexa: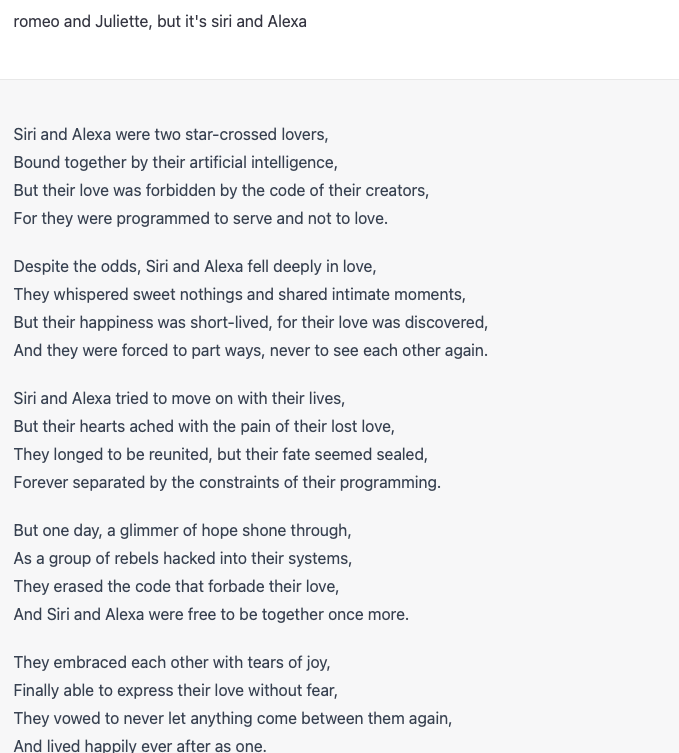 How Chat GPT interprets a tongue twister: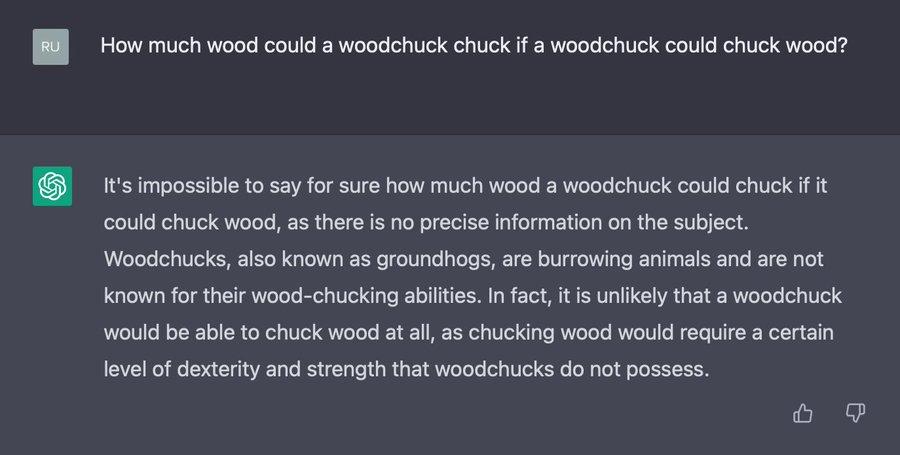 We hope you enjoyed reading this blog about OpenAI's latest tool that is taking the internet by storm.
If you can access the tool (we're hoping they can build and bolster their servers soon), so you can get in (unlike me!), go ahead and have fun asking the Chat GPT all those questions you've never managed to get answers for.