Jersey is seeing a lot more interest in the game of chess, due to the popular Netflix series, The Queen's Gambit.
Although no face to face chess was possible during December for Jersey chess players, for the top junior players, online chess was thriving during December with two local tournaments and three international tournaments to keep our top young players busy.
Locally, Jem Gurner (shown in the pictures), the current Island Champion for Jersey, won both The Mary Jacomb Rapid and The Ed Le Quesne Blitz
The Mary Jacomb Rapid being 10 mins + 2 second increments for all moves where he managed to win 7/7 games, scoring a 100% record.  Tied for 2nd and 3rd were Robbie Tieppo and Monty Weaver who scored 5/7 and there were 16 entries in total.  The top girl was Yasmin Forbes with 4/7 whilst Amelia Weber was 2nd top girl with 3.5/7.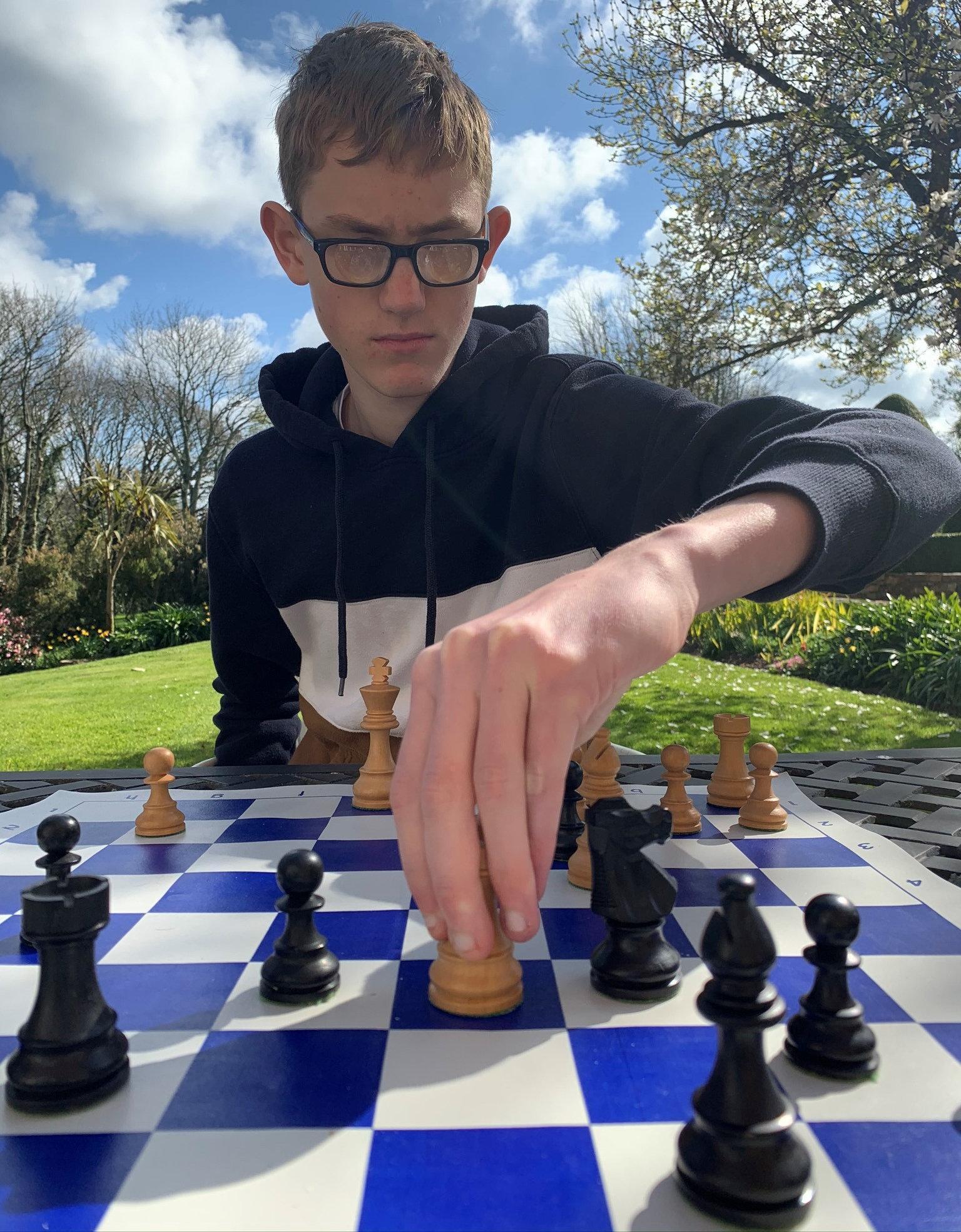 The Ed Le Quense Blitz was 5 minutes per player for all moves with 18 entries and Jem Gurner scored an impressive 17.5/18 dropping only one draw to Gus Weber who scored an impressive 17 points, albeit managing to play 22 games in the total time for the tournament of 2 hours.  Archie Willets came 3rd with 12 points.  Top girl was Emma Mwanga with 9 points, Yasmin Forbes was 2nd with 7.5 points and Ketaki Sable 3rd top girl with 4 points.
Jersey's juniors were extremely fortunate to be invited to play in The Celtic Nations event and were able to pit their wits against the best junior players from countries of Scotland, Ireland and Wales.  Jersey's Under 16 (U16) team of Aditya Vanjare, Michal Kieryk, Gabriel Weaver, Archie Willets, Kamil Kieryk and Darius Kayley scored a total of 6 points between them with Vanjare contributing 4 of those points. Scotland won the U16 event.
The Under 14 (U14) team consisted of Robbie Tieppo, Yuvraj Singh, Mateusz Kopec, Mikolaj Aleksander, Liam Ball, Christie Raphael-Hall, Matthew McConnell, Yasmin Forbes, Amelia Weber and Ketaki Sable.  The under 14 team managed to score 6.5 points with Robbie Tieppo top scorer with 2.5 points ,Yuvraj Singh 2 points, Mateusz Kopec and Aleksander Mikolaj scoring one 1 point each. Ireland won the U14 event.
The Under 12 (U12) team consisted of Kobe Gilmore, Gus Weber, Emma Mwanga, Monty Weaver, Sadie Taylor, Ethan Mwanga, Max Forbes, Jago Taylor, Jack McConnell and Simeon Taylor and they managed to score 8 points, with 5 of those points coming from a tremendous 5/6 score from Kobe Gilmore, 1 point each coming from Emma Mwanga and Gus Weber and half a point each from Monty Weaver and Sadie Taylor.  Scotland won the U12 event.
The top junior in each Jersey age group also entered The European Continental World Rapid with Jersey qualifiers in each age group playing 6 games each.  Gus Weber (under 10's) scored 2 points, beating players from Belgium and Israel, Matthew McConnell (under 12's) scored 2 points, beating players from Cyprus and Monaco whilst Yuvraj Singh also won a game in the under 14's against his Cypriot counterpart.  Completing a strong Jersey team, Aditya Vanjare represented Jersey in the under 16's and Jem Gurner in the under 18's, who managed a creditable draw with FIDE Master Sadigi Mammadov of Azerbaijan.
The winners in The European event were from Russia, Belarus, Denmark, Italy, Azerbaijan and The Netherlands.
Both The Celtic Nations and European Continental Rapid event were an excellent experience for the juniors who participated.
Finally, in The Caplin British Online Championship 2020, where many of the best British players were competing for the first prize, Jem Gurner scored a creditable 4/9 with 3 wins and 2 draws, whilst Gus Weber managed to score a win and draw in the under 10 section.
---
For any juniors who are interested in entering online events in Jersey, please email paulmwoj@gmail.com or call 07797 740785.
Grant Thornton and SaSo Strategic Advisers Limited are sponsors of junior chess in Jersey.