Franckel Law, a Jersey law firm specialising in contentious trusts and dispute resolution, is sponsoring the Intrepid232 ladies quad team rowers participating in the renowned ROW Atlantic Challenge.
Known as the 'World's Toughest Row-Atlantic' race, this gruelling competition entails a 3000 mile unsupported journey across the treacherous Atlantic Ocean.
The Intrepid232 ladies, Alison, Julie, Helene and Rosemary, will set off in early December from La Gomera, Canary Islands, Spain (28°N 18°W) and cross the finish line at Nelson's Dockyard, English Harbour, Antigua & Barbuda (17°N 61°W) between 50-60 days later, all being well. This demanding race tests participants' physical and mental limits as they face colossal challenges such as 40-foot waves, 35-knot winds, and scorching temperatures reaching up to 40 degrees Celsius.
The team aims to break the existing Ocean Rowing World Record for the oldest female fours crew to cross the Atlantic while raising money for their two chosen charities, the Grace Crocker Trust and Blue Marine Foundation.
The Intrepid232 ladies commented, "We are absolutely delighted to have Franckel Law on board as a silver sponsor. From the first time we met Simon at the Jersey Boat Show he has consistently shown us an enormous amount of support and encouragement.  It is really exciting for the team to have somebody so enthusiastic and interested in our challenge, to believe in us and follow us on our journey."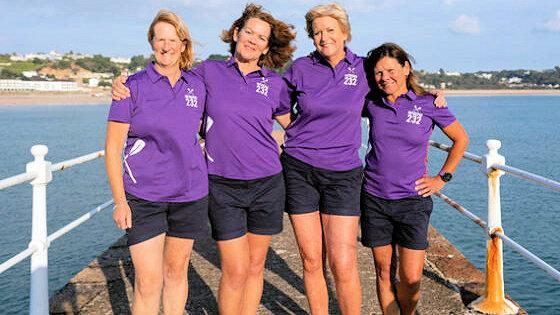 The law firm will provide both financial assistance and moral support from a safe distance for the rowers during their epic journey as the team row over 1.5 million oar strokes over the race.
Advocate Simon Franckel, founder of Franckel Law, said: "My firm is delighted to be able to support the quad team rowers in their endeavour. I have what I consider to be a healthy fear of the sea. I, therefore, have immense respect for anyone who dares to take on this unique challenge of crossing an ocean in a rowing boat and great admiration for their spirit of adventure.
"Alison, Julie, Helene and Rosemary will achieve an extraordinary feat – more people have climbed Everest than have successfully rowed across the Atlantic. As someone who prefers to stay on dry land, I can only imagine the challenges they will face along the way. Once I saw the enormity of the challenge and the excellent cause their efforts will support, I was only too delighted to be a sponsor."
---
Click here for more information about Intrepiud232 and here for information about the challenge.