A team from the Isle of Man St. Ninian's High School has beaten hundreds of thousands of rivals to scoop the prestigious 'Innovation of the Year' category at the Junior Achievement Europe awards in Istanbul.
The seven A-level students, known as team 'Mindcore', developed a ground-breaking mobile app that assists people with visual impairments and offers support to neurodiverse individuals.
The ERA (Easy Reading Assistant) app was developed by James Drummond, Hudson Sayle, Matthew Hughes, Aaron Matthews, Dominik Stawny, and Siddharth Muthu Pandian and includes features such as text customisation, text-to-speech and enhanced reading techniques. It is currently available to download for free.
In addition, the team were also crowned winners of the BNY Mellon Future First Award, which celebrates unique business solutions to pressing global environmental, social or governance challenges.
---
Gen-E is Europe's largest Entrepreneurship event, a celebration of entrepreneurship and the achievements of European youth. Thousands of European students, from 15 years old onwards, showcase their cutting–edge business ideas online and on-site. The Gen-E Festival also combines two annual European entrepreneurship contests for the winners of JA Company and the JA Start-Up Programme from over 40 countries. Gen-E 2024 will be held in Catania, Italy.
JA Europe is the largest and leading organisation in Europe dedicated to inspire and prepare young people to succeed. For over 100 years, JA Worldwide has delivered hands-on, experiential learning in entrepreneurship, work readiness and financial health. In the last school year, the JA Europe network provided over 6.6 million learning experiences for youth in online, in person and blended formats. For two consecutive years, Junior Achievement has been nominated for the Nobel Peace Prize for its global reach,  youth economic empowerment delivery at scale, and ability to find unity in diversity.
Junior Achievement is a Manx registered charity that helps young people prepare for employment. Each year they raise funds to support 4,000 young people in schools on the Isle of Man.
Students set up and run their own company over the course of an academic year gaining invaluable experience. At the end of the programme, student companies from all over the Island compete in the Isle of Man finals to select the company that will represent the Isle of Man at the GEN-E European competition.
Click here to watch the team's presentation.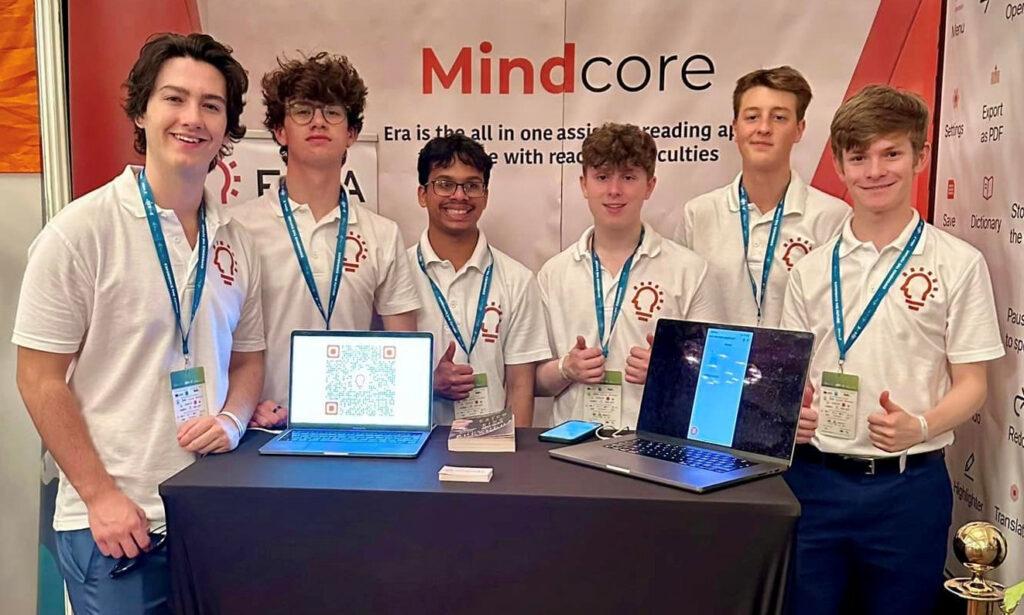 Minister for Education, Sport and Culture, Julie Edge MHK, said: "Their victory is testament to the hard work, dedication, innovation and invaluable support of teachers, mentors and JA Isle of Man. This success highlights the island's innovative spirit and the remarkable creativity of its young people."
Organised by JA Europe, the European Entrepreneurship Event showcases the ingenuity, creativity and entrepreneurial spirit of participating students in front of some of Europe's leading business partners, entrepreneurs and policymakers.
Chief Executive of JA IOM, Sue Cook, said: "This is a momentous occasion. To see their hard work and dedication being recognised on this stage is an incredible source of pride."
Last month, Team Apollo from Ballakermeen High School also received international recognition for their own innovative product, which used Artificial Intelligence (AI) to help drivers stay safe.
Chief Minister, Alfred Cannan MHK, said: "These recent victories are a remarkable accomplishment for both the students, their schools and the charity. It is incredibly inspiring to witness our students excel on a European stage and their achievements underline our commitment to fostering innovation and entrepreneurial skills among our young people.
"They should all be extremely proud."
---
Main picture shows the Isle of Man Delegation (Team Mindcore and Team Apollo).