A Jersey based entrepreneur has launched a free app to empower victims of abuse and sexual assault, by aiding the recording and reporting of violent crime.
Injury Capture which launches today in Jersey allows legally admissible forensic imagery and other associated evidence to be gathered, to support police investigations and prosecutions.
Utilising his experience as Founder and CEO of one of the UK's leading forensic science service providers, Simon Franc, saw first-hand the very low rates of conviction in domestic abuse against both women and men; with 77% of reported incidents unable to proceed to prosecution due to 'evidential difficulties'.
If victims don't report a crime immediately, whether because of trauma or other reasons, it is difficult for police to find the evidence to take a case to prosecution. Added to this is that fewer than one in six victims reported a sexual assault to the police in the first place, stating embarrassment, humiliation and/or they didn't think the police could help.
Simon Franc (pictured) said: "We all know that the best course of action is to call 999 immediately and report an attack. However, for a variety of reasons, many victims delay seeking help, and this makes prosecuting and proving a crime much harder. I wanted to make it easy to capture evidence in order to enable justice for the victim, while also making the criminal justice system more efficient. It empowers the most vulnerable in our society, and those who care about them."
The app was developed in consultation with police forces, victims' support organisations, and criminal justice experts. It is free to use and also has a web-based option. It is not only fully compliant with data protection and privacy regulations, but is certified to ensure that the evidence it gathers is legally admissible in a court of law.
Friends, relatives, and professionals can also use the app to record evidence of an assault or abuse. Once sent to the police, it provides a fully admissible evidenced case that can be put to suspects within minutes, helping increase early guilty pleas, as well as successful prosecutions.
The need for this app has increased during the pandemic. The global increase in domestic violence during Covid lockdowns, has been described as the 'shadow pandemic' by the United Nations. Even before Covid, evidence showed that one in three women had experienced physical and/or sexual violence from an intimate partner in their lifetime.
How the app works
Take photographs of injuries that are 'scaled' (measured) in line with the legal requirements to qualify as forensic evidence.
Provide details of the incident
Upload any files, videos, notes, messages, etc that are supplementary evidence
Friends and family can also submit evidence
The data is securely stored according to the legal requirements for court admission, preserving vital metadata which validates the evidence with details such as location and time, etc
It can be sent to the police within minutes, allowing them to act swiftly
If the victim isn't able to report the attack instantly, the evidence will still be available to submit, allowing for a swift investigation and hopefully a successful prosecution, weeks, months, or even years later.
The benefits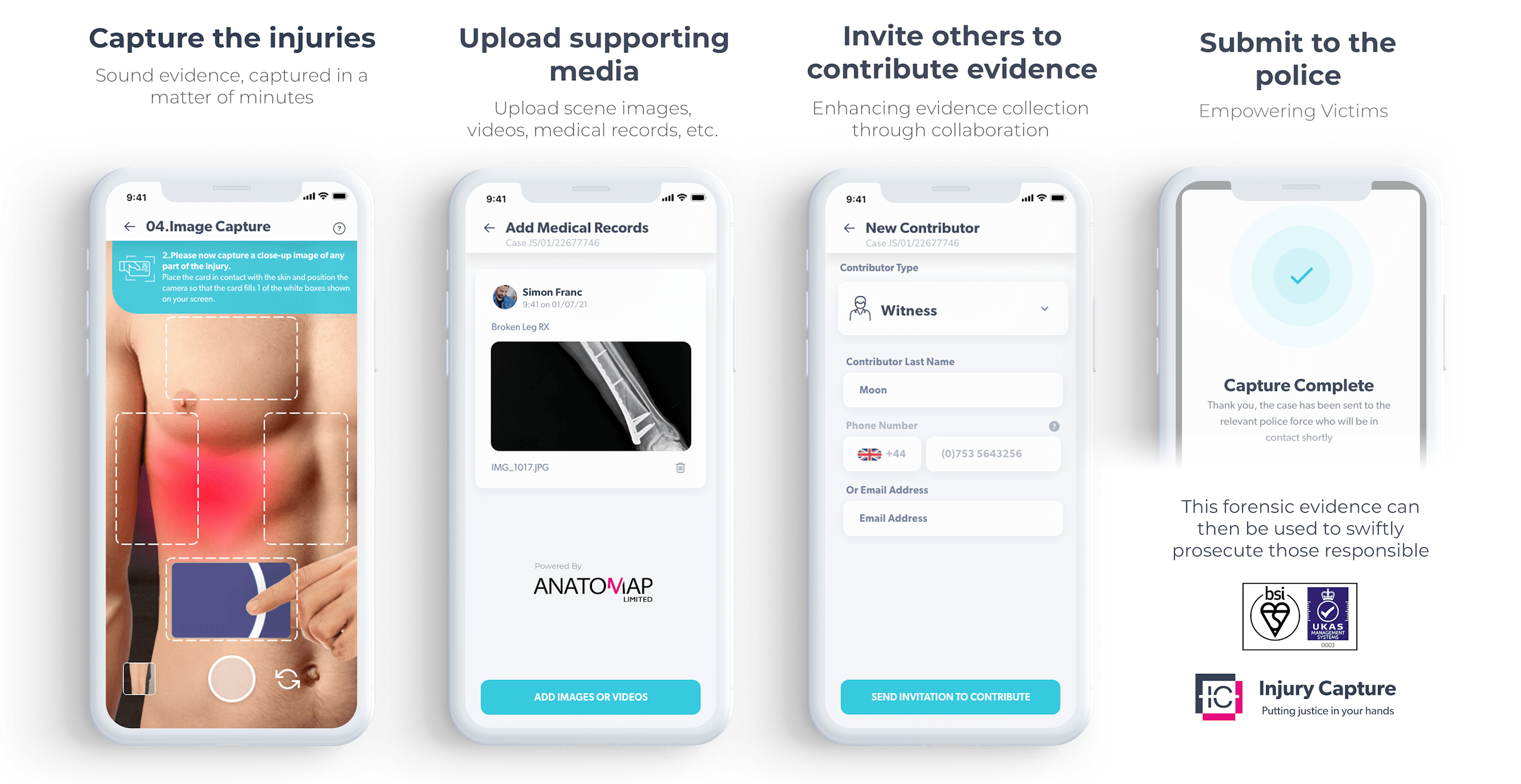 Simon added: "My hope is that with better quality evidence which can be retained, we will get more successful convictions, and those who might contemplate violent crimes will think again. Meanwhile, their victims will have the confidence to report the crimes knowing they have the best opportunity for justice."
The app can be downloaded for free from Google and Apple app stores, or by clicking here.