EY employees sported the colours of the Pride rainbow to take part in EY's first colour mile on Friday morning to mark the beginning of this year's CI Pride.
EY's colour mile took place on Friday morning in both islands. The team in Guernsey set-off from their office in St Julian's Avenue and went up and around Candie Gardens, while the Jersey mile (shown in the main picture) started from Liberation House and stretched along the sea front. The purpose of the walk was to show unity and solidarity with the CI Pride celebrations and the wider issues the LGBTQ+ community experience.
Activities to mark CI Pride were held throughout the week at EY's Channel Islands offices. A rainbow balloon arch took pride of place in EY's Guernsey reception to present a clear message to all that they welcome to the office that EY is an inclusive and safe workplace.
Employees were given the opportunity to take part in book swaps, shining a light on literature from the LGBTQ+ community, to help educate on the issues many face in their lives, as well as appreciating the different perspectives and experiences diverse authors can offer. The offices were also provided with fruits and healthy juices, alongside poignant information on the issues the LGBTQ+ community experience with accessing health and wellbeing care.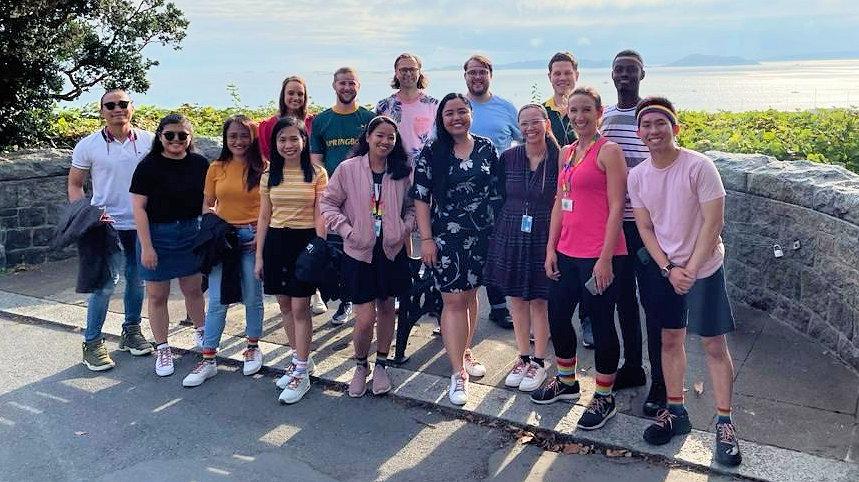 Ove Svejstrup, Associate Partner and Pride in Sport champion for EY in the Channel Islands, explains why supporting CI Pride is so important to both EY and the wider community: "We are proud to be continuing our support of CI Pride as an official sponsor for another year, it builds upon our commitment to the Pride in Sport initiative we first began sponsoring in 2018. As a firm, we are committed to creating an environment where all differences are valued, and everyone feels like they truly belong and can be themselves and CI Pride embodies these values.
"It was fantastic to see so many of our people come together to take part in our colour mile to reflect upon the issues highlighted during the week that the LGBT+ community face, as well as celebrate the progress which has been made and the wonderful diversity of our offices.
"While great progress has been made over the years, it's clear that work still needs to be done to create a truly inclusive society. Supporting CI Pride and the work Liberate continues to do across the Channel Islands is so important to advocate the change we all want and need to see."
Ellie Jones, CEO of Liberate, added: "Pride couldn't happen without the help of our sponsors and it really means the world to us here at Liberate when an organisation really backs that up with showing the world that the thread of inclusivity runs through the whole business. I know from personal experience that if you are LGBTQ+ and the business that you work for visibly celebrates who you are you really feel that you can bring your true authentic self to work and that means a happier you!"