Tibet, North Korea, Guyana, Iraq and Chernobyl aren't destinations that make it on to many people's travel wish-list.
For Rudi Goritschnig, however, no country was too obscure and no corner of the planet too far-flung. The globetrotting islander wanted to see it all, which is why he spent the last three years of his life doing what he loved best – travelling.
Now, he's posthumously sharing his adventures in a new book, The Final Countdown, ghost-written by Jersey-based author Ian Ronayne. Detailing his travels and battle with cancer, the book is a call to arms: don't give up hope, no matter the circumstances.
"He felt very strongly that you have to have a goal to give you hope, and he believed in the power of a positive mindset".
"I think Rudi wrote the book for himself, really. I think there was a degree of therapy in what he did and there was something in him that said, 'I want to be remembered'. He was so proud of his travelling. But I know he also wanted to inspire people", said Ian, who had written a full draft before Rudi's death, aged 80, in September 2019.
"He wanted people to read the book and be inspired not to give up even in the worst of times. A lot of people go through cancer and he wanted to show that there was still a chance to achieve things. He felt very strongly that you have to have a goal to give you hope, and he believed in the power of a positive mindset".
There's no place like home
Austrian Rudi first came to Jersey to work a summer season in the 1960s. He returned the year after, met his wife-to-be, Sonja, and made the island home. A tailor by trade, he first worked in Jersey's hospitality industry before putting his tailoring skills to use at de Gruchy. Careers in retail and the finance industry followed.
"In 1987, he was doing really well, had a secure life, and decided that was it, he'd had enough. He and his wife left Jersey to travel the world. They visited more than a hundred countries in five years", said Ian, who was asked by Rudi in 2004 to detail that adventure in his first book, From Five Star to Milllions of Stars.
Rudi became something of a well-known face in Jersey, especially in his role as traffic warden at Gorey. And he loved his island in return; wherever he went in the world, he always took a little peace of it with him.
"The guy was a real character and a lot of people will have known him. He never stopped and he kept travelling and exploring the world. He might have been from Jersey but he was very proud to call it home. He took a Jersey flag around the world and loved talking to people about the island". 
The final countdown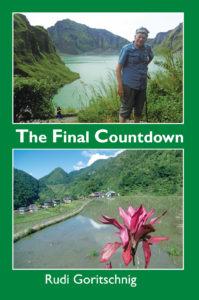 Sonja passed away in 2016, the same year Rudi got his cancer diagnosis. As Rudi recalled to Ian, the doctors said it was serious, predicting he only had months to live. But after an operation and chemotherapy, Rudi went into a short-lived remission.
"There was a point he said to the doctor, 'Any chance I can go and do a bit of travelling?' They said not to go far. So he went to Madeira. But he'd always had a dream of going to Tibet so he set himself a goals and sure enough, he got there".
The intrepid adventurer came to an arrangement with his doctor – he'd go travelling in-between sessions of treatment. This allowed him to experience some of the world's most unusual destinations during his final years, like the site of the Chernobyl disaster in Ukraine and the notoriously secretive country of North Korea. 
"When he was back, I'd visit him every Saturday at his beautiful house. Sometimes we wouldn't write anything, he just wanted to talk about his life. I really enjoyed the process of working with him", said Ian.
"Eventually he became too ill and it became obvious he didn't have much time left. There was a huge rush to get the book drafted. His last wish was to get it published and I promised him I'd make it happen. So here it is, and I'm so pleased".
The Final Countdown by Rudi Goritschnig is available form local bookshops and Amazon and all proceeds go to charity.