A wide range of stalls showcasing local produce will transform the St Peter Port seafront once again this summer, with the return of the Eat Drink and Be Local Street Parties.
The vibrant events are a testament to the island's wealth of produce and local talent, and promote everything grown, caught, reared, produced and harvested within the Bailiwick.
James and Emma Meller, who sit on the EDABL committee, have been instrumental in introducing a more sustainable approach to one element of the event.
James said "We are very conscious of the amount of plastic at our events and are excited this year to introduce a fully recyclable and biodegradable cup. They are PE and PLA plastic free and made from sustainably sourced paper grown from Scandinavian forests which is then manufactured in the UK."
Emma Meller added: "We worked with local artist James Colmer on the artwork used on the cup and are delighted with the final result, which we believe is a wonderful representation of the colourful, lively and fun events the Street Parties are.  We are working with our stall holders to use these instead of plastic to reduce our carbon footprint.'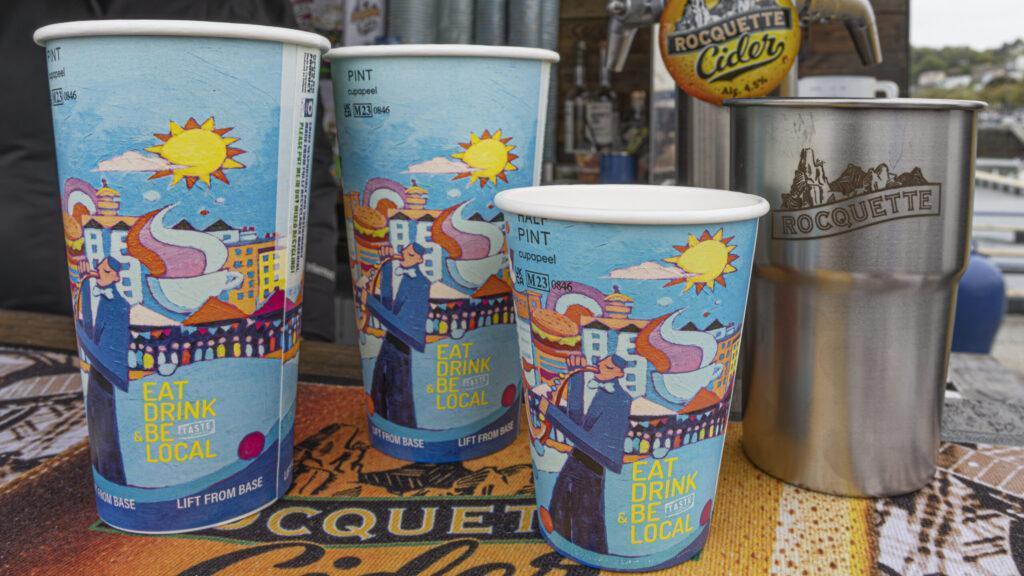 The artist James Colmer said: "When the EDABL Guernsey crew approached me to illustrate their new eco-friendly paper pint and half pint cups for this summer's events, I jumped at the opportunity. Not only was I happy that they were ditching the plastic pints, it was a great chance for me to create something a little bit different from my normal artistic style.
"It had to be colourful and lively and reflect the energy of the events, so I tweaked my style and composed a very stylised and vibrant approach to the artwork. As a playful twist, I scattered ice creams, cool drinks, music, and seafood throughout the St Peter Port skyline."
Alongside the food and drink stalls, local talent across the arts sector will also be highlighted, with craft and artisan stalls set to add to the buzzing atmosphere of the event. As usual, many of the seafront restaurants and bars will open their al fresco areas and there will be live music at each event.
Luke Wheadon, Chair of EDABL, said: "We are thrilled to continue promoting local businesses this year and highlighting the huge wealth of talent here in Guernsey. EDABL is committed to creating opportunities for producers and entrepreneurs within the Bailiwick and the Street Parties act as a platform to celebrate and promote their products within our community."
"The first event of this year was a huge success, and so many people turned out to support local creators and vendors. There was a fantastic community atmosphere on the day and we can't wait to see more of this throughout the summer." said Chris Humber, from the EDABL committee.
More information about the next street party can be found here.
---
Pictured: Eat Drink And Be Local's first Sea Front Sunday of 2023 on 7th May