Cinema and the arts are more paramount than ever in these times when Covid-related rules have meant the arts have suffered during the past year.
Cinestef at The Savoy has now reopened and offers three movie showings a week on Tuesdays, Thursdays and Sundays.  You can enjoy the comfy couches and seats, a meal and drink while watching the films on a big HD screen and 5.1 sound system.
Every week, Stefan Rousseau, the curator of these movies nights, will offer you a short review of each film shown.
Here is this weeks line-up…
Tuesday 27th April 6pm – Escape from New York
Escape from New York by John Carpenter (1981) with Kurt Russell, Ernest Borgnine, Lee Van Cleef, Adrienne Barbeau, Isaac Hayes on Tuesday 27th April from 6pm.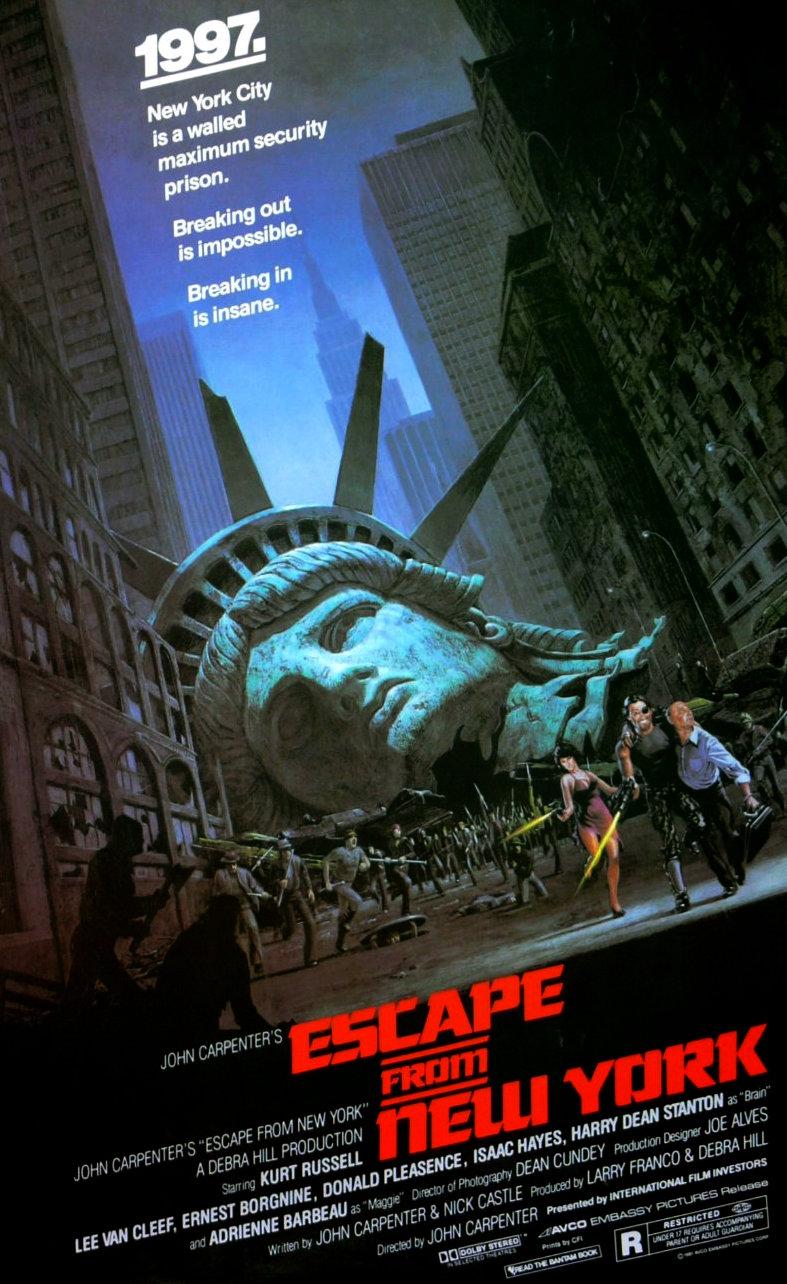 John Carpenter aka Big John became the epitome of a cult filmmaker. After the jackpot that he hit with Halloween (1978), starting one of the longest horror franchise in the history of cinema with a movie that became the most profitable independent movie ever, he is back in 1981 with Escape from New York.
It is an urban western with sci-fi and fantastical elements, using forgotten actors of legends Ernest Borgnine, Lee Van Cleef and Donald Pleasance. But with his eye patch, world famous reputation and his anti-hero attitude, the now ultimate bad-ass name, Snake Plissken (played by Kurt Russell) is the film greatest creation.
The story is simple, the special effects rudimentary but the characters and the storytelling are as good as they come. Carpenter's unique use of the cinemascope format, his incredible ability to create an atmosphere through lighting, direction and music is unrivalled.
No other director ever managed to mix that successfully the strength of classic American cinema with the tropes of western, horror and sci-fi genres while modernising them to create such a unique and enjoyable style. Not many director's have their name in the title of almost all their films and that is saying a lot.
---
Thursday 29th April 6pm – Yojimbo
Yojimbo by Akira Kurosawa (1961) with Toshirô Mifune, Eijirô Tôno, Tatsuya Nakadai on Thursday 29th April from 6pm.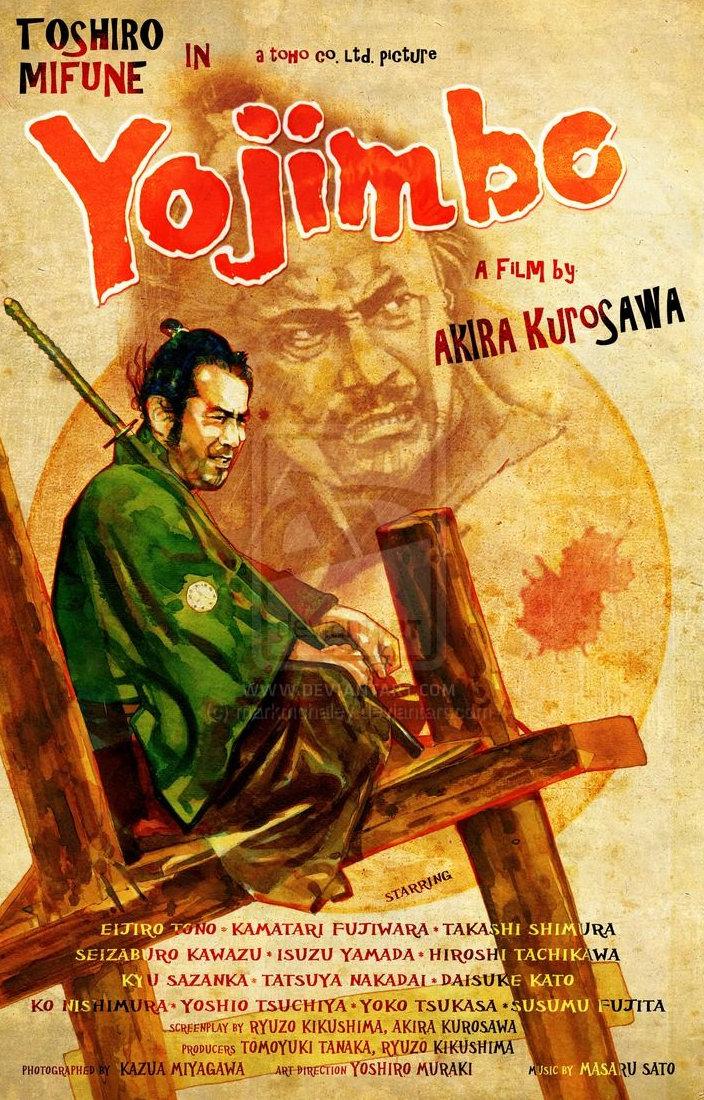 Akira Kurosowa is the most famous director, one of the world's greatest, whose name you know but have probably never seen a movie of. Seven Samurai (1954) is his most famous movie, that introduced Japanese cinema to western audiences, which Hollywood remade as The Magnificent Seven (1960).
Yojimbo (1961) turns out to be an even more influential movie through its Italian remake, For a few dollars more by Sergio Leone (1964). Kurosawa expertly directed a Japanese samurai classic film, but was also inspired directly by American westerns which then remade his film as western. He then came back with Yojimbo which integrated its western influence (in all acceptations of the term) even more by integrating revolvers in a samurai film while still directing a very Japanese movie in its themes, looks and style.
The script is really tight and simple and allows for Kurosawa's incredible sense of composition of the frame and movements of camera to shine very bright.
Toshiro Mifune is a genius actor who had an incredible range from the exuberant fake samurai of Seven Samurai to the truly cunning and man of few words that is the Yojimbo of the eponymous film.  This character will become The Man with No Name played by Eastwood in a Fistful of Dollars directed by Sergio Leone, closing the loop by creating the Italian Western ('Spaghetti Westerns') which then influenced the upcoming films of the genre made by Hollywood.
---
Sunday 2nd May – Gandhi
Gandhi by Richard Attenborough (1982) with Ben Kingsley on Sunday 2nd May from 3.30pm.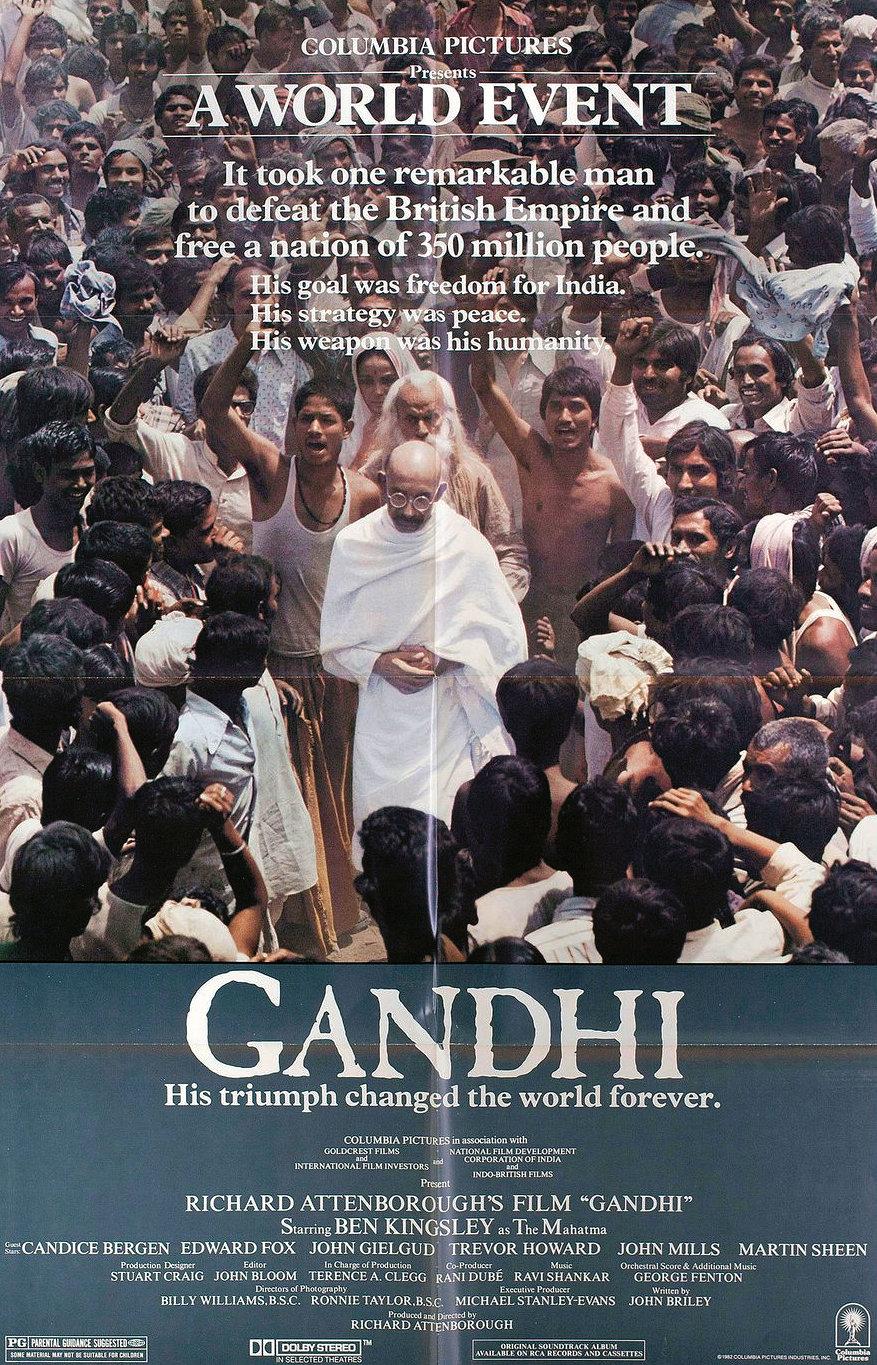 Sir Richard Attenborough is as classic as it gets when it comes to acting in (The Great Escape, The Sand Pebbles, 10 Rillington Place, Jurassic Park) or directing films (A Bridge too far, Magic, Cry Freedom, Chaplin).
Gandhi is by far his biggest project as a director. In 1982, this multiple-Oscar winner (including Best Picture, Best Director, and Best Actor for Ben Kingsley) was an engrossing, reverential look at the life of Mohandas K. Gandhi, who introduced the doctrine of nonviolent resistance to India and who ultimately gained the nation its independence.
If it might seem a bit out of place at times to see the life of Gandhi being celebrated by one of the most British actor/director ever, it is relevant as Gandhi was himself the product of a traditional British education.  Kingsley is magnificent as he changes over the course of the three hour film from an insignificant lawyer to an international leader and symbol.
The movie is accurate and strong on its historical facts as well as with its character and ideas expressed. This is a very solid and fine film, a necessary biography of an exceptional man who should be remembered for his ideas and actions and not for what the legend would like him to be.