The gorgeous colours, crunchy leaves, crisp air –  autumn is a great time of year for getting out and about with kids.
Summer might have officially drawn to a close in the Northern Hemisphere but with so much to look forward to this coming season, who needs summer anyway? There is a packed schedule of events to keep young ones of all ages thoroughly entertained in the next few months. You don't need to break the bank either, with a good choice of free events in both Jersey and Guernsey.
So whether your clan loves getting active in the great outdoors, or immersing itself in pop culture, check out our round-up of fun family things to do this season.
Tour of Elizabeth Castle
Where: Jersey
When: Daily
Take a free guided tour of Elizabeth Castle and learn about its fascinating history. Normal admission prices will apply and tours may take longer than one hour.
Cobo Bay Balcony Gigs
Where: Guernsey
When: 27 September
The last gig of the series features Elysium as Pink Floyd supported by Stuck to the Ceiling and The Infrequents. The event starts at around 3pm and lasts until 7.30pm. 
Apple Picking
Where: Jersey
When: 3 and 10 October
Book your bubble in advance to these apple picking events at Hamptonne Country Life Museum.
Nature Guernsey's Bird Ringing Open Days
Where: Guernsey
When: 26 and 27 September
Nature Guernsey will demonstrate Bird ringing at Le Jardin de Lorette Nature Reserve from 9am to 4pm each day. Parking at Hautes Capelles Primary School. Everyone welcome and the entry is free.
Tour of La Hougue Bie
Where: Jersey
When: Daily 
Take a free tour of La Hougue Bie with an experienced tour guides and learn about the history of the property. Tours are free, but normal admission prices apply.
The Big Geekend
Where: Guernsey
When: 26 and 27 September
Embrace your nerdy nature at this two-day celebration of offbeat hobbies, pastimes and collections.  Interests on display include model trains, cosplay, model making, microscopes and biology, dinosaurs, cartoons, Morris dancing and war games. 10am to 3pm.
The Accidental Zoo Open Day
Where: Guernsey
When: 26 and 27 September
Make sure you've snapped up tickets to the last Accidental Zoo events for the summer. Meet the animals and explore the bug tent. Tickets start from £9.21each to £32.93 for a family ticket.
Witchcraft and Wizardry St Peter Port
Where: Guernsey
When: 03 October
Wands at the ready for this new adventure game. Put together a team of mystery-solving wizards to unravel the mystery and crack the case in time. Costume optional but encouraged. Book in advance .Starts 9am to 6pm and costs £36 per team.
Family Walk Around St Saviour's Reservoir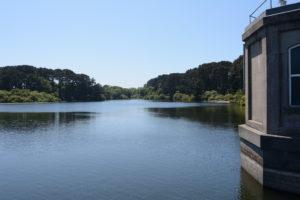 Where: Guernsey
When: 3 October
A guided family-friendly walk around the reservoir, following the Millennium Walk trail (approx 3km). The trail is not suitable for pushchairs, wheelchairs, bikes, scooters etc. Price is a minimum donation of £5 per person though children under 16 go free. All proceeds go to the Sarah Groves Foundation via. Booking is essential. 
Sir Peter Blake exhibition
Where: Jersey
When: From 15 October
This celebration of the Godfather of British Pop Art, Sir Peter Blake,  includes paintings, prints and pop from the 1970s to the present day. Located at CCA Galleries International, at 10 Hill Street, behind the Royal Square. Exhibition starts from 15 October.
Lihou 5k 2020 and Family Fun Afternoon
Where: Guernsey
When: Sunday 4 October
Though the Lihou 5k is strictly 18 years old and over, the sports-themed Family Fun Afternoon is for all the family to take part, with sports day races and more. Free entry into Lihou grounds and children's races require a donation on the day. All donations are in support of The Lihou Charitable Trust.
Half term: Fairies & Folklore @ Candie
Where: Guernsey
When: 26th October – 1 November
Enjoy seasonal activities, trails and crafts, plus family films and Halloween sleepover for cuddly toys.