It's been a difficult year for charitable organisations who are still struggling with the lasting impact of Covid-19 while the cost-of-living crisis looms. Getting funding and support to the right charities is increasingly important, and decisions on awarding grants are ever more difficult.
One year ago, Poppy Murray joined the Board of Trustees of Lloyds Bank Foundation for the Channel Islands. With extensive knowledge of the charitable sector, digital marketing and issue led campaigning, Poppy's diverse career includes roles in finance, multinational retail, legal, journalism and charity sectors, both in Guernsey and the UK.
To celebrate this year's Trustees' Week, Poppy told us about her first year as a Trustee, what she's learned, and what she's looking forward to in her second year.
How have you found your first year as a trustee?
My first year as a trustee has been an amazing experience – incredibly rewarding and eye-opening. While I have been actively involved in the charitable sector for 15 years, it had previously been from the perspective of a volunteer or board member.
Rather than being involved in one-off events or specific causes, being a trustee has given me an insight into the broad-spectrum of charities across the Channel Islands, the important roles they play and their needs in delivering essential services. I have also had the opportunity to visit grant recipients and see the work happening on the ground. I can't think of any other role which would allow me to have this insight and experience.
What have you learned?
One of the most important things I have learned is the unlimited benefit of having a diverse board of trustees. I had initially been apprehensive to apply for the role, as I had a rather stereotypical view of what a trustee was and felt that I perhaps lacked the years of experience or credentials required.
I soon learned that the Lloyds Bank Foundation actively seeks to appoint trustees with a wide range of skills and experience. The benefits of this were immediately obvious from my first meeting, it was clear that we each had unique perspectives which were incredibly valuable in making difficult decisions in respect to awarding grants. I am continually learning from the experience of other trustees and look forward to this continuing.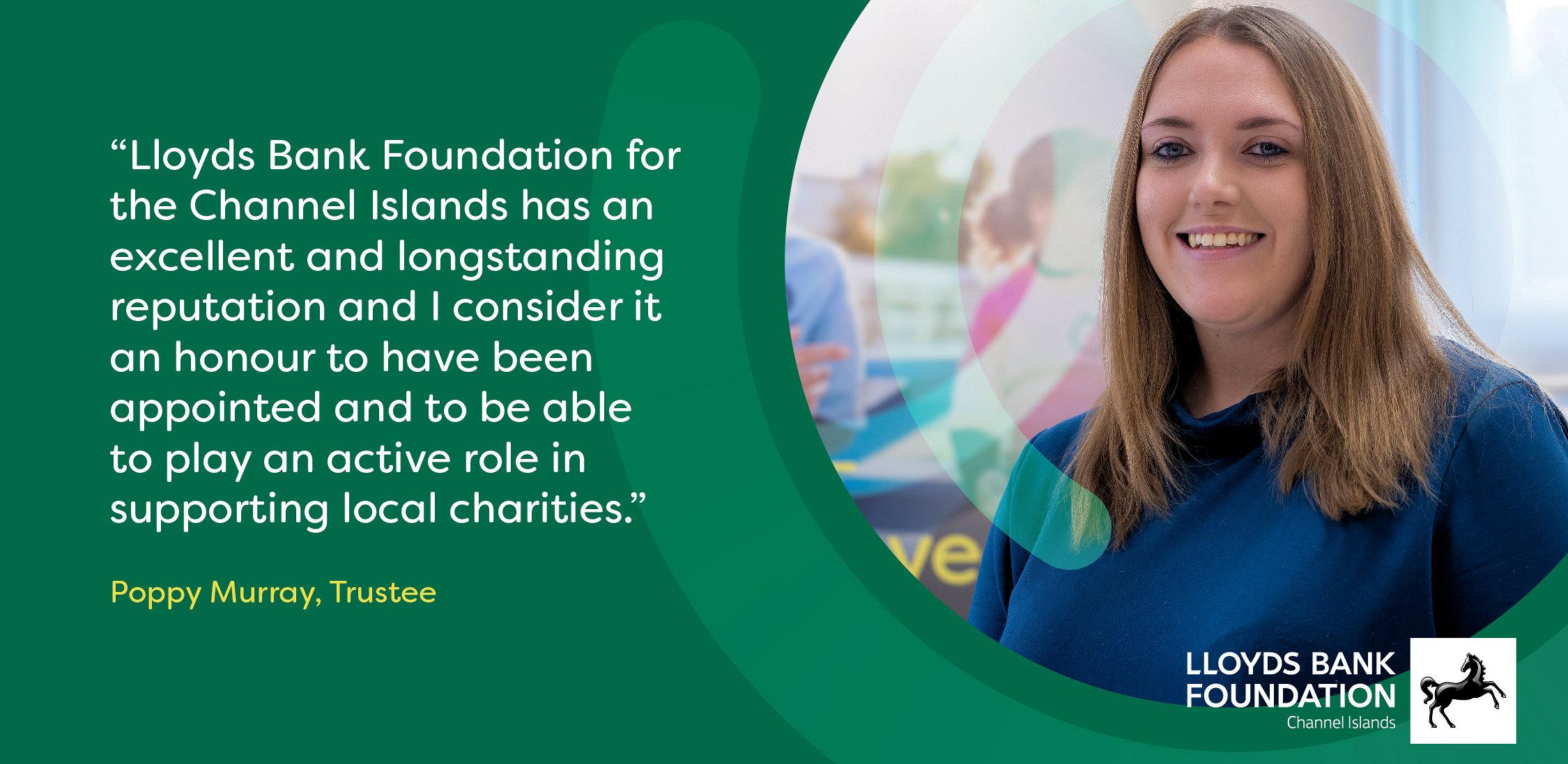 Tell us something that surprised you.
Something which surprised me about becoming a trustee is the depth of the Foundation's role, which expands far further than allocating grants. The Lloyds Bank Foundation for the Channel Islands has a broad reach in the community, which includes a fantastic mentorship programme that connects Lloyds' volunteers with charities where their extensive expertise can be of benefit.
Lloyds Bank is the sole funder of the foundation, and it truly understands that providing funding alone is not always the most effective way to help charities achieve their objectives.
In my first trustee meeting we heard first-hand experience of how a mentoring partnership facilitated by the Lloyds Bank Foundation had helped a local charity, which was hugely inspiring to me and showed the very real impact the scheme has. I have also benefitted from being paired with a trustee mentor myself, which has been invaluable in learning more about the role.
What motivated you to become a trustee?
In 2021 I launched a women's safety campaign, drawing on the experience I had attained through previous years in the charitable sector. The immediate and continued success of the campaign I created gave me confidence that the skills I had developed may be beneficial in other charitable roles. My work connected me with the local organisation Women in Public Life, which is how I heard about the vacancy for the trustee role.
A trustee role is not something that I would have previously considered, but I was encouraged by the application process and the openness and friendliness of the interview panel. My mind was immediately put at ease during the interview, and I realised that my experience, particularly in journalism and social media, could be an asset to the board.
The Lloyds Bank Foundation for the Channel Islands has an excellent and longstanding reputation and I consider it an honour to have been appointed and to be able to play an active role in supporting local charities.
Thinking about the year ahead, what are you looking forward to?
The theme for this year's Trustees' Week is 'making a difference in changing times' and I think it would be fair to say that the concept of 'changing times' will continue to be more relevant than ever in the year ahead.
While we all adjust to the 'new normal', charities continue to be stretched to capacity following the pandemic and I look forward to continuing to support them. I am particularly keen to take up opportunities to visit grant recipients to gain a greater insight into the impact the grants have.
Now that I am more settled in the role, I am also looking forward to progressing with work to build the Foundation's social media presence so that more charities are aware of the grant process and more people can see essential work undertaken by our grant recipients.
What advice would you give to others considering a trustee role?
Don't underestimate what you could bring to the table. Clear your mind of any stereotypes you may have of what a trustee is and replace those thoughts with ideas of all the things you think a trustee should be. We all have different skillsets and experiences, which are all equally valuable. You may find yourself surprised by the impact your expertise could have in playing a role in making a real difference to your community.