Three new trustees have been appointed to the Board of local homeless charity, Sanctuary Trust.
Carl Blackmore (pictured), Tim Ringsdore and Alan Ross join the current trustees, bringing the total number to seven, including Frank Walker as Chair.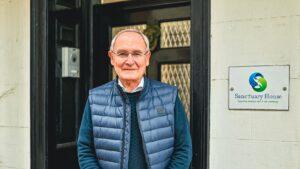 On the appointments, Frank commented: "Sanctuary Trust is having to grow to meet the increased demand for our services. With that growth comes new challenges and we need trustees who can navigate and respond to the pressures that a small charity faces in today's climate.
"With the injection of expertise and energy that Carl, Tim and Alan bring, alongside our existing group of knowledgeable and dynamic trustees, we have a complimentary blend of skills and experience, spanning public, private and third sector. My deepest thanks go to Chief Minister Kristina Moore, Steve Pallett and Reverend Jenny Pathmarajah who served as trustees until this year."
Carl Blackmore was the Head of Compliance for Sanctuary Trust for nine and a half years and prior to that worked in managerial roles at other local charities.
Moving from employee to trustee, Carl said: "On reaching retirement, I wanted to maintain my connection with Sanctuary Trust because I believe very strongly in the work we do. Becoming a trustee allows me to continue to support the charity and make a difference to men who are at a crisis point in their lives."
Chief executive officer of the Jersey Competition Regulatory Authority, Tim Ringsdore brings to the trust a wealth of experience working in regulation,  telecommunications and broadcast television. He has a strong background of supporting and fundraising for local charities.
On joining the trust, Tim commented: "It is shocking to think that more than 200 people in the island are staying in shelters every night and hundreds more do not have a place to call home. It is a privilege to join Sanctuary Trust and I hope, in some small way, I can play a part in helping the trust to change this troubling reality."
An existing supporter of Sanctuary Trust, Alan Ross is a semi-retired chartered accountant with extensive experience in the fund industry. His most recent role was Head of Private Equity at Aztec Group.
On being appointed, Alan said: "I am already committed to Sanctuary Trust as a regular donor. I see the immense value in the charity's work and I want to provide my experience and expertise to support the team and fellow trustees as we embark on what is set to be a difficult and challenging period not just for local charities but for many islanders."
Carl, Tim and Alan's appointments have been approved by the Jersey Care Commission and are effective from 2nd November 2022.