On 22nd February, Daz Carre will be testing himself to his limits on an epic adventure inside the Arctic Circle, in aid of the Priaulx Premature Baby Foundation (PPBF).
The Ice Ultra is a 230k race through 5 stages of Arctic tundra, endless pine forests, snowy mountains and frozen lakes. It starts in Swedish Lapland where temperatures will fluctuate between -5 and -40. Daz will push himself mentally and physically to raise vital funds for the local charity.
Daz is an adventure racer from Guernsey who has completed many ultra distance races including the famous 'Marathon des Sables' which took place in the Moroccan Sahara Desert. "It's just a natural curiosity that now I've completed the race dubbed as "The hottest race on Earth", that I should embark on one of the coldest!"; he says.
Daz describes how his training is going and what it will be like; "I am preparing to take on an epic self-sufficient ultramarathon with freezing conditions that we're not used to in Guernsey. The race is fully marked and starts at the Mountain Centre at Stora Sjofallets and finishes in the small town of Jokkmokk.
The longest stage is on day 4, which is a 64km stage that starts before the sun rises on the remote island of Laxholmen. Apparently, if you are lucky, then natures fireworks display, otherwise known as the Northern Lights, would have greeted us over the finish line of day 3 before we sleep in traditional yurts, warmed by a log fire.
Unsurprisingly, there is large compulsory kit list which includes food for 5 stages of racing (minimum 2000 calories per day), medical supplies, race equipment and enough clothing to stay alive in this extreme endurance test."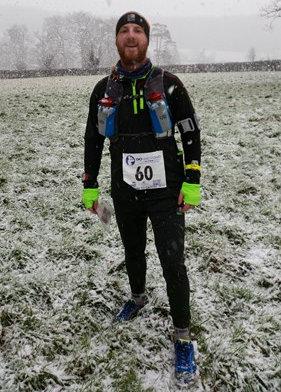 Thanks to FerrySpeed, Daz got to test out his clothing in their freezer at -21 degrees. "It was an interesting experiment and I learned a few things which will hopefully help me out."
Training was going well until before Christmas when he caught Covid. "Training halted after I had Covid"; he says, "but it's slowly getting back on track. It's been a struggle but I'm still in good shape, although I haven't done quite as many miles as I wanted to. We'll see what happens".
The PPBF were able to help house some close friends of his in one of their Southampton apartments for a period of time whilst their son was undergoing extensive life-saving treatment.
Funds received by the PPBF will go towards their compassionate housing next to Southampton Hospital; 2 vital home-from-home flats that are rarely empty. They help keep families together, close to their poorly child in hospital far away from home. The flats provide a real sanctuary for Bailiwick of Guernsey families during exceptionally difficult times.
Jo Priaulx, Founder & Trustee of PPBF says; "This is an amazing but really tough challenge for Daz. We want to thank him so much for supporting our charity and wish him the best of luck. We hope he has an awesome time."
Maiden Guernsey, a band that Daz plays for, are doing a gig on Friday February 11th at the Vault. There's no entry fee but there will be PPBF collection buckets if people would like to donate to his challenge.
---