Age group awards have been presented to 22 Jersey students in a national competition that promotes careers in engineering.
In total, 600 students from Jersey took part in the Primary Engineer Leader Awards competition, a national initiative which challenges students aged from 3 to 18 to develop their engineering skills by designing a solution to a common problem.
The initiative is the result of a partnership between Skills Jersey, Primary Engineer UK, and funding partners, Jersey Electricity. As part of the competition students interviewed local engineers, many from Jersey Electricity, to learn all about this exciting career path.
The entries from Jersey students this year included a home water pipe that generates electricity, a talking pencil to improve spelling, and several solutions to reduce plastic waste.
Kingston University Engineers support the programme by selecting a design from winners from the previous year and building a prototype.
Their choice of design from 2021 was the 'Disabled Car Seat' by Millie Hampson, Year 9 Jersey College for Girls. Millie's design featured a wheelchair hoist that could work on any car model, assisting disabled persons into and out of their car seat.
Students celebrated in the Great Hall at Highlands College on Tuesday 28 June, which featured an exhibition of over 50 shortlisted designs. The winners received their awards from Suzanne Wylie, Government of Jersey's Chief Executive.
Dave Roworth, Senior Adviser, Digital and Innovation, at Skills Jersey, said: "The exhibition provides an exciting glimpse into the mind of tomorrow's engineers, and the competition is accessible to children from nursery age through to our local sixth-form students.
"I'm so pleased that we have managed to keep the competition running throughout COVID, with more than 2,000 students involved during the past three years. These awards are an opportunity to showcase the talent in our schools, to thank their teachers who get the very best from their pupils, and to recognise local industry colleagues who continue to support by visiting schools and judging the entries each year."
The Jersey Electricity Special Award was presented by Suzanne Wylie to Isabella Wylie (no relation) of Les Quennevais school, for her idea of 'Fashion Bricks' creating building blocks from recycled clothing materials.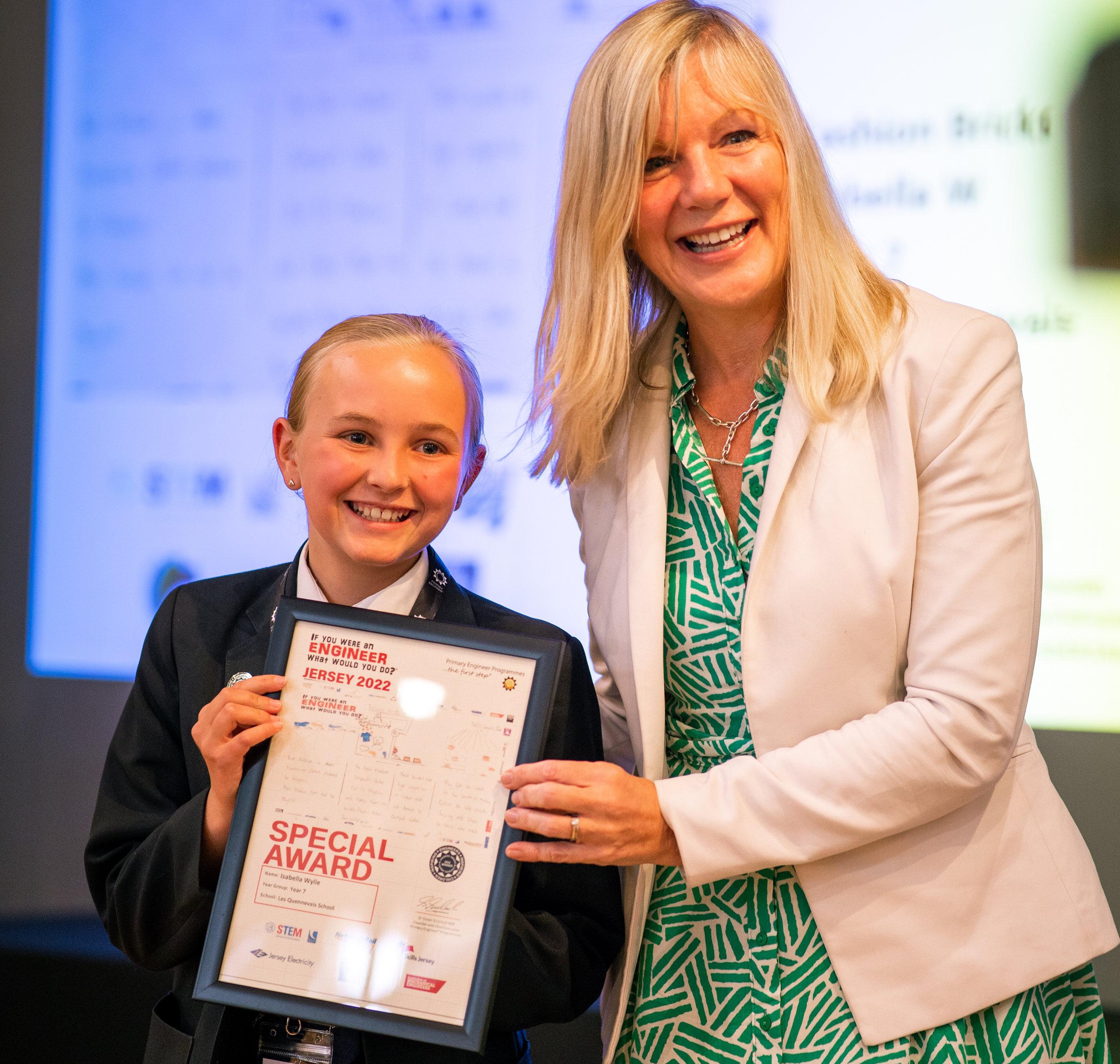 Local engineers and companies can get involved in the 2023 competition by contacting d.roworth2@gov.je.
The photos show Special Award winner, Isabella Wylie, Year 7 Les Quennevais, with her 'Fashion bricks' design, pictured with Government of Jersey Chief Executive, Suzanne Wylie at the Primary Engineer Leader Awards event.