The annual Standard Chartered Jersey Marathon 2023 took place yesterday, being hailed by locals and organisers as another success.
Starting and finishing at Weighbridge Place in St Helier, and now in its eighteenth year, the international running event aims to use the power of sport to bring together the local community, encourage health and wellbeing, and raise vital funds for charity.
Welcoming runners of all ages and abilities, with many travelling from abroad, this year's race day attracted hundreds of entrants, spread across the full Marathon, the Marathon Relay race, the Marathon Mile and a new addition to 2023's event – a Relay Half Marathon.
Nathan Kioke (pictured) from Kenya was the first male to cross the marathon finishing line at 2hrs 16mins 3secs, while Antoinette Kyriacou from Jersey was the first female with a time of 3hrs 3mins 49secs. Team FCM Spartan Males was the fastest in the Relay with 2hrs 32mins 58 ses, Team George & Sam was the fastest two-person Relay with 2hrs 27mins 11secs, and Myles Christopher, age 12, was the fastest to complete the Marathon Mile in just 5mins 28secs.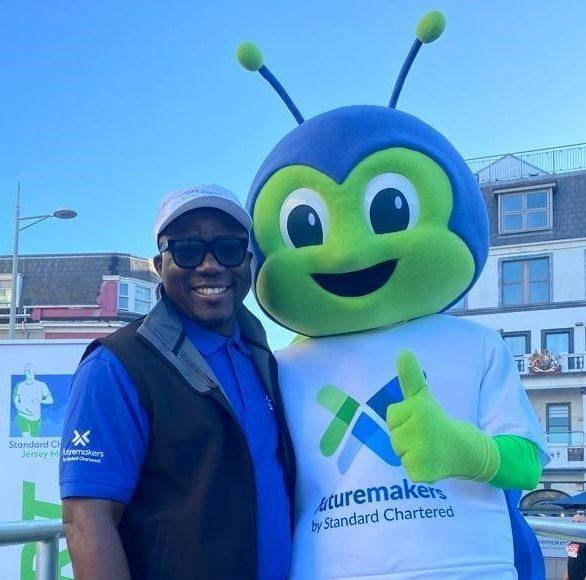 The marathon plays a critical role in raising funds for charity. St John Ambulance Jersey is the local chosen charity beneficiary, receiving half the funds raised by runners. Standard Chartered Jersey continues to enjoy a long-standing relationship with St John Ambulance Jersey, whose fully trained and equipped volunteers also deliver any required first aid cover on the day. In addition, the remaining half of funds raised goes to Standard Chartered's Futuremakers initiative, which tackles inequality for young people in communities and promotes greater economic inclusion.
Henry Baye, CEO of Standard Chartered Jersey, said: "The Standard Chartered Jersey Marathon remains an incredible community event that promotes wellbeing and celebrates Jersey's beautiful countryside. Not only does it raise a significant amount of money for our nominated charities St John Ambulance Jersey and Futuremakers, but it's also truly inspiring to see runners with their own very personal stories, supporting good causes close to their own hearts.
"I'd like to thank the team at St John Ambulance Jersey, as well as our fantastic volunteers, partners, event organisers and the runners taking part, for making the day such a success, once again. Well done to everyone involved!"
Mark Jarvis, Commissioner Operations, St. John Ambulance, said: "St. John Ambulance enjoys supporting community events such as the Marathon. It is fantastic to see so many people taking part and running for a variety of causes. Our members have been offering first aid to those in need, both at the tent and when required on the course. I am delighted that it has been such a successful event once again. Thank you to Standard Charter for supporting St. John Ambulance as their chosen charity."
This year's marathon, also coinciding with the Bank's 45th anniversary present in Jersey, featured a number of sustainability measures to enhance the environmental impact of race day, including medals and t-shirts for runners no longer being individually wrapped in individual plastic bags, race instructions and registration materials being distributed digitally, recycling facilities along the course for spectators and water dispensers at Relay changeover points.
Other partners for the 2023 marathon include Ravenscroft, who sponsor the Relay Race, and Jersey Development Company, who sponsor the Marathon Mile. The event is delivered by 3D Events based in Jersey.
Entry to the Standard Chartered Jersey Marathon 2024 will open soon.
---
Picture Credits: Darren Huelin and Jack Clayden photography