Arthouse Jersey has invited people with disabilities along with their families, support workers or carers to reserve free tickets for the walking gallery and the sound of colour.
ArtHouse Jersey is offering a limited number of free performances for The Walking Gallery and The Sound of Colour for anyone with a disability in Jersey. Both events act as the showstoppers for ArtHouse Jersey's flagship exhibition for 2021, Skipton Big Ideas. People with disabilities, their support workers and/or their key family members are encouraged to come forward and request to reserve their place at these special and culturally significant moments for Jersey by emailing katherine@arts.je before Monday 11 October 2021.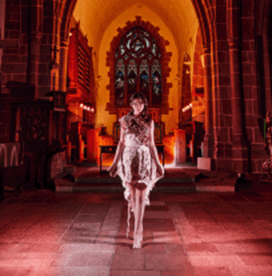 The Skipton Big Ideas exhibition and its events are all designed to be entirely inclusive for everyone in our community to enjoy. However, the arts charity recognises that in some instances people with particular requirements may prefer to enjoy these experiences in a dedicated session. The special access performance for The Walking Gallery, a runway wearable art show takes place on Friday 15 October at 6.30 pm to 7.30 pm. For The Sound of Colour, a projection light art concert designed by Akhila Krishnan, the free access performance takes place on Thursday 21 October, 7 pm to 8 pm. These performances have been made possible by the support of The Jersey Community Foundation using funds from the Channel Islands Lottery and joint sponsors of 'The Sound of Colour', Bedell Cristin and UBS, and of course, our lead partner sponsors Skipton International.
About Walking Gallarey
The Walking Gallery is an exciting showcase of bespoke, wearable and sustainable art. A runway show with a difference, the work will be accompanied by a number of special performances, including choreographed dance and acrobatics, set amongst the installory experience of the overall exhibition at St Helier Town Church. The wearable art has been designed by 26 creatives; a mix of local, international and aspiring artists. The pieces explore some of the big ideas and themes that our community faces today, including sustainability, accessibility and identity.
About the Sound of Colour
The Sound of Colour is a limited run of live music and projection concerts designed by internationally renowned projection designer and creative director Akhila Krishnan in collaboration with Berlin-based music producer Viv le Vav. This is a 30-minute experience designed to be a fully immersive musical spectacle exploring the themes of
identity and sustainability using projected images and film loops that will fill the entirety of the ceiling of the St Helier Town Church with colour and light. The moving imagery will be accompanied by a live performance of a specially commissioned musical score that combines instruments, electronic sounds, and the voice of singer-songwriter and BBC Introducing artist, Casi Wyn.
Director of ArtHouse Jersey, Tom Dingle said "With accessibility being one of the central themes to this exhibition, it's vital to us that Skipton Big Ideas enables everyone in Jersey to feel included and that many, if not all, barriers to enjoy the art are removed. If you or someone you know might enjoy these creative, exciting and culturally significant events we wholeheartedly encourage you to get in touch with Katherine as soon as possible and reserve your free tickets."