Rubis commissioned Jersey-based illustrator and street artist Midnight (also known as James Carter) to create murals for their commercial vans.
The murals amplify the benefits of switching to 100% renewable diesel (RD100), an advanced biofuel and an immediate solution to reduce carbon emissions.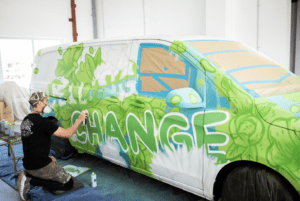 Cleaner, greener, sustainable transport is key to protecting our environment and fighting the climate crisis. And with RD100, Rubis is leading the liquid hydrocarbon transition and responding to the climate emergency for a more sustainable transport for future generations. Made entirely from 100% renewable materials, RD100 outperforms other biodiesels and fossil diesel, and cuts global carbon emissions from diesel engines by up to 90% over its lifecycle.
James Carter said, "The fact that the art was to promote a sustainable diesel alternative made it unique and meaningful. And even though it was a difficult task, I thoroughly enjoyed bringing the van murals to life." Using flora and fauna as an inspiration for the designs, James has managed to produce the murals that have become a conversation starter for anyone who sees the vans.
Nick Crolla, Head of Sales and Marketing at Rubis, said, "This is a one-of-a-kind partnership for us, and we were pleased to offer a platform to a local artist such as James to create new work as it deepens our connection with the local community. Also, it was important to us that the murals reflect our commitment to making progress on the journey towards carbon neutrality in the Channel Islands with RD100 and James has done a fantastic job of bringing our vision to life. We look forward to working with him again in the future."
RD100 is compatible with existing diesel engines and is available at selected forecourts in Guernsey and Jersey.
To find out how you can improve your carbon footprint by switching to 100% Renewable Diesel, please visit here.