The Bailiwick is getting ready for the festive season, and on the island of Alderney the Alderney Theatre Group is preparing the stage for this year's hilarious pantomime 'Robin Hood'.
Written by Lee Flewitt (the 11th pantomime Lee has written and produced), you can expect a healthy dose of humour, insults, sarcasm, double-entendres and plenty of surprises and suspense!
"'Robin Hood, the Prince of Thieves' promises to steal your heart!", predicts Lee. "We'll deliver a spectacular show, targeting the usual suspects with our barbed arrows, and generally making merry!"
Performed by a 30-strong cast of all ages, backed by its very own panto choir and special technical effects, 'Robin Hood' promises to be a show to remember.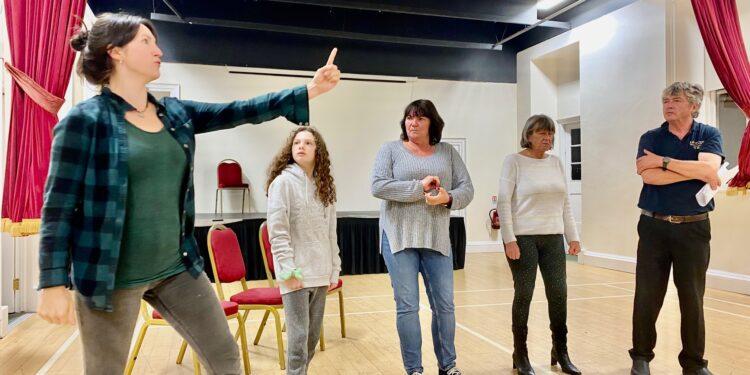 Rehearsals have been in full swing since the beginning of September and the scene will be set for three performances on the evenings of the 7th, 8th and 9th December at 8:00pm in the Island Hall.
Tickets (£14 or £8 for under 16's) will be on sale in the Visitor Information Centre, Victoria Street from Monday 7th November and posters across the island will be promoting the show.
However, the biggest promotion – on an international scale – will be a set of Christmas stamps released by Guernsey Post featuring the Alderney Theatre Group's 'Robin Hood' pantomime, ready to be sent around the world!
Lee said: "We were contacted by Guernsey Post earlier this year regarding our pantomime plans, and have been in regular touch with the philatelic department, exchanging ideas, themes and storylines. Needless to say, we are absolutely thrilled and delighted to see the final result – a set of seven beautiful stamps."
The stamp set features 7 stamps, as described by Guernsey Post:
47p: King Richard celebrates the marriage of Maid Marion and Robin Hood 
"Expect Dames, Princes and more in this performance and of course as with any good pantomime we're hoping for a happy ending as shown on the 47p stamp when King Richard returns to Nottingham, bringing order and celebrating the marriage of Maid Marion and Robin Hood."
52p: Robin Hood and Little John fight in the forest
"Pantomime always has goodies and baddies and there are plenty of opportunities to cheer the good and boo the bad, including the likes of Little John depicted on the 52p stamp fighting in the forest with Robin Hood."
73p: Guy of Gisborne collects taxes from the village people
"Guy of Gisborne is another character set to get boo'd, after collecting taxes from the villagers as seen on the 73p stamp.
79p: Robin Hood takes part in an archery competition
"Everyone loves a hero in panto and Robin Hood is everyone's favourite outlaw as well as the best archer in England. He can be seen on the 79p stamp taking part in an archery competition to win a kiss from Maid Marion.
£1.10: Robin Hood and his Band of Merry Men relieve a wealthy man of his riches
"While King Richard is away at the Crusades, Prince John orders Sheriff Nottingham to tax the people so heavily that many become outlaws. Robin Hood and his Band of Merry Men steal from the rich to give back to the poor and can be seen on the £1.10 stamp.
£1.26: Maid Marion is held in jail by the Sheriff of Nottingham
"Every good panto has a heroine and Maid Marion is the one that graces this tale – though she's in need of a saviour when she ends up in jail as we see on the £1.26 stamp.
£1.35: Maid Marion's nursemaid (The Dame) and Friar Tuck celebrate with a tankard of mead.
"Maid Marion's nursemaid, the Dame, joins old favourite Friar Tuck for a tankard of mead to celebrate this story's happy ending as depicted on the £1.35 stamp."
The stamps are expected to go on sale this month and will no doubt become a collector's item for many Alderney residents, especially the cast of 'Robin Hood' and everybody involved in the production of this pantomime.