The journey through the green lanes of St Martin always feels like a mini adventure
Every part of Jersey has its own character, and the character of the north east of the Island is one of the most charming. It could be due the pink granite cottages and old farmhouses lining the narrow lanes between fields. It could be because of the air, which seems slightly sweeter, and warmer than in the west. It could be the lush vegetation, the deep green trees that line the valleys and bright flowers that explode in gardens. Or it could be the sea itself – that vivid line of blue, the final frontier between Jersey and France.
Reaching Rozel isn't any harder than finding any other country location, but somehow, the journey through the green lanes of St Martin always feels like a mini adventure. A friend's birthday provided an excuse for a recent outing, and the opportunity for a pub lunch.
Owned by Chateau La Chaire, the Victorian villa hotel, the Rozel Pub and Dining offers a casual dining experience close to the harbour.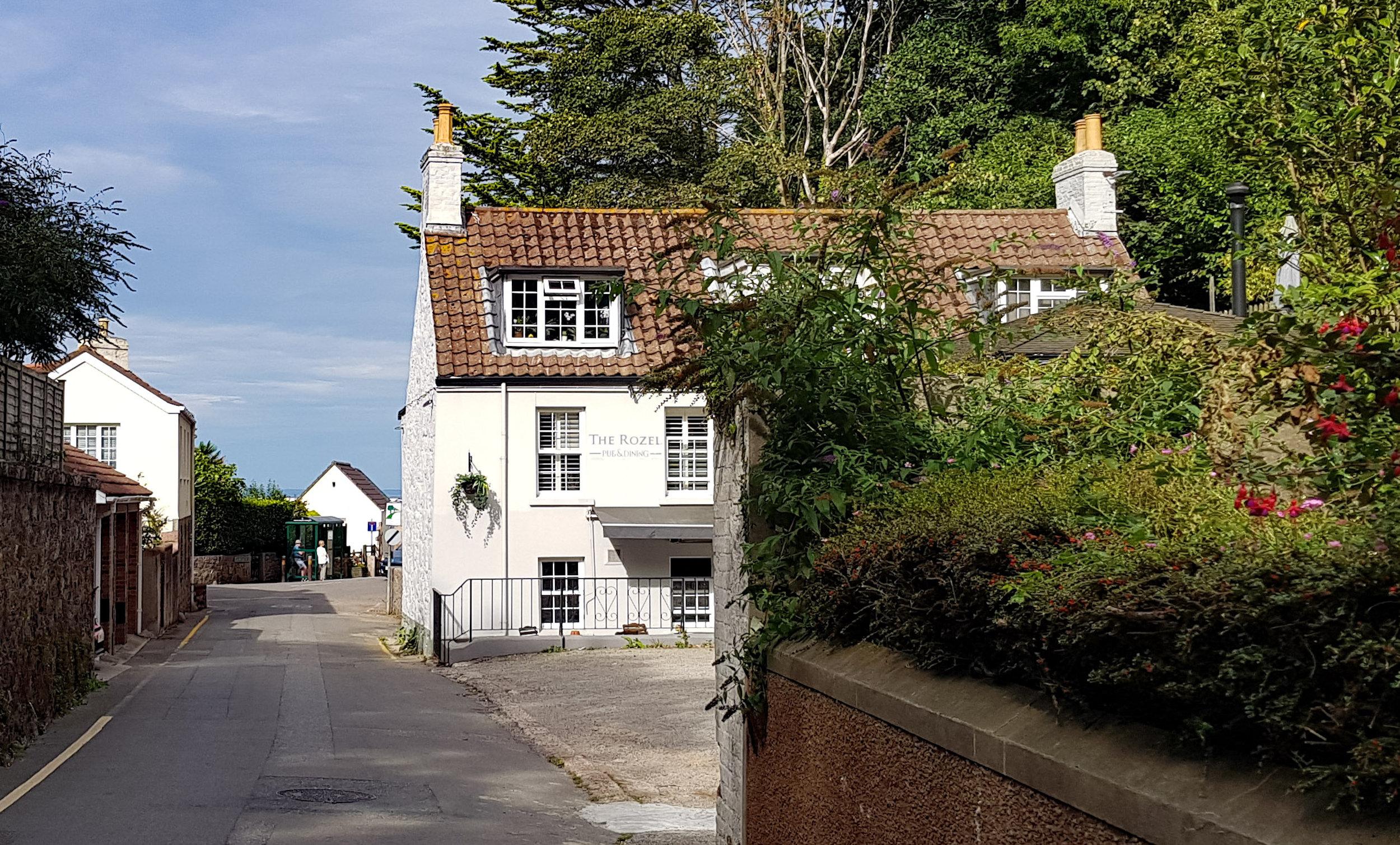 Whitewashed stone walls and a red tiled roof welcome you from the outside. Inside you find a series of dining rooms – all dark wooden floors and pale walls, which give a sense of the building's heritage and a cosy place for colder days.
On a sunny afternoon, the terrace garden on the côtil above the pub is a brighter option. The wasps concurred, fighting us for the last outdoor table; yellow and black beasties enduring their final weeks before autumn claimed them as collateral.
Thankfully, something sweeter beckoned in the distance, and Team Vespa buzzed off, leaving us to take our seats and consider what to eat.
The menu is predictable in a 'what you would expect on a pub menu' sort of way. However, as The Rozel is, according to the Michelin Guide, a Gastropub, you can expect freshly made simple food, and a good range of local produce.
Starters include retro classics like prawn cocktail and ham hock terrine, fishcakes, calamari, and deep-fried brie –not necessarily the healthiest options, but what's a few calories between friends?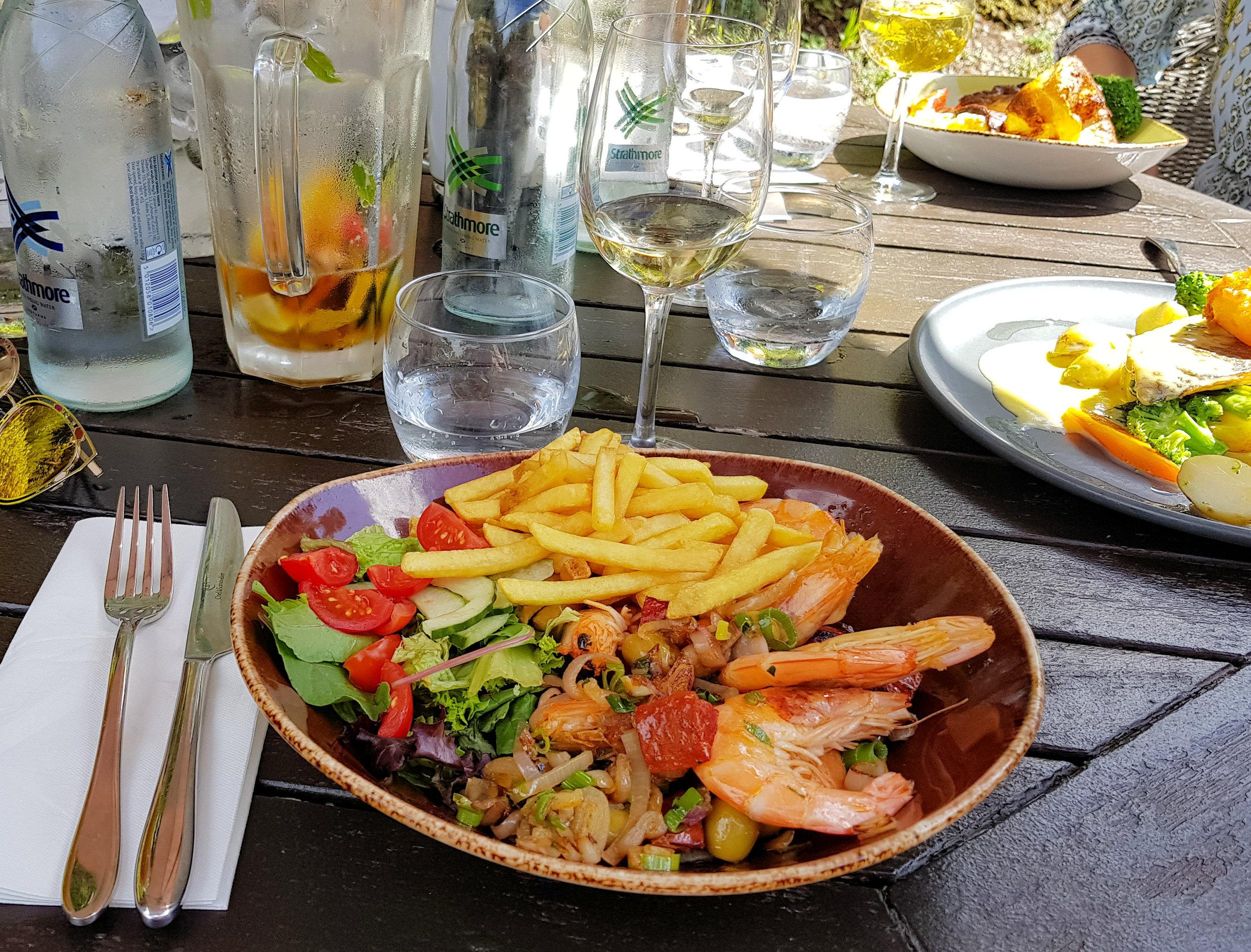 For mains there are lots of dishes with chips – fish and chips, beef burger and chips, halloumi burger and chips, plus a couple of fresh fish and meat dishes.
On Sundays there is usually a roast.  On the day of our visit it was beef, which came as rare or as well done as our diners requested, alongside steamed vegetables and Yorkshire puddings. Comfort food done properly, whatever the weather.
A couple of us chose the specials – a fillet of seabass, served with lemon hollandaise and an ample portion of Jersey Royals and steamed vegetables; and the gambas with chorizo. This was a delightfully colourful plate, with a generous portion of gambas, cooked in the shells, alongside a medley of chorizo, green olives, red peppers, and onions, a highly flavoursome dish that screamed 'Mediterranean'. This came with a handful of salad and decently cooked fries.
As it was a celebration, and a Sunday, and the end of summer, Pimms seemed like a logical drink. Logical if you want to attract wasps that is. Luckily, the jug featured grapefruit instead of strawberries, which was potentially less interesting for the insects, but quite novel for the drinkers. A second jug was required to quench the thirst worked up talking about the wasps. And a bottle of Maçon Lugny too.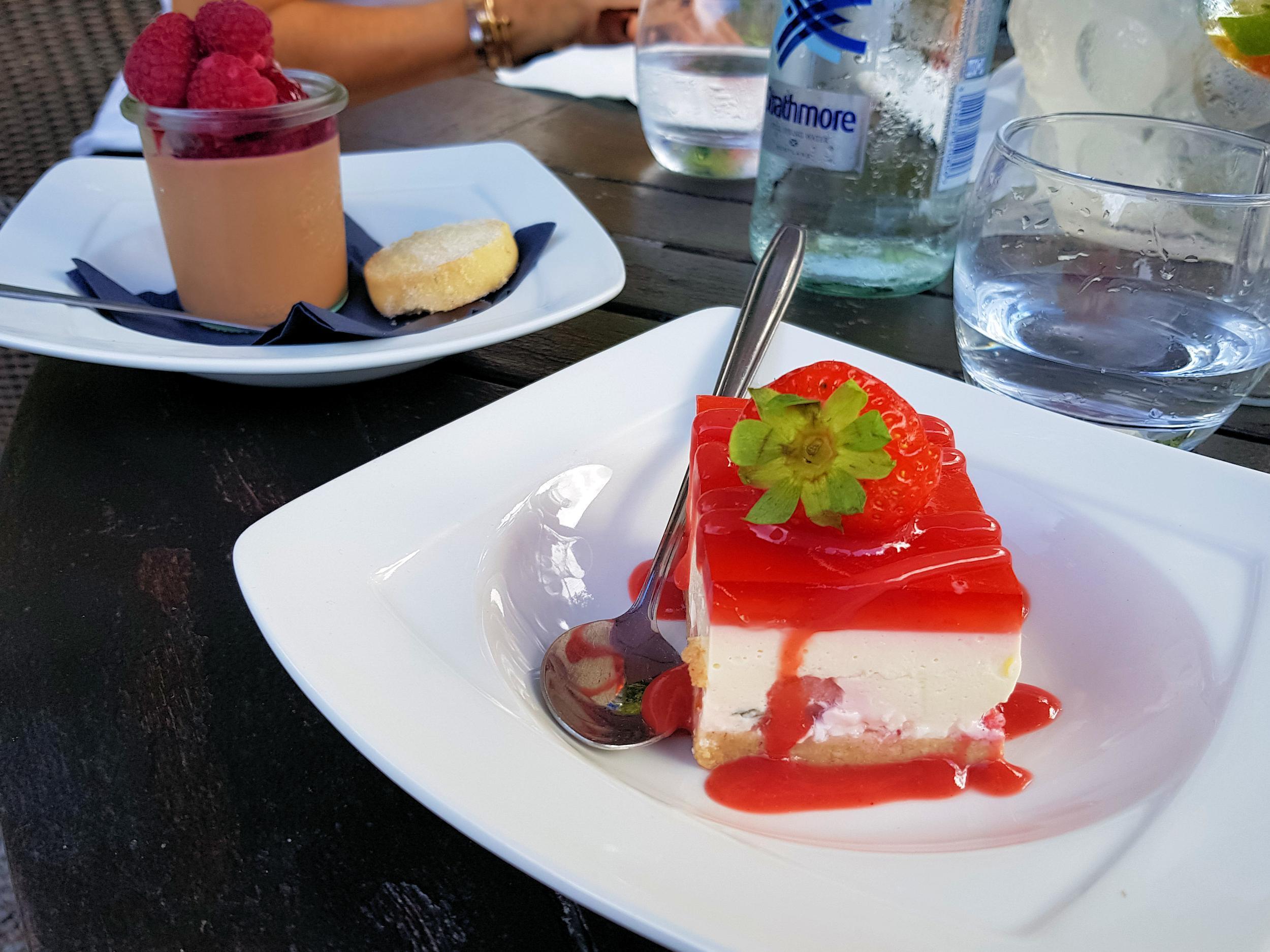 It could have been worse. We were lunching with Madame Cosmo, and if there is a drink designed to appeal to wasps, it is clearly going to be pink and alcoholic. Drunk flying – Where's a Connetable when you need one?
The staff were brilliant – charming with hungover diners, resourceful with uninvited insects, and efficient with Covid-related cleaning.
We rounded off the meal with a selection of puddings: a chocolate mousse that got devoured within seconds, strawberry cheesecake with sides so straight they could have been made with GHDs, and affogato.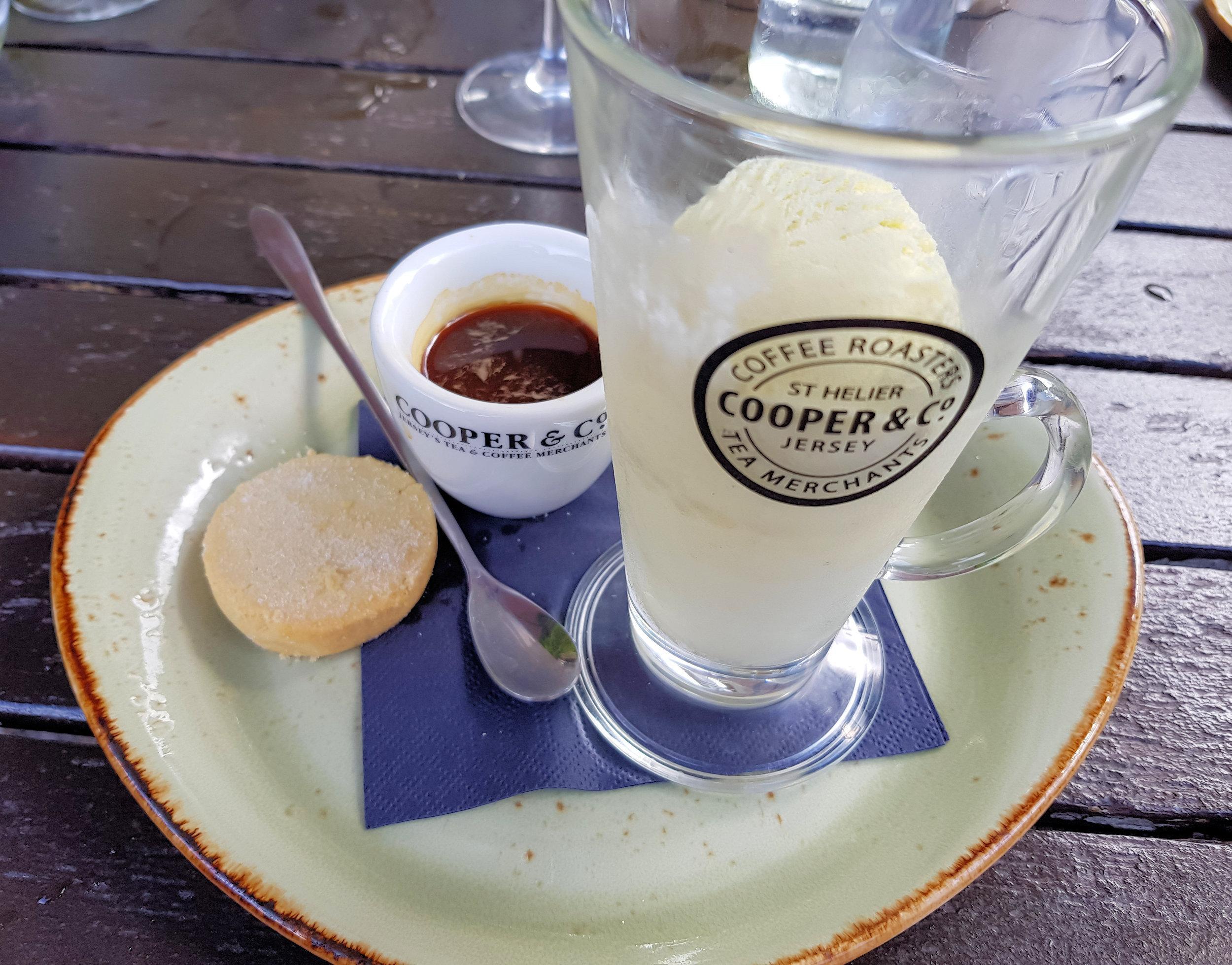 Affogato is the pudding for people who want to pretend they are not having a pudding. Once you get past the issue of how to pronounce it – sometimes it sounds like a frog, sometimes like an avocado – it's such a simple dessert.
The Rozel affogato was exactly as it should be – a small cup of espresso, a generous scoop of vanilla ice cream, and a delicious crumbly shortbread. Once assembled, should the diet police have checked, it would have passed for an iced coffee.
We rounded off lunch with a stroll along the pier, a sniff of sea air serving as the perfect digestif.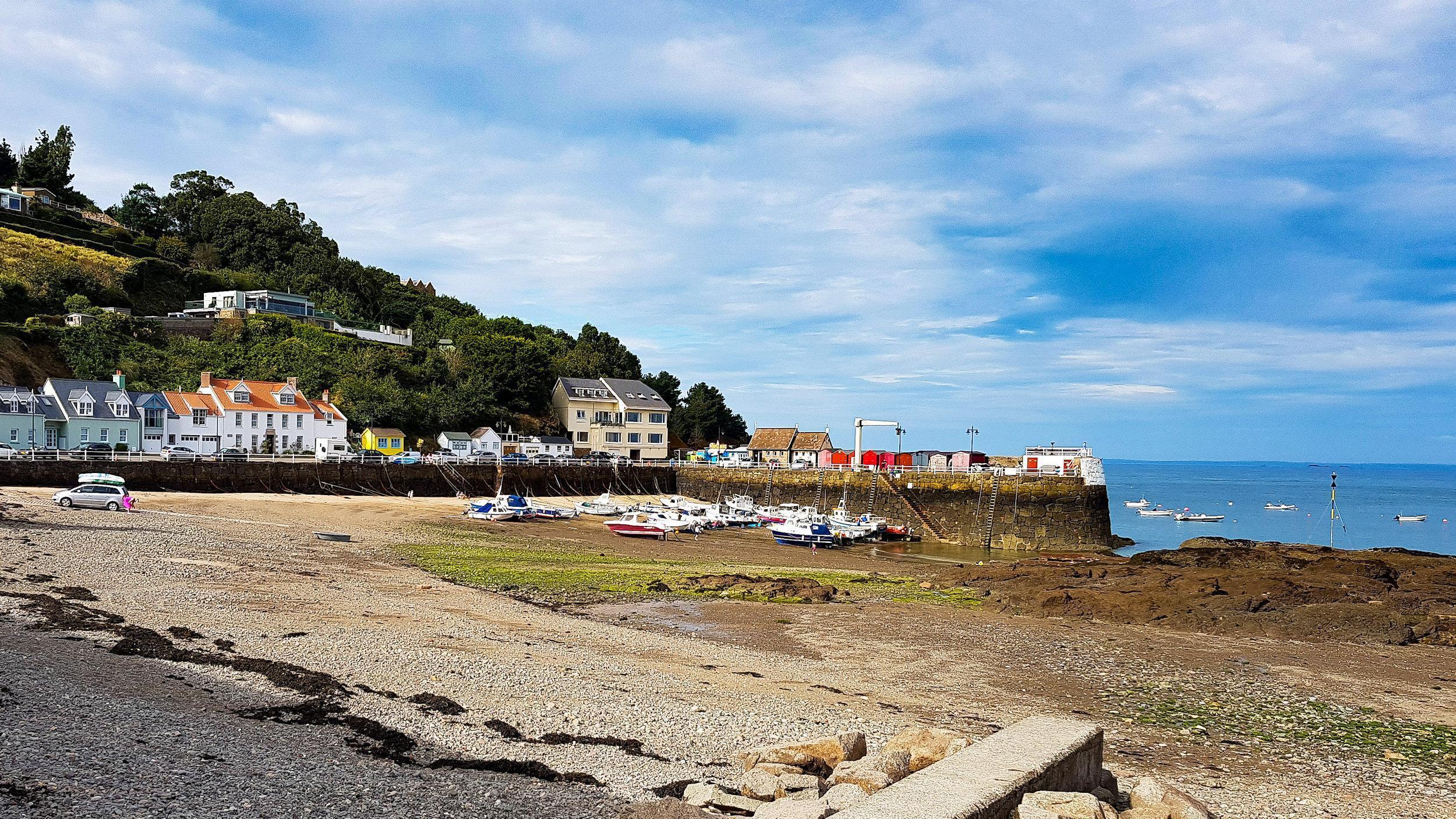 Highlights:
Pub classics
Generous portions
Choice of eating areas
Terrace
---
Written by Private Table