PwC Channel Islands has further strengthened its senior leadership team through the admission of two Partners and a five Directors.
Newly admitted Partners, James de Veulle and Mark Hunter, each based in Jersey, have both consistently contributed to the continued growth and success of the Channel Islands firm and will play a vital role in leading and shaping PwC's strategic direction.
Both James and Mark are long-standing members of the firm, having originally joined the PwC network as graduate trainee accountants. Their scope of significant expertise, coupled with their ability to foster dynamic, collaborative relationships, supported by their exceptional network of connections across the globe, means they are perfectly placed to play a key role leading PwC Channel Islands to achieve its overall growth strategy.
A Fellow of the ICAEW, and past president of the Jersey Society of Chartered and Certified Accountants, Assurance Partner James de Veulle currently heads up PwC's banking practice in the Channel Islands. James also leads on various non audit services including regulatory engagements and process improvements, whilst providing audit services to a broad range of clients in banking, capital markets, asset management and fiduciary industries. Advisory Partner Mark Hunter has extensive Regulatory Transformation experience, and is highly accomplished when it comes to Financial Crime process excellence, and the means by which functional operations can be transformed and optimised by leveraging the latest technology advancements.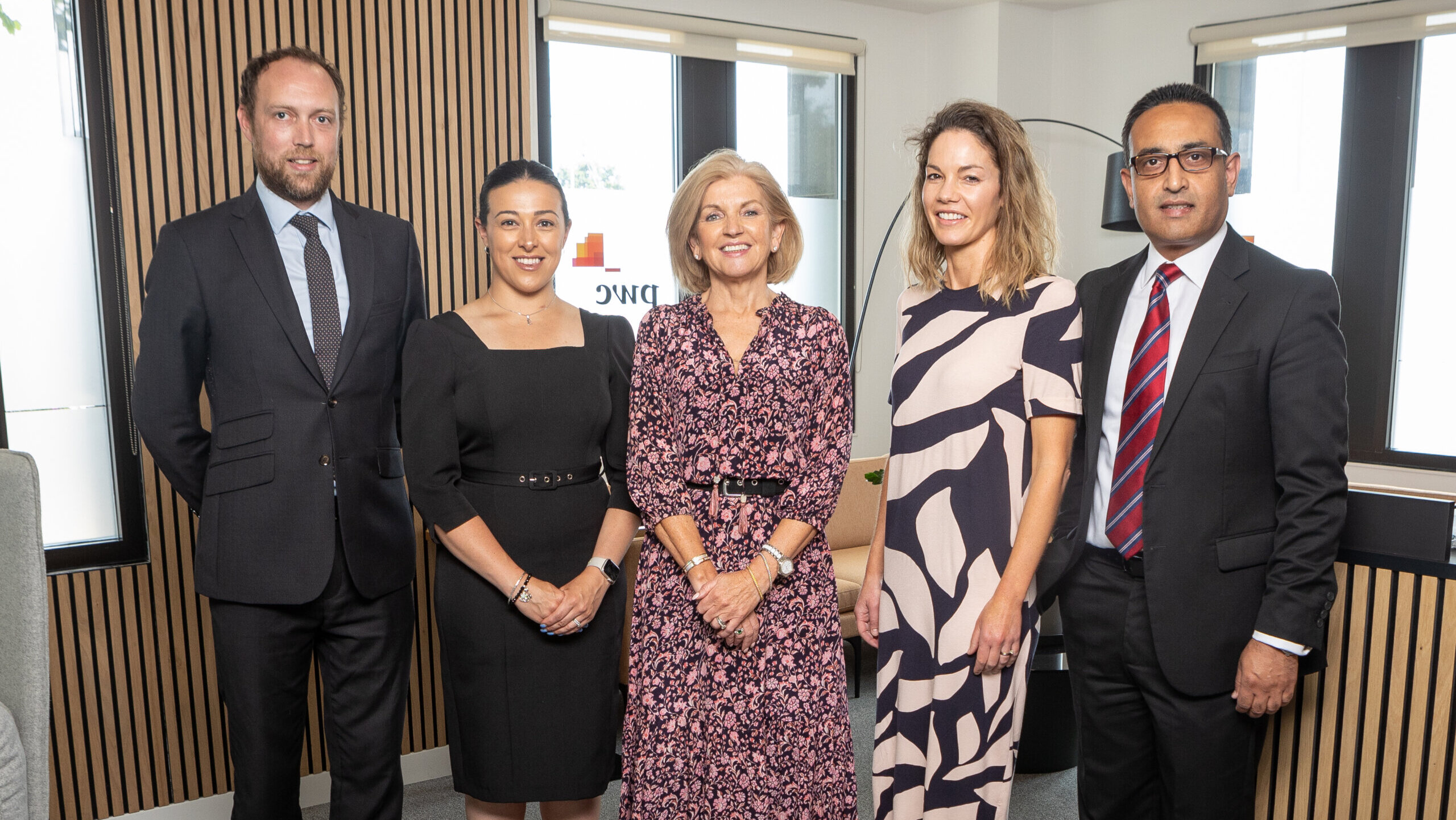 Those recently promoted to Director are Volodymyr Kazanskyi in Jersey and Guernsey-based Elisha Backhouse, David Copestick, Amy Pickering and Omer Tariq.
Advisory Director, Volodymyr Kazanskyi, who holds a Masters in Physics and Finance, joined PwC Ukraine in 2007, before relocating to the Jersey office in 2019. He is highly experienced in IT and business risk assessment and control assurance. His client portfolio is predominantly large international banks and financial institutions and his work includes advising on high risk areas and identifying deficiencies in internal controls. He sits on the Legal & Regulatory Committee of the Association of Restructuring and Insolvency Experts and is also a member of INSOL and the Association of Business Recovery Professionals.
External Audit Director, Elisha Backhouse, is a Chartered Accountant who joined PwC in Guernsey directly after completing her A-levels at Blanchelande College in 2013. Within six years of leaving school, Elisha had progressed to the position of audit Senior Manager. Elisha has a broad range of experience across various sectors within the financial services industry and currently specialises in venture capital and private equity funds.
External Audit Director, David Copestick, joined the Guernsey office in 2011 upon graduation from Keele University with a BSc Honours in Maths & Finance. A Chartered Accountant, David has worked primarily in Audit, and has accumulated vast experience spanning the breadth of the financial services industry, as well as acquiring significant expertise across the risk and quality function.
Originally graduating from Rhodes University in South Africa, External Audit Director, Amy Pickering, joined PwC in Guernsey as an experienced manager in 2014. A qualified Chartered Accountant, Amy holds the position of ESG Assurance Lead, and provides expert advice on ESG and climate initiatives, as well as advising a wide range of private equity clients and leading several FTSE 250 and London listed fund audits. As well as being a member of various key environmental and business groups, Amy represents the firm on PwC network-wide working groups which develop consistent approaches to sustainable finance
regulatory requirements.
External Audit Director, Omer Tariq, qualified as a Chartered Accountant in Pakistan upon completion of his Accounting and Finance degree. Prior to joining PwC's Guernsey office in 2016, Omer gained extensive international experience in Audit working in Pakistan, Russia, and Saudi Arabia. Since joining the local firm, his focus has primarily been on alternative investment funds and insurance. Omer's keen interest in living and working with people from different cultures and backgrounds has instilled in him a global mindset, which has proven invaluable in helping him build strong meaningful relationships with his global network.
Commenting on these milestone promotions, Partner and Jersey Office Leader, Lisa McClure, said: "Newly admitted Partners, James and Mark, each have significant expertise, deliver exceptional quality and client service, innovate, inspire others and both demonstrate an ability to foster dynamic, collaborative relationships. These qualities mean they are perfectly placed to play a key role in helping us achieve our overall growth strategy. Congratulations also to our new Directors; it's the people who are at the heart of our business and each of these are outstanding individuals who regularly demonstrate their invaluable contribution to the firm. They thoroughly deserve these milestone promotions."
These leadership appointments are among a total of 60 promotions announced mid Summer by PwC across the Channel Islands, with 13 new Senior Managers and a further 40 Managers also reaching significant career milestones.
Lisa added: "It is exceptional to see such large numbers of talented individuals progressing to various management levels and a testament to their hard work, desire to improve and commitment to PwC. The Partnership team and I are hugely proud of them and congratulate them all on their significant achievements."
---
Pictured: Left to right – Volodymyr Kazanski, Lisa McClure (Jersey Office Leader), Mark Hunter and James de Veulle