Health and Community Services have begun moving Outpatient Services from Overdale Hospital to the Enid Quenault Health and Wellbeing Centre, located at the former Les Quennevais School site.
A range of services will move into brand new facilities under a single roof, with improved accessibility, larger consultation rooms and better public spaces, including a café with extended operating hours. There are also improved staff facilities including showers and a dedicated staff rest area.
Transfer of services
Last week, Diabetes and Endocrine clinics began operating at the Enid Quenault Centre, so patients wishing to drop off sharps bins or collect new equipment should now go to the new site.
From Tuesday 15 August, Urology, Rheumatology and Neurology services will be operating from the Centre at Les Quennevais. A full list of services moving to the Health and Wellbeing Centre, and their date for moving, can be found here.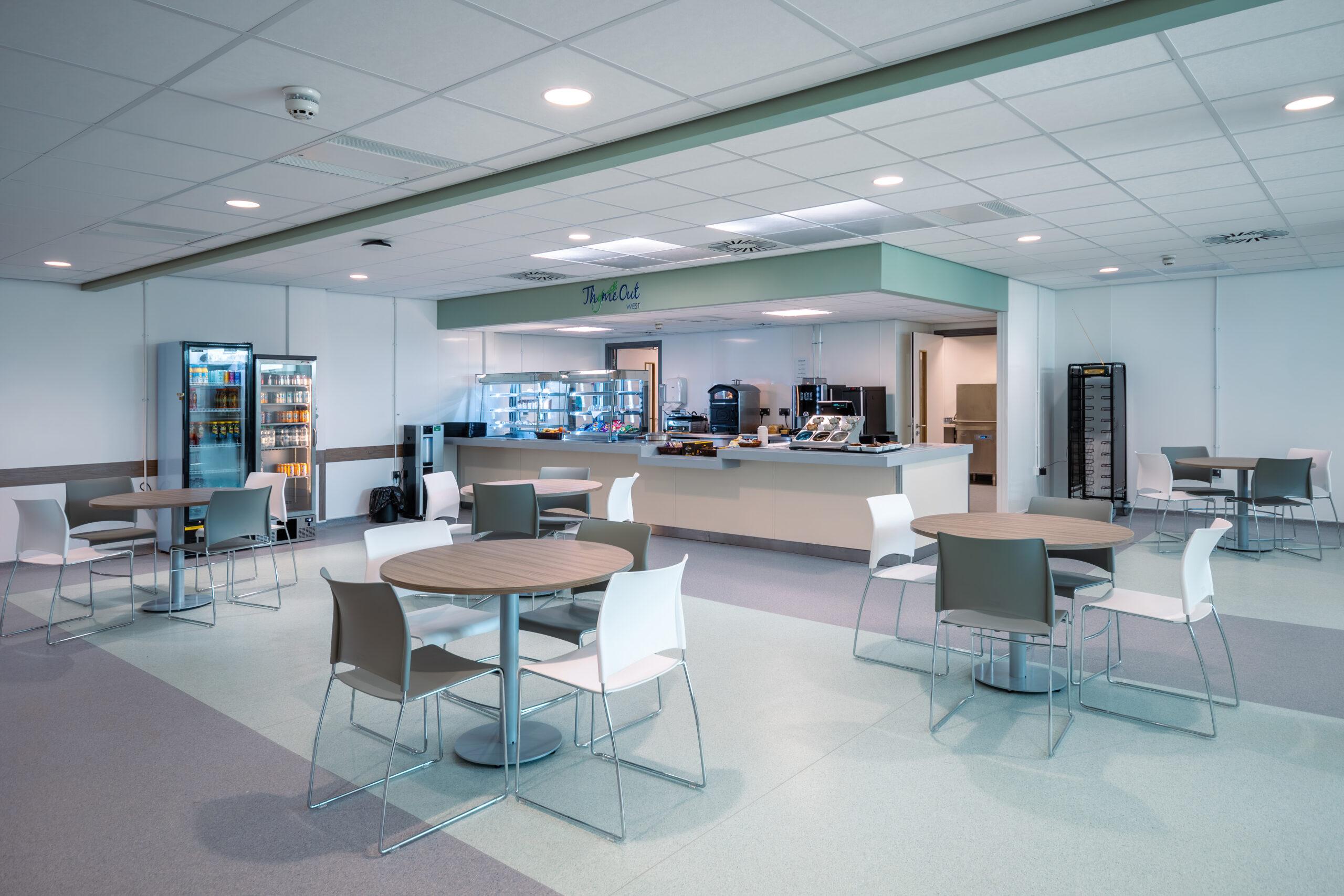 The transfer will enable the majority of the Overdale site to be emptied ready for the delivery of a new Acute Hospital as part of the New Healthcare Facilities Programme. Samares Ward, which accommodates people who are rehabilitating after a stroke, will remain at Overdale until studies have confirmed whether the Westmount Centre can remain as part of new proposals.
Patients with existing appointments should have received details of the move and a leaflet setting out the new facilities at the Centre. Staff can be contacted on the same departmental telephone numbers. HCS staff and members of the programme team will be available to assist patients and receive any feedback on the new facilities.
A free car park is available off Le Clos des Sables, directly off La Route Orange, and is clearly signposted. There are 60 covered bike rack spaces accessible from the Railway Walk. Bus routes 15, 12A, 22 and 22X operate on an hourly basis from St Helier, with the closest bus stop at Le Clos des Sables (300 metres away from the Centre). The 12A will be diverted into the Centre from September 2023. Patients are asked not to park on the Estate Roads on the approach to the  Centre and be courteous to residents.
Enid Quenault
The new Health and Wellbeing Centre is named in recognition of the significant contribution made to the Island, and the Parish of St Brelade, by former States Member and Constable Enid Quenault. Mrs Quenault served as a States Deputy and later Constable of St Brelade from 1975 to 1999, becoming the eighth woman to join the Assembly when first elected. She served as President of the Broadcasting Committee and a member of the Education Committee. Her daughter, Anne Pryke, served as the Deputy for Trinity between 2005 and 2018, and went on to become the Island's Health Minister.
A formal opening, attended by Mrs Quenault, is planned for September.
Assistant Health Minister, Deputy Rose Binet, said: "I am delighted that staff have begun to operate services from the Enid Quenault Health and Wellbeing Centre. As a Department our focus must be on providing the quality of health services that Island patients deserve, in the high-quality facilities that our dedicated staff need. This new centre sets a standard for the facilities we should be providing for healthcare in Jersey, and provides improved space both for operating clinical services and for staff facilities."
Minister for Infrastructure, Deputy Tom Binet, commented: "The Enid Quenault Centre is the first to be delivered as part of the New Healthcare Facilities Programme, and is a significant step forward. This facility illustrates the quality of the work done by the current team over a number of years and we must not forget that the political credit for initiating this project rests with the previous Government, which has been taken to fruition by this administration."