Every child in nursery classes across Jersey's primary schools will be entitled to receive a Jèrriais dictionary, as part of a collaboration between the Jèrriais Teaching Service and sponsors Soroptimist International Jersey.
The book, entitled 'Man Preunmié Livre dé Mots en Jèrriais' – 'My First Jèrriais Word Book', will be distributed to over 1000 children throughout the island to encourage the youngest learners and their families to take up Jersey's native language.
The book consists of more than 200 everyday Jèrriais words with child-friendly illustrations to accompany each word. The book also has a pronunciation guide and a complete alphabetical list of all the Jèrriais words included.
This week, children in nursery at St John's school have received their books as part of the school's week-long multicultural celebration. Further books will be distributed to every nursery class in Jersey's primary schools with copies being gifted to school libraries as well as Jersey Library.
The book is published in association with Macmillan Publishers with the support of Soroptimist International Jersey, who funded the production of the books.
Jean Dale, joint president of the Club, said: "Part of our mission is helping children to achieve their potential through education, so we are proud to support this fabulous resource to introduce young children to our island's native language."
Ben Spink, Head of the Jèrriais Teaching Service, said: "This is our fourth Jèrriais book giveaway and I'm thrilled that we can offer nursery-aged children this wonderful book to inspire them at the beginning of their learning journeys in both Jèrriais and English. We're very grateful to Soroptimists for their generous sponsorship."
Minister for Children and Education, Deputy Scott Wickenden, said: "I'm delighted that our youngest learners will have access to a high-quality learning resource, thanks to this excellent initiative. Jèrriais is a precious asset for Jersey and books like this will encourage children to become the speakers of the future."
The books will also be available to purchase from the bookshop at Société Jersiaise and online here.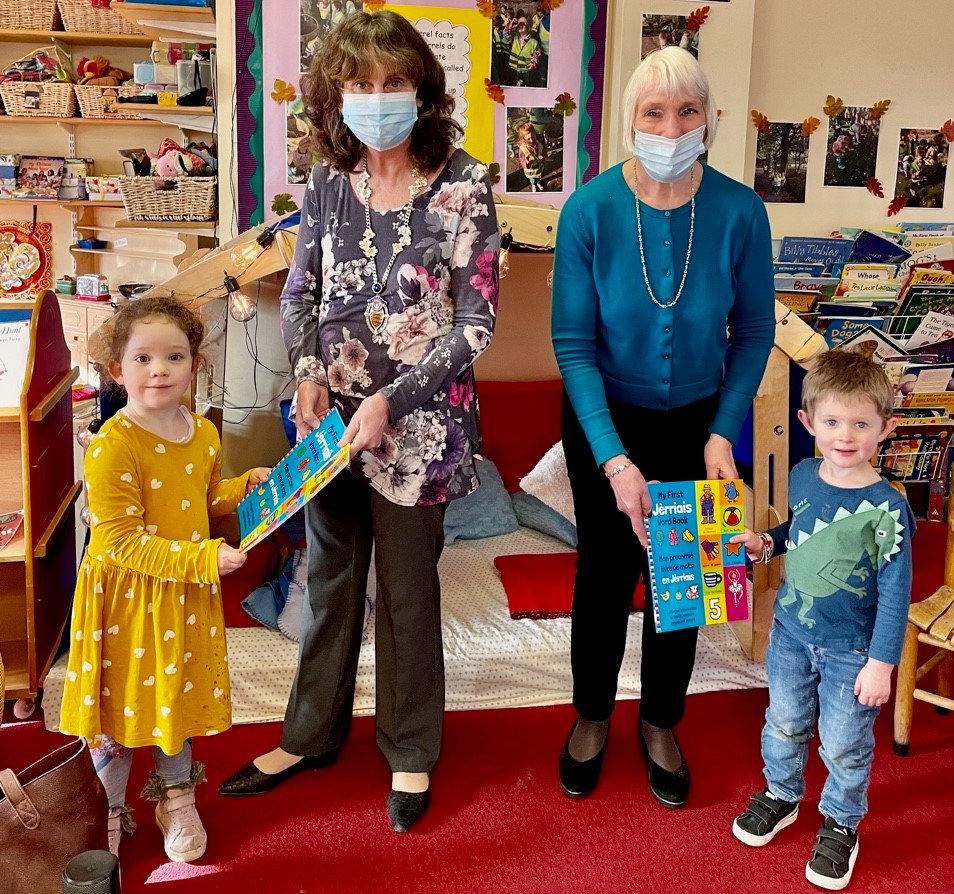 ---
The main picture shows Jèrriais teacher Merry Bond (centre), joined by joint Soroptimists presidents Jean Dale and Jean Gavey to introduce the children from St John's nursery to their first words in Jèrriais as part of the school's multicultural week.