A local charity has launched a public awareness campaign in the hopes of deterring perpetrators from committing sexual assault offences.
With an estimated average of 22 sexual assaults per week committed in Guernsey in 2022, SafetyNet's 'It's only a touch' campaign identifies the penalties for the criminal offence. These include a minimum of five years on the sex offender register, a maximum prison sentence of up to 10 years and a maximum fine up to £10,000.
SafetyNet Chair, Poppy Murray, said it was essential that the public be educated on the law surrounding sexual assault.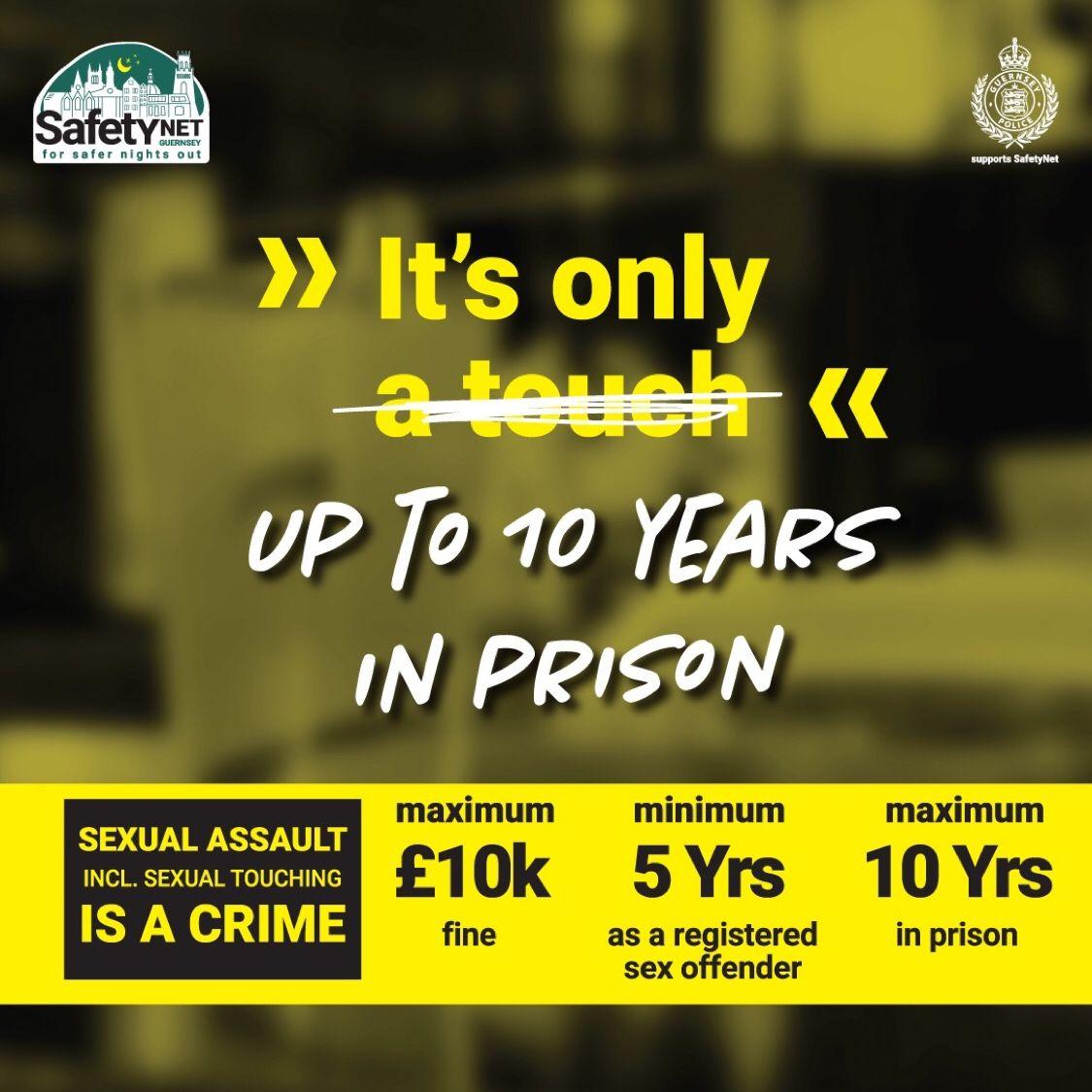 She explained: "The prevalence of sexual assault offences in Guernsey should concern all of us, and the blame lies entirely with perpetrators. We have been encouraged to see the recent strong stance taken by the courts in imposing prison sentences for sexual assault. It was important to us that our first campaign gives a clear message that the penalties for this crime are significant, and we hope it will make perpetrators think twice.
"We are deliberately running this campaign through the Christmas party season, which is a very busy time for the night-time economy industry. We want awareness surrounding sexual assault to become as ingrained as awareness about drink driving offences. Everyone knows that, if you drink drive, you are risking a driving ban, fine and/or a prison sentence. There is not currently the same awareness of the penalties for sexual assault, but there needs to be."
In 2022, there were 174 incidents of sexual assault reported to Guernsey Police.
"We know from the Guernsey Police night-time economy survey, that 85% of incidents go unreported. So, we can estimate that the real figure is much more likely to be in the realm of 1,160 last year, or an average of 22 per week. This is unacceptable and the only way to tackle this is to change the behaviour of perpetrators," continued Miss Murray.
"Information regarding the law and penalties for these offences was not easy to find, or understand, as a member of the public. It was important to us as a charity to provide an accurate breakdown of the law in a digestible format. Thanks to the kind support of Guernsey Police and the Law Officers, we have been able to do exactly that. We also made sure that our website can be translated into multiple different languages, so there are no barriers for non-English speakers in accessing this important information."
The campaign was funded by Guernsey Police in support of the charity's efforts. Deputy Chief Officer Ian Scholes said: "SafetyNet and its campaign wholly align with one of the key three pillars of our strategy to tackle Violence against Women and Girls (VAWG) – creating safe spaces. We should not have to create safe spaces, they should be a given, but it is everybody's responsibility to behave in such a way that promotes this.
"We want islanders to feel empowered to speak out against and report sexual assault, and we want people to know that an action they view as 'just a touch' can actually constitute sexual assault. No one should have to experience something sexual that they did not want to happen to them. We are very pleased to have been able to support SafetyNet, and will be pushing our own messaging out over Christmas to support them."