Local Founder of the BE LADS Campaign, Poppy Murray, was invited to speak on BBC Radio London on Friday 17 February about the issue of public safety when walking at night.
Miss Murray (pictured) was interviewed by broadcaster Jumoké Fashola after Croydon Council announced it intended to move ahead with a scheme to dim streetlights by 50% to save up to £1m in energy bills each year.
Speaking on the station – which boasts over 880,000 listeners per week – Miss Murray described the Croydon Council initiative as "unbelievable".
"It is almost unbelievable that any council would be thinking of dimming streetlights when there are so many issues surrounding safety, not just for women, particularly at night," she said.
"While Croydon are doing this, Devon County Council are actively increasing street lighting in Exeter in areas where the public felt unsafe and in areas which had been identified as crime hotspots. By using LED and motion sensor technology, Exeter is reducing its carbon footprint whilst increasing public safety. Croydon's claim that dimming street lighting is the only way to save costs and reduce its carbon footprint is being disproved in other cities."
Miss Murray has been campaigning for public safety since March 2021 when she created the BE LADS campaign.
"BE LADS raises awareness of the issue of women's safety when walking alone. I launched the campaign in the wake of the tragic case of Sarah Everard who was kidnapped, raped and murdered as she walked home alone in London. The case validated many women's fears of walking alone and, in the 18 months that followed, there were four more high-profile cases in the UK of women being murdered by men as they walked alone," explained Miss Murray.
"The conversation which then played out in mainstream media, across social media and among the public saw outrage from some men, who felt vilified by women saying they were afraid to walk alone. The hashtag "notallmen" started trending and fanned the flames of disharmony between men and women on the issue."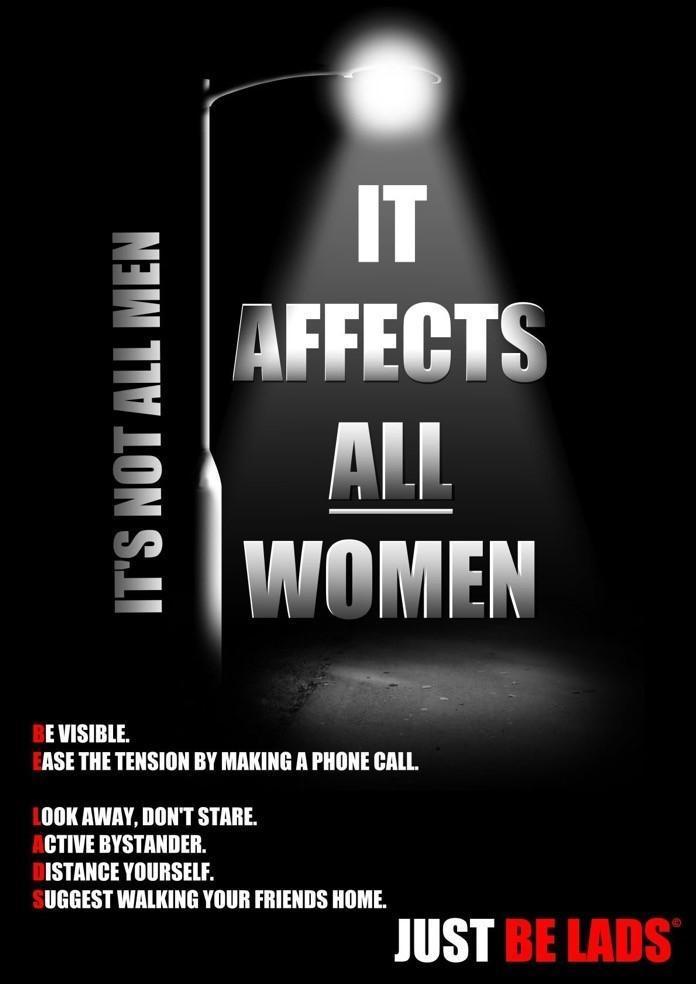 BE LADS is an acronym for advice men can follow to help women to feel more safe:
Be visible
Ease the tension by making a phone call
Look away, don't stare
Active bystanders
Distance yourself
Suggest walking women you know home
Jumoké Fashola asked Miss Murray what the response to the campaign had been. She responded: "The response has been really fantastic and the campaign has gained a lot of traction in the two years since I launched it. I think one of the biggest factors in the success of the campaign is that it does not vilify men over this issue.
"In conversations I had with men, there seemed to be a disconnect between men thinking women do not need to feel unsafe and, in the next breath, saying that they would not want their wife, daughter or sister walking home alone because they worried they may be in danger. BE LADS seeks to bridge the gap between those thoughts.
"I launched the campaign in Guernsey and within six months it was added to the school curriculum for all 16-year-olds to raise awareness, as fundamentally everything needs to start with education. It has since been delivered as training in corporate settings, featured in police publications and promoted by the Justice and Policing Lead for Virgin Media and O2 Business."
As a result of an article about BE LADS published in Police Insights magazine, Miss Murray will be speaking at a National HeforShe Ally Event in Wales in April. The event will see representatives from police forces across UK learn good practice around introducing initiatives to work towards gender equality in policing. HeForShe is a United Nations global solidarity initiative to accelerate progress towards gender equality.
On Friday's show, Jumoké Fashola asked Miss Murray what she would like to see happen with regards to women's safety.
"There are so many concerns and contributing factors to women's safety but the biggest is that perpetrator behaviour needs to change. That will only come about from consequences to actions, which will only come about if these crimes are reported," said Miss Murray
"There are currently a huge number of barriers to reporting sexual assault and sexual harassment. Particularly in light of recent news in the UK, there is a lack of trust that these issues will be taken seriously by the police. A multipronged approach is needed to create a shift in how we talk about safety, how we report these issues. Collectively, we all have a responsibility to help each other feel safe."