Second issue in a series of new photo-zines produced by Éditions Emile – a new publishing imprint celebrating the unique collections held in the Société Jersiaise Photographic Archive.
The Occupation and subsequent Liberation of Jersey in 1945 are key events in the recent shared history of Islanders. The suffering of locals as well as the military and political prisoners brought to the Island as forced labour is well documented, and it is within that context that we take a look at photographs produced by the Occupiers themselves. A selection of images presented here for the first time are held in the Pelz Collection at the Société Jersiaise Photographic Archive showing German soldiers at leisure.
It is timely to note, that these events cannot simply be attributed to actions of individuals, there was a legal framework and culture industry that justified and normalised superiority and violence. There was a wide reaching civil administration, which was central to the regime's success, and often removed from the dirt, blood and horror of war and genocide.
In this issue, we examine the lives of German administrative officers during the Occupation of Jersey. The familiarity and at times banality of the two collections we are looking at is rarely referenced in this historical context. Many of these images are attributed to Major Hans Egon Pelz, though as he himself appears in many, it makes specific attribution difficult.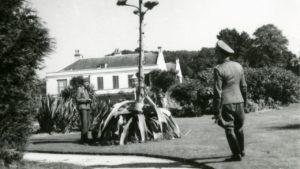 Editors, Patrick Cahill and Martin Toft commented on the images: There are military references and personnel, even glimpses of forced labourers, they pass by as backdrops, alongside tourist attractions, and private parties. We are looking at the German officer's own record of the island, of their lives here, their friendships, work, but mostly leisure in 1940-44″.
For ED.EM.02 a new text has been written by Alan Allix, who is a founder member of the Channel Island Occupation Society and Andrew Gilson a local historian who is nearing the completion of a new book on agriculture during the occupation.
Alan Allix who visited Germany in 1974 met several of the German officers from Field Command 515, such as Major W. Heider and Dr W. Casper. Several years later he and Andrew Gilson also spend time with the family of Major Egon Pelz. From these conversations Allix recalls: "It struck me that the 515 was all very highly qualified, not just pen-pushers. In particularly Pelz, who everyone I spoke with referred to as a very able man and great comrade".
Andrew Gilson's fascination with the German civil administration goes back to his time as a history teacher at Victoria College. In the text Gilson references the German officer, Baron von Aufsess impression of Jersey, 'the island is a gem of gardens, with lawns, exotic trees and green hedges'.
Several weeks after Pelz's arrival he wrote to a friend in Austria: "I am not able to portray the beauty of the place. I see lots of black reefs and jagged peaks projecting from the water because the tide is low. The picturesque Elizabeth Castle makes a grand impression with its beautiful castle-like silhouette in a delicate blue. The coastline, on which little white houses cling suddenly fall into the sea. In the late morning the tide is foaming onto cliffs and the beautiful white waves against the bay. Jersey is almost like a fairy-tale".