Julius Baer Guernsey has moved into its new purpose-built offices at Admiral Park, as the wealth management group puts team wellbeing and client experience at the heart of its Guernsey growth.
A top-class client experience, staff mental and physical health, and lessons learned during the pandemic were all considerations as Julius Baer planned its new home.
The Swiss wealth management group now occupies the top three floors of the four-storey building at No. 1, The Plaza, the latest development of Admiral Park in St Peter Port.
Having enjoyed significant growth in recent years, Julius Baer required a larger premises to accommodate its circa-150-strong team. In February, the team were greeted with a welcome pack including branded environmentally friendly products, a cookbook from local charity GROW, and a pre-loaded 'puffin pass' for use on Guernsey Buses.

The new office was designed to provide staff with a modern workplace that enhances their wellbeing; the office has breakout areas to encourage collaboration, self-contained pods for focused working, and sit-stand desks for physical comfort. There is also a state-of-the-art gym for staff to use and a staff hub which is light, modern and welcoming; it has quickly become one of the favourite spaces in the new office.
Stephen Burt, Julius Baer Guernsey's Branch Manager, said that lessons learned during the pandemic had a big influence on the design of the space. "During Guernsey's lockdowns, it became apparent that our team members can work from different places and in different ways," said Mr Burt. "We wanted to translate some of that flexibility into the office environment and encourage colleagues to work in a way where they feel happy and productive.
"That might mean taking your laptop away from your desk into a quiet space for a while, working in the staff hub for a change of scenery, or having a team meeting in a board-room setting."
The office is equipped with brand-new desks, chairs, and IT facilities; and Auburn Gardens were appointed to fill planters around the office with greenery and indoor plants, which has been proven to boost mood and purify the air.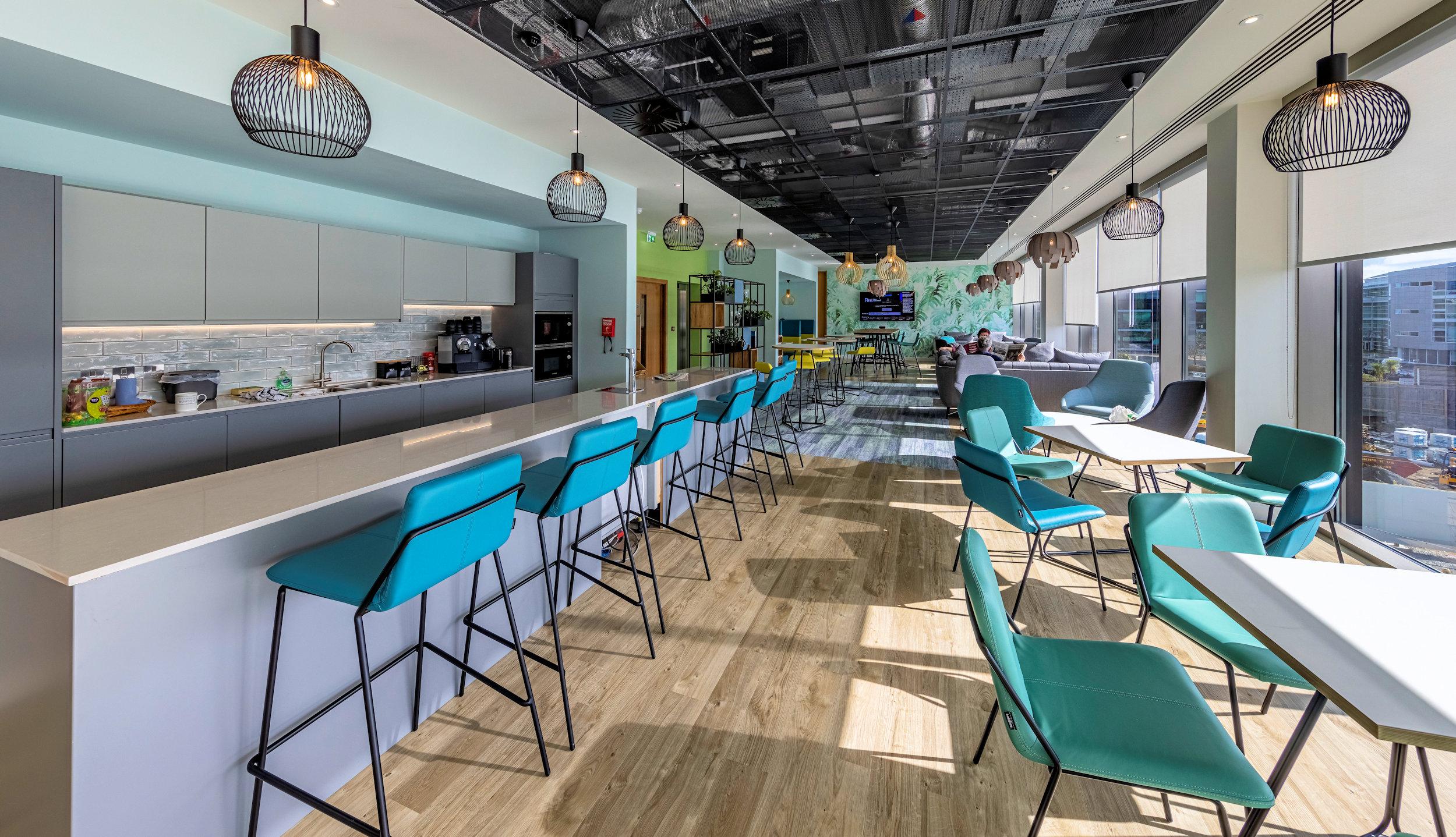 Other 'green' considerations were top of mind throughout the project, as Julius Baer seeks to minimise its local team's impact on the environment. Staff are encouraged to use active travel to get to work – with a large bicycle rack and staff showers provided – and the building itself is measured by the Building Research Establishment's Environmental Assessment Method (BREEAM), which is marketed as the world's leading and most widely used environmental assessment method for buildings.
Clients too will benefit from the new office. "Our client zone is designed to be very similar to other branches of the bank around the world," said Stephen, "so our clients will feel comfortable and familiar when they come to visit us in person. Overall, we've got a modern workplace here which already feels like home. It will be a brilliant location for our growing team here in Guernsey and is a statement of our commitment to the island."
No. 1, The Plaza was built by Comprop using contractor JW Rihoy & Son, with additional works, design and consultancy carried out by a number of sub-contracted and additional parties including C8, Axis Mason, FME and Colin Smith Partnership.