Representatives of Jersey's finance industry recently met with the CEOs of two international organisations at the forefront of inclusive finance to discuss how Jersey can help combat poverty in some of the world's poorest countries.
The three-day visit was organised by Jersey Overseas Aid (JOA) to foster collaboration with industry, align strategic objectives with global sustainable development initiatives, share insights into JOA's financial inclusion work, and to engage in discussions related to Environmental, Social, and Governance (ESG).
During these discussions, a clear and resonant message emerged – Jersey has the expertise and drive to become a sustainable finance centre of excellence.
Minister for International Development, Deputy Carolyn Labey commented: "As the world grapples with the alarming impacts of climate change, a reversal in extreme poverty gains, and a global food crisis, Jersey's role has never been more critical.
"We possess a unique selling proposition (USP) that sets us apart from other jurisdictions. Our nimbleness, legislatory independence, financial and digital expertise, and a robust regulatory environment position us for success. This transition to sustainable finance necessitates collaboration across the public, private, and third sectors, a sentiment strongly underscored by this recent cross-sector engagement."
During their visit to Jersey, Babak Abbaszadeh, President and CEO of the Toronto Leadership Centre, and Sophie Sirtaine, CEO of CGAP, met with the Chief Minister, Minister for International Development, Minister for Social Security, government representatives along with key stakeholders from Jersey Finance, Jersey Funds Association, Sustainable Finance Ambassador Group and the Jersey Financial Services Commission (JFSC).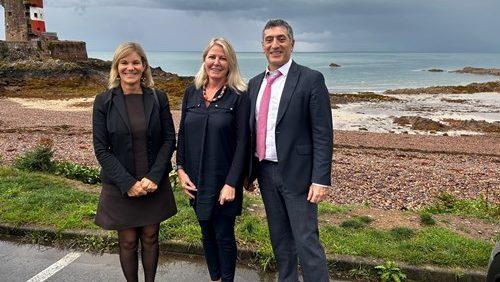 Following the visit, Babak Abbaszadeh, said: "The meetings and engaging discussions with government and industry leaders in Jersey renewed my hope on our collective ability to tackle the most pressing global issues. The knowledge, energy, and generosity of the people of this great island is unparalleled. Jersey is poised to lead on innovative financial solutions to help reduce poverty in developing countries."
Joe Moynihan, CEO, Jersey Finance said: "As a forward-thinking international finance centre, we understand the importance of embedding ESG principles into the heart of what we do, and our sustainable finance strategy, which aims to position Jersey as a leading sustainable finance centre, has set us on a path to do just that. Crucial to staying true to that ambition is collaboration and so we welcome opportunities like this to engage, learn and work together, and maintain the positive momentum that can lead to a brighter and more inclusive future for everyone."
JOA has partnered with Toronto Leadership Centre and CGAP since 2018 and 2019 respectively, with the aim of tackling the root causes of poverty, equipping individuals with the tools and knowledge to prosper and facilitating markets to better serve people who are living in poverty and suffering the catastrophic effects of climate change, conflict and food insecurity.
Access to financial services is widely known to be a critical enabler for 13 of the global sustainable development goals (SDGs). Access to financial products and services like savings, credit, loans and insurance enable people around the world to grow their businesses, offer a buffer during hard times and provide protection during unexpected shocks, such as climate disasters, ill-health or loss of employment. However, access and availability to safe, secure financial services is not universal, and people living in extreme poverty who are most vulnerable to the effects of climate change remain underserved. Women, young people, those living in remote, rural areas, people with disabilities are often excluded from the financial system.
"The future of Jersey's economy and its potential to contribute significantly to Sustainable Development Goals (SDGs) are inextricably linked to our proactive response to the sustainable finance agenda. Cross-sector cooperation and a clearly defined direction are vital to enhancing Jersey's reputation as a leading International Financial Centre (IFC) dedicated to global impact while ensuring our economy's stability. JOA stands ready to play a pivotal role in this transformative journey," added Deputy Labey.
This visit has made it abundantly clear that Jersey is at a key juncture, poised to lead the change urgently needed by both people and the planet. With a well-defined, strategic approach to sustainable finance, Jersey has the potential to attract financial investments and top-tier talent while making a substantial and meaningful contribution to the SDGs.
While in Ghana recently for the 66th Commonwealth Parliamentary Conference (CPC) , hosted by the Parliament of Ghana and the CPA Ghana Branch, Deputy Labey also met with Elsie Addo Awadzi, Second Deputy Governor, Bank of Ghana, who is also a Toronto Centre Commissioner.
---
Pictured: Sophie Sirtaine and Babak Abbaszadeh with the Chief Minister, Deputy Moore, and Minister for International, Development, Deputy Labey.