ArtHouse Jersey has awarded this year's Olive Brown Bursary to the 19 year old musician Charlotte Arthur.
At 19 years old, Charlotte is about to start her second year at Guildhall School of Music and Drama, studying primarily classical saxophone, while also taking lessons in flute, clarinet and jazz. Born in Jersey, the former JCG pupil has always harnessed musical opportunities that have come her way, including attending Wells Cathedral School as a specialist musician during sixth form.
The bursary provides up to £1,000 per year, for up to three years, to assist the study of one performing arts student from Jersey training at higher-education level every year.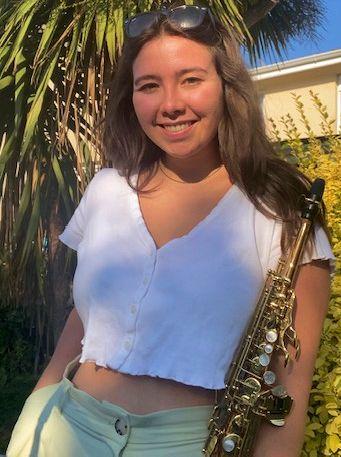 Olive Brown, originally from Salford in Lancashire, lived in the Island from 1959 until her death in 1990, when she left assets in a private will trust to be applied for charitable purposes. Olive and her husband John were known to be devout members of the Salvation Army throughout their lives and also to be very kindly disposed to young people, especially supportive of their creative aspirations.
The Executors of the will trust decided to forward a sum of money to ArtHouse Jersey in the knowledge that its resources and expertise are ideally suited to the fulfilment of her wishes, ensuring her generosity lives on.
Charlotte Arthur said of being awarded: "I am very grateful and proud to be the recipient of the Olive Brown Bursary for Performing Arts 2021- 2024. My journey to this point has been exciting but incredibly challenging.
"I have frequently been told that I should try a more stable job, that I wouldn't make enough money or be successful. But with constant support from my peers and teachers and the generosity of benefactors such as Olive Brown, through ArtHouse Jersey, I have been able to keep growing as a musician, seize all the opportunities that come my way and achieve things that younger me would have never imagined.
"Like the musicians I look up to, I want to help inspire younger students to set their standards to greatness and find a desire and drive for what they do, not only in music, but throughout all the arts."
Director of ArtHouse Jersey Tom Dingle said: "Over the past 13 years we have invested over £40,000 through this bursary, which has supported 14 students in their pursuit of a career in performing arts. For far too many, cost is a barrier to pursuing their dreams and it has been a privilege to be the custodian of these funds and see the difference it has made in highly deserving young people's lives. We are actively seeking new sources of funding to keep these opportunities open and would welcome hearing from any individuals or sponsors who might be in the position to help."