Jersey Reds Women will be able to take part in the 2020-21 rugby season, albeit possibly without playing any competitive matches as a result of the Covid-19 pandemic, thanks to the continued sponsorship of Rossborough Insurance.
The broker has continued its platinum sponsorship, providing considerable funds to develop and ensure equality in women's community rugby.
The 2019-2020 season was the first time that Jersey Reds Women had received substantial investment from a major sponsor and the club's Captain, Lauren Lowe, is delighted that the ladies' team, which has seen its squad grow substantially in the last year, will have the continued support of Rossborough.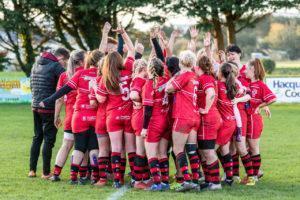 Ms Lowe, said: "We are thrilled to continue our partnership with Rossborough. Their support last year helped to further strengthen the growth of women's rugby on-Island. It means a great deal to the ladies to be backed by such a well-respected, local business with considerable heritage.
"At present we are unable to play competitive games due to the pandemic, but we are looking to undertake community outreach projects and will continue to promote the women's game, you don't have to be playing games to get involved with the sport of rugby. If we can get more women and girls interested in rugby, the health benefits training and playing can bring and the sense of comradery being part of a team brings, we would be happy with the outcome of our season. If social distancing measures allow, we will continue to train and hopefully, at some stage, we may be able to play competitive rugby again, which would be an added bonus."
James Anderson, group managing director of Rossborough, said: "As a community broker that has been serving the Island for more than 80 years, we are absolutely delighted to continue our investment in Jersey Reds Women and community rugby. Encouraging the growth of community and women's sports is of great importance to us. It is more important now than ever, that we engage as many islanders as we can, sport can play an important role in maintaining mental wellbeing. At Rossborough, along with our parent company Gallagher, the official partner of Premiership Rugby, we believe in driving performance through teamwork, integrity and ambition. The women's team and spirit of rugby embody these values."
Jersey Reds Women was established in 2006.
Although no competitive rugby, at grassroots level, is currently permitted by the RFU, the women's team will be competing in a touch rugby competition, which will involve two games taking place over the next wo weekends. Unfortunately, due to physical distancing restrictions spectators are not permitted but updates will be available on the club's Twitter feeds: @jerseyredswomen and @JRFCAthletic