The Government of Jersey and Channel Islands Coop has joined forces with the award winning food waste app and platform Kitche to launch a home food waste campaign across the Island.
This is the first time home food waste has become the focus of a 360 campaign involving Government, retail, food brands and a technology provider.
The partnership will see the free and easy to use Kitche app promoted to residents by the Government of Jersey and the Coop with the aims of increasing awareness of the amount of good food wasted in people's homes to help people reduce avoidable food waste and save money.
The campaign will run for 9 months leading up to the UK-wide Food Waste Action Week in March 2024.
The Kitche app is designed to help families save money and reduce food waste at home. The app offers a 'virtual kitchen' for easily tracking food at home, even when out and about, as well as a digital shopping list. Kitche then sends notifications to remind people to use products before they go off, and suggests recipes to help them do so, as well as tips, hacks and food waste tracking to learn what they waste most and the financial and environmental cost.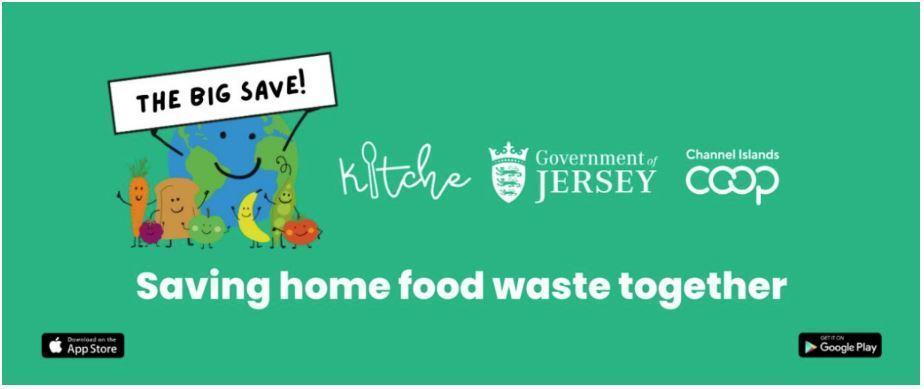 Kitche Co-founder and CEO Alex Vlassopulos says: "Home food waste change won't happen without a holistic approach and we're over the moon that Co-op Channel Islands, The Government of Jersey, local food brands and companies are all going to be driving this campaign together. Change comes from the collective. People are always quite shocked when we tell them about the scale of the home food waste problem, it accounts for 70% of the UK's total food waste.
"In Jersey, the average household bin contains 35% kitchen waste. A few years ago, Lynsey, Co-founder of Kitche and I were having a chat in the park about how much food we were all wasting with young families and having realised there's no solution out there, we decided to make this our mission. Our original aim was to help people live more sustainable lives and save money, but with the worst cost-of-living crisis in a generation upon us we now feel like we're even more of a mission.
"Jersey residents can download the Kitche app and we hope they will find themselves using up more of the food they buy, and saving money at the same time by only buying what they eat. Kitche also tracks how much money, Co2 and water each person saves weekly.
"We're thrilled to be working with the Government of Jersey and such an important retailer like the Coop on a world-famous island for food production. We know we can help people reduce the food waste in their homes and when we team up with such significant partners we know the messaging and campaign is so much stronger."
Jane Burns, Sustainability & Climate Change Engagement Manager, Government of Jersey said: "Reducing the amount of waste we produce is an important part of tackling the climate emergency. Kitchen waste makes up about 35% of household waste that we receive for incineration at the Energy Recovery Facility at La Collette. Kitche is a great app that can help Islanders reduce food waste and save money."
Carl Winn, Head of Sustainability & Community, Channel Island Coop commented: "At the Coop we're committed to making a difference in our community and we saw this partnership with Kitche as a great way to help our customers save money and look after the environment at the same time. So much food goes to waste and while we made the decision last year to remove 'use by or 'display until' dates on a wide range of own-brand products, this partnership will take it a step further. Having the support of an app like Kitche will make it so much easier for our customers to reduce their food waste. It's a very smart platform and we think our customers are going to love using it."