JB's Brewhouse has been named as one of the 'Top 50 Best Burgers in the World' by Big 7 Travel.
The local restaurant, bar and home of microbrewery, Bliss Brew Co. has been listed as 38th in the World's top 50 Best Burgers, making it the 3rd best in the United  Kingdom.
Big7 Travel writes: "We've rounded up the best burgers in the world for 2022 using a ranking system that considers editorial experience, critic reviews, customer feedback, location and accessibility, presentation, value for money and atmosphere."
JB's Brewhouse is part of the BeServed Group, (which also includes The Lido at Havre Des Pas, The Jersey Royal Distillery Company and partial ownership of the Bliss Brewing Company) and is owned and operated by local entrepreneurs Joshua Band and Marcus Calvani (pictured together).
Co-Owner Joshua said: "JB's was born as a result of my career as a professional table tennis player and having a desire to enter the world of Hospitality. Marcus had recently returned from living in the USA and realised that our Island hadn't yet embraced the global trends of craft beer, smokehouse bbq, gourmet burgers, and entertainment casual dining. We merged all these skills and concepts into one, and JB's Brewhouse was born!"
JB's became the second restaurant in Jersey to have some of its food Genuine Jersey certified.
Co-Owner Marcus added: "Since returning to my home Island of Jersey, a focus of mine and our group has been 'Local, Local, Local'. Wherever and whenever possible we use local. We have had the pleasure of working with and getting to know so many amazing producers, farmers and fishermen over the past 7 years. We've tested products, we've pioneered production, we've pushed boundaries and perceptions, we've been insulted about it, laughed at, even threatened about it, over the years, but we've kept going.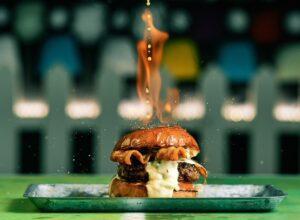 "When you say 'Jersey Beef' now you get a very different response from what you did years ago and I'm absolutely thrilled that our dedication to limiting carbon footprint, utilising what our Island already produces, circular economy, and this amazing product, which previously was viewed as a waste by-product of our dairy industry, has finally been recognised in this International Top 50 list.
"Visitors to our Island and a growing number of locals, want to 'eat local' and this accolade for our entire team showcases what we have always believed, that our Island is blessed with some of the greatest food products on this planet. Aren't we all lucky!"
JB's best selling burger is their 'Dirty Cow' which is topped with smoked streaky bacon, homemade sun-blushed tomato ketchup and a black truffle mac 'n' cheese.
Joshua explained: "Burgers aren't just about cheap fast food for kids, they can become gourmet very easily! We have no boundaries for creativity and among our team, burger specials is a competitive challenge! Truffles, lobster, gold leaf, we've even been known to top a burger with breakfast cereals! It sometimes seems like the more insane the idea, the better it sells! However, we are strict with our recipe testing and make sure that the team think it's 'delicious' before it is ever offered to a customer.
"If you want some casual fun, great drinks and great food, then JB's is for you."
Marcus summed up the achievement: "This World's Top 50 listing is for all of us, it's payback for all the hard work, an achievement for pushing the boundaries and dedication to local produce, and a recognition for our Island as being a destination where not only locals and visitors can genuinely 'eat local', but that 'local' can be one of the 50 best in the World!"