This year's Guernsey IoD Convention focused on how businesses can navigate the 'new order' of geopolitical risk, and what changes are needed at board level to ensure they are 'fit for the future'.
Convention attendees heard from Dr Wolfango Piccoli, Co-President and Senior Political Risk Advisor at Teneo, on the many geopolitical issues that businesses are currently facing, including Russia's invasion of Ukraine, the energy crisis and political tensions in the US, China and across Europe.
Given the fast-moving geopolitical landscape, Wolfango stressed the importance of companies regularly tracking and reviewing geopolitical risk, rather than treating this as a stand-alone item to review once a year.
With recent research showing that 42% of directors see geopolitical risk as a key danger to their business (up from 19% last year), this topic is now firmly at the top of many board agendas. However, being alert to these risks is not enough – directors need to know what to do about them. This indicates less confidence in the director community, with 66% of directors revealing that they didn't feel sufficiently prepared to deal with the effects of geopolitical risk.
In order to tackle this issue, the panel session examined some of the changes boards need to make now in order to deal with these geopolitical challenges.
The panel, moderated by Charlotte Sewell, a Strategic Advisor to B.Labs, heard from Glen Tonks, Country CEO at Credit Suisse, Kaya Axelsson, Policy Engagement Fellow at Oxford Net Zero, Martin Bunch, Managing Partner at Bates Wells and Akash Thaker, Youth Board Member at the Good Energy Group PLC.
The panel agreed that the key skills needed for boards include intellectual curiosity, climate literacy, continuous learning and constructive challenge. The panel also identified the importance of humanising business and how introducing youth boards can help make a culture change throughout a business.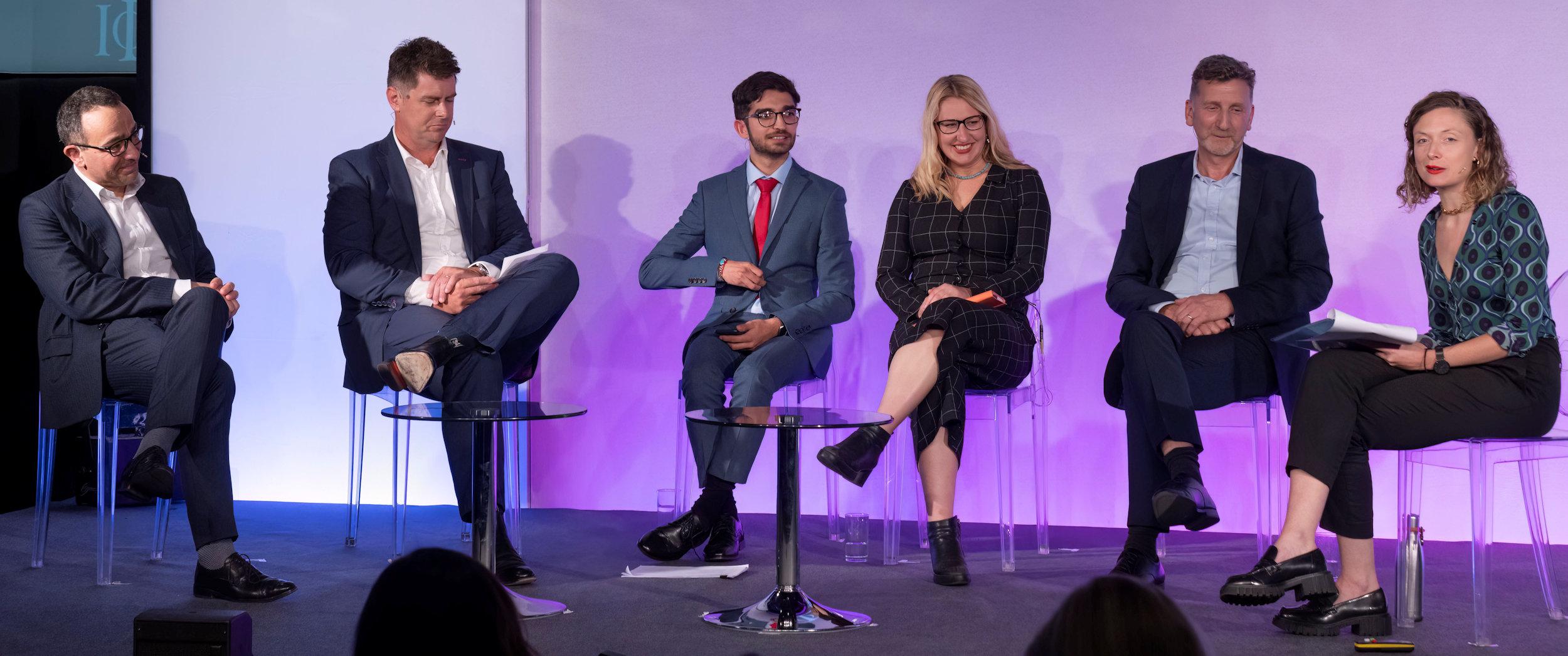 The panel debate also included a segment on the importance of youth engagement at board level, and IoD Chair Wendy Dorey announced the launch of the IoD Guernsey Youth Advisory Panel, which will feed into the IoD Guernsey Branch committee. The scheme is open to all sixth form students in Guernsey, with interviews for this panel due to take place in the coming month.
Wendy (shown in the main picture) said in her closing remarks: "It strikes me that the most important success factors for business, the civil service and deputies over the coming years are collaboration, trust and mutual respect. Collaboration between key States committees will be essential to tackle the big challenges that Guernsey is facing: from the Tax Review to the Population Review, these issues span most, if not all, of the committees. If this States Assembly really wants to be a 'States of action', creating a culture of collaboration and trust, where differences are worked through constructively – and there is a high level of mutual respect – will be the most effective way to get results.
"As the keynote speech and panel discussions highlighted, the importance of good decision-making at board level will be crucial in years to come. I'm delighted to announce IoD Guernsey's Youth Advisory Panel to ensure the voices of Generation Z, and future generations, are heard. I look forward to hearing their perspectives on key issues such as skills, the energy strategy and retaining a younger demographic in the Bailiwick."