This week is International Face Equality week – a campaign that highlights the issues facing people with facial differences and to advocate for a better, fairer world for people who look different.
Local charity, Changing Faces Channel Islands, is taking part in the global campaign for face equality, aiming for people to be treated the same, regardless of how they look.
Jill Clark, Chair told Channel Eye: "Changing Faces Channel Islands is supporting this campaign because we want anyone who might look different, from any cause, to be treated exactly the same as anyone else. Many of the negative experiences faced by someone with a facial disfigurement result from unwitting, well-intentioned awkwardness around difference. Others are outright cases of discrimination. All require a drastic drive for greater education across key sectors and communities who can all help us to make face equality a reality."
As part of the campaign, Face Equality International is launching a series of materials and activities for key audiences to educate the general public, reduce stigma, and champion respect for facial difference. This includes a selfie campaign, a guide for parents and carers to help them discuss facial differences with children and a series of interviews and debates on Facebook about the experiences of those who look different.

Why Face Equality matters
Many of the barriers to equitable access to work, education and fulfilment for someone with a facial difference are largely due to a lack of public understanding, along with limiting societal attitudes, and pervasive stigma.
After over a year of mask-wearing and social restriction, arguably the issue of facial disfigurement is less exposed than ever. Some Channel Islands residents have reported that wearing a mask made them feel less obvious – but as soon as mask wearing stopped their facial difference drew negative attention.
Disfigurement is a globally neglected human rights issue. Experiences for someone with a facial difference might include bullying, staring, intrusive questioning, low self-esteem in the global 'look-perfect' culture, isolation, low expectations in school, problems getting work, discrimination in the workplace, and abuse both on and offline.  All of which is maintained by negative, inadequate representation in the media and public life, which further marginalises the community.

How you can help with the campaign for Face Equality
Download the Destigmatising Facial Difference guide for parents and carers and talk about how it is ok for others to look different. The simple six-page guide is available here.
Join in the social media campaign on Facebook and Instagram and change the trend for 'perfect selfies' @FaceEqualityInt
Join in the educational sessions on Facebook Live throughout the week featuring key voices from the community offering life lessons and practical guidance on issues including representation in books and film, teaching face equality in the classroom, and how to share your story to bring about change. Search @facequalityint on Facebook to view these.

How Changing Faces Channel Islands can help local residents
Changing Faces Channel Islands aim to support anyone with a facial difference.  This includes many tools on the Changing Faces website as well as a local free Skin Camouflage service.
Many people with a visible difference struggle with social anxiety and low confidence, especially as they may experience staring, comments, or unwanted attention. Our specialist Skin Camouflage Service gives people living with a visible difference a choice over their appearance and a sense of control over how they want to look day to day. This can build confidence and self-esteem  so that people feel empowered to lead the lives they want. More information on this free service and how to access it in both Guernsey and Jersey can be found online here.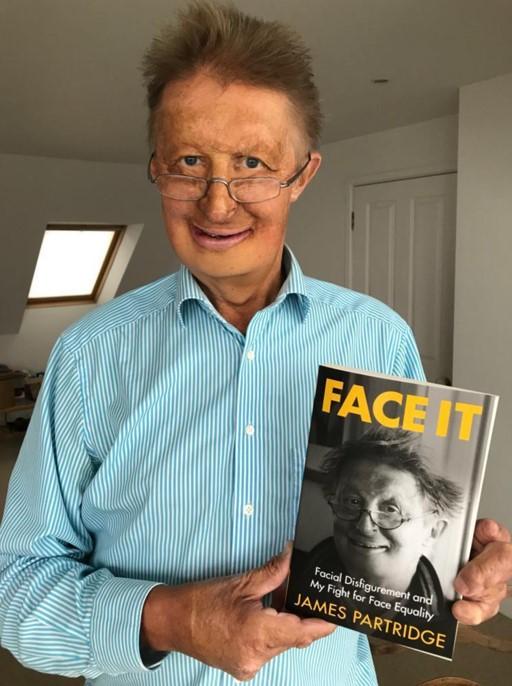 Face Equality International was founded by local resident Dr James Partridge OBE in 2018. In 1992, he wrote his first memoir which reflects upon the lessons learnt after sustaining life-changing burns at the age of 18. James then founded the Charity 'Changing Faces', which took its name from 'the book he wished he could have had to help him through his own recovery'.
Jill explains "It is an honour to be Chairmen of both Changing Faces Channel Islands and Face Equality International.  I met James in 1998 after I was involved in a boat accident near Herm when I was hit in the face by another boat.
"James' advice and complete confidence in his appearance was a huge inspiration to me and helped me enormously as I worked through my facial differences.  We are so grateful for any support from the local community to help fight for face equality".