Non-executive directors should be prepared for personal fines in Jersey very soon under the Jersey Civil Penalties Regime (JCPR) following recent penalties for local businesses.
Since 2018, the Jersey Financial Services Commission (JFSC) has had the authority to impose financial penalties of up to £400,000 on Principal Persons. As yet, no fines have been issued against individuals, however, with global regulators shifting their focus from corporate governance to the responsibilities of the individual, this could be set to change.
Mark Hucker, Director, Club NED and Kendrick Rose, said: "With the next Moneyval visit on the horizon it seems likely that the first fines in Jersey will be in relation to financial crime, especially around money laundering. The fines have been getting bigger for organisations, and in Guernsey, an individual has faced fines too."
At a recent webinar for non-executive directors (NEDs) hosted by Club NED and Board Intelligence, Jersey NEDs were warned about the imminent likelihood of personal fines.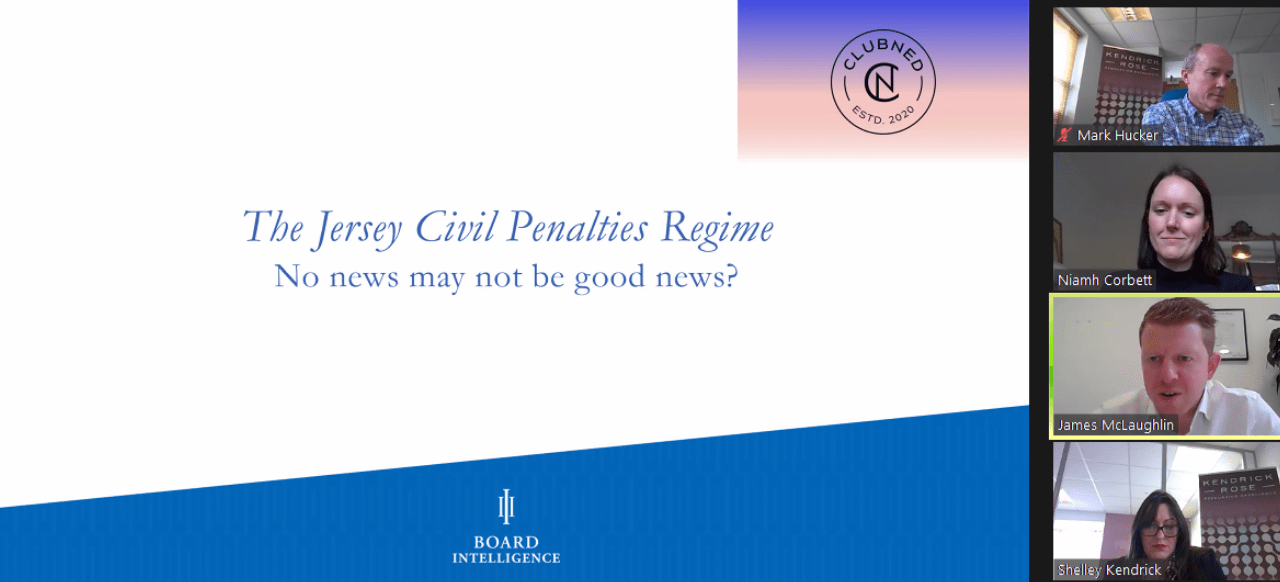 Niamh Corbett, Director, Board Intelligence, said: "The UK Senior Managers Certification Regime (SMCR) has become a global benchmark, with jurisdictions such as Hong Kong, Singapore, and Ireland adopting their versions of the regime. It is seen as one of strictest codes and probably represents a reasonable roadmap for the direction of travel in the offshore world.
"In the UK, companies have been fined, and individuals too, for example, Jes Staley, CEO of Barclays, who was fined £642,000 in 2018 for breaching conduct regulations related to whistle blowing. It is likely individuals may end up coming under similar scrutiny in Jersey and may also end up facing fines".
In recent years, the Financial Conduct Authority (FCA) has issued numerous fines against executive and non-executive directors in the UK, for offences including failure to declare a conflict of interest, and lack of fitness or propriety, with fines ranging from the tens of thousands to over £70 million.
Thinking about resigning now to avoid potential issues? It's probably too late
For NEDs thinking about resigning now to avoid potential issues, it's probably too late.  In the UK, regulators have been clear they can go as far back as necessary when investigating failures by a Board.
Mark added: "Actual or potential issues coming from a failure of systems and control need to be taken just as seriously as a breach itself. It's about the robustness of financial control, not just whether a specific failure has happened. One of the real skills for a Director is in seeing future problems and acting to prevent them becoming a crisis.
"Boards need to recruit Non-Executive Directors from a wider, more diverse talent pool, who bring a valuable and complementary skill set. Those NEDs need to take the regulations and their roles seriously, putting the time into understanding the business and issues, making sure they get the materials they need, and being active in challenging management."