During the Covid 19 pandemic, almost 100 million people across Europe switched from going into the office every day to working from home. This change came almost overnight and many employees quickly noticed the benefits of remote working.
As we move into the post-pandemic world, there has been a strong global demand for more flexible forms of working – particularly those that retain an element of working from home. Today, Jersey-based people and HR services specialist People.je, explores what hybrid working is, what are its benefits, and what to do if you receive a request for flexible working from one of your employees. 
The Covid-19 pandemic made working from home the new way of working. Once employees had started to adapt – had found a suitable place in the house to turn into a makeshift office space and learned to remember to unmute in video calls – the benefits for many became quickly apparent. Employees found that home working gave them freedom from commuting, more time to spend with family and for personal wellbeing, not to mention increased productivity levels.
While some employees would like to work from home permanently, most want what's coming to be regarded as the 'best of both worlds': hybrid working.
Hybrid work is a flexible approach that combines working in an office environment and working from home. Whilst the benefits to the employee are easy to see, it is important to consider how this 'new normal' of hybrid working can also work for employers, and what needs to be put in place so that all parties can reap the benefits.
Why consider hybrid working?
As People.je have discussed in previous articles, retaining and recruiting people has been one of the biggest challenges that employers have faced throughout 2022, and this looks set to continue during 2023.
Employees are looking for companies who offer clear communication and modernised policies. Hybrid working encapsulates this idea; flexibility in the workplace could be the win/win solution.
For sectors that are struggling to find employees, this movement could open the doors to employees who are looking for work/life balance.
According to a recent two-year study from Stanford University, employees who worked from home experienced a productivity boost equivalent to an entire extra workday compared to employees in the office: "Without the demands of commuting and a greater work life balance, employees were able to complete more work and experience greater satisfaction".
Advantages of a Hybrid Work Model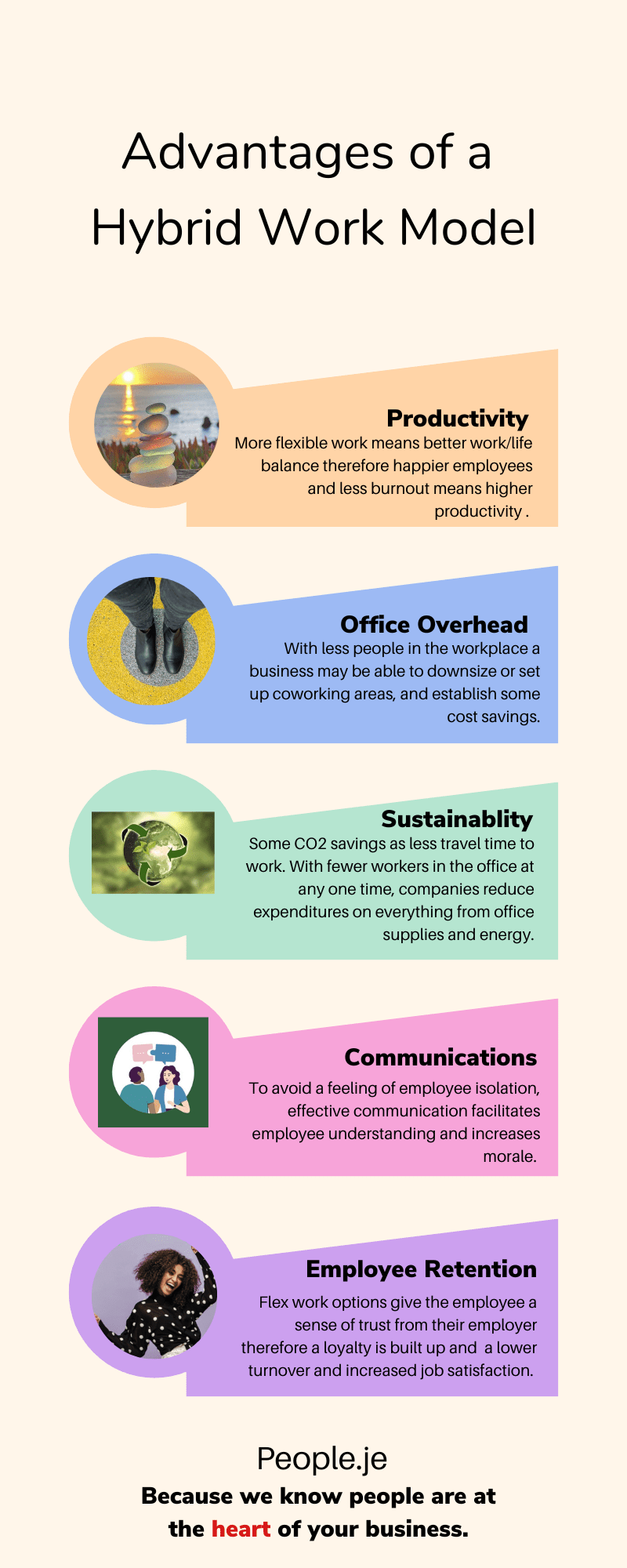 How does it work?
If your business is considering introducing hybrid working, it is important to decide on the requirements and boundaries of this working arrangement. It is important that you have updated working policies and that your employee's are aware of the procedure of a flexible work request.
Sometimes specific days are written into a contract, such as Mondays, Tuesdays and Thursdays spent in the office, Wednesdays and Fridays at home.
In other cases, the entitlement is set out as a formula, such as 60% of time spent in the office and 40% home-based working.
People.je has designed many different options for hybrid working, recognising that arrangements but be tailored to and suit specific business's needs.
Do you have to take your employee's request seriously?
In Jersey, if your employee requests Hybrid working then this request has to be managed as an 'Article 15 request for flexible working'. This imposes strict time limits on you as the employer to meet with the individual, to discuss their requirements and come to a reasoned business decision that is specific to their case.
If the statutory process is not followed, then the Tribunal may make an order for reconsideration of the decision and/or a financial award– so it is imperative to get it right.
The 'future of work' continues to be synonymous with a remote and hybrid workforce so get it right when dealing with employee requests as flexibility appears to be the 'new normal.'

If you would like an informal chat with an advisor at People.je about flexible working procedures in your business, please get in touch.
For more information, contact People.je via:
---
This is a sponsored article.