Kissing under the mistletoe, snuggling in front of the telly in matching plaid PJs – the Christmas season can be lovely for spending time with the one you love. But the reality is not always picture perfect.
Christmas might be billed as a time for togetherness, yet for some people, it evokes a sense of nagging dread. Feelings can seem more elevated and intense and combined with busy social calendars and tapped-out bank accounts, it can be a particularly stressful period for relationships.
Visits to family or friends, work parties, financial pressure, and even Christmas songs can trigger difficult emotions and discomforting feelings. And that's in a normal year: there has been nothing normal about 2020. 
A 2018 study by Relate, the UK's largest provider of relationship support, found that 55% of British adults think Christmas places an added strain on relationships. And sure enough, every January, the organisation receives a spike in calls. 
"Families face a lot of pressure at Christmas time, often, in part by placing high expectations on ourselves and other family members to create the 'perfect Christmas.' This, coupled with financial pressures, mean that some families can reach a tipping point. Many families feel under great financial pressure to buy the latest toys for their children and have a lavish Christmas. We also see some families with low paid jobs getting further into debt, or without the means to buy a Christmas tree or have a special meal.  
"Financial pressure and food insecurity, in particular, can place an enormous pressure on relationships at a time when everyone is expected to be happy and jolly," explained a relationship counsellor for Relate Guernsey. 
"Christmas has become commercialised with the marketing of 'perfect families,' togetherness, generosity and happiness. In contrast, Christmas can be a lonely time even when someone is surrounded by others – they can still feel isolated and any family strains can become more acute."
In January 2020, Relate saw a 39% increase in calls and a 31% increase in website visits, and the local branch is expecting to see a similar peak in the new year, especially considering the additional pressure heaped on families during the pandemic. During lockdown, Relate Guernsey saw a sizeable increase in referrals. 
"Covid-19 has added additional pressures this year due to families being separated and family members overseas being very poorly. Covid has also increased financial pressures for some, with some people losing income due to the lockdown, and a lower consumer confidence has caused job insecurity in some industries. 
"Where there is domestic abuse, individuals have had reduced opportunity to reach out and ask for help as their abuser is ever present. The United Nations has called the worldwide increase in domestic abuse as a 'shadow pandemic' alongside Covid-19".
So what do you need to do to avoid becoming a January divorce statistic? If you're aware that things aren't great with your partner, don't leave it until after Christmas to take action. Relate Guernsey recommends that you start thinking about relationship issues now, before the stresses of the festive season tip your relationship into crisis.
If you've recently gone through a divorce or a separation, or you're not living with your children, this can also be a miserable time of year. 
But married, dating, cohabiting, separated, divorced – whatever your situation – Relate Guernsey has offered up some top tips to avoid festive fallouts this Christmas.
Cost of Christmas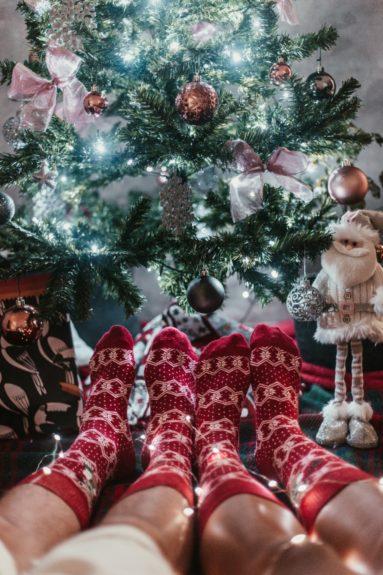 If you're worried about the cost of Christmas you could also set some spending limits for gifts or come up with ideas for presents that don't need to be bought. How about a romantic breakfast in bed, for example. 
State expectations
If you are lucky enough to be spending time with loved ones this Christmas, make sure that you have conversations with your family and friends about everyone's expectations. Have a chat in advance and that way you can deal with any difficult demands and make compromises that suit everyone. We're all guilty of putting things off but springing new ideas on family and friends at the last minute can make them feel left out and frustrated.
It's okay to say no
As well as talking to your family about what they want to happen at Christmas, be honest about what you want to do, too. If you want to turn something down, explain why you don't want to do it, and have a suggestion ready for an alternative. For example, instead of taking on all the cooking, you could suggest a 'bring and share' meal so that everyone takes a share of the work.
Avoid wider family conflict
If you are having guests (in line with Covid guidance), and you're worried they might not get on, plan a walk in the afternoon to break things up a little. This gives everyone the chance to chat to someone different, or even to stay at home if tension is building. Equally, you can always ask a guest to make drinks, or help out with the kids in order to break up any potential conflict. If you know certain people don't get on, speak to them beforehand and explain how important it is to you to have a harmonious day.
Don't expect it to be perfect
We can put way too much pressure on ourselves to have the perfect Christmas, but this kind of expectation can make everything that much more stressful. Try to accept that not everything is going to go 100% right – nor does it need to be.
Separated families planning for Christmas
If you've recently gone through a divorce or a separation, Christmas can be a stressful time of year.
Festive holidays can be really hard for parents not living with their children and it is perfectly normal for non-resident parents to feel jealous, lonely and resentful.
Separated families may feel as though everyone else is enjoying the perfect family festivities, while they feel more isolated and alone than during the rest of the year. To make it as happy a Christmas as you can for the whole family, it is important to think ahead.
So if you haven't yet agreed arrangements about times and days to see the children this Christmas try and do something now.
Things to consider:
Who hosts Christmas day?
Taking it in turns is often a reasonable arrangement. However, children might have their own preferences. For example, they may always want to have Christmas in one place and celebrate Christmas on another day in their other parent's home. Try talking to them to get a feel for what they want but don't put all the pressure on them to choose – they won't be choosing according to their wishes in many cases, but may be worried about hurting someone's feelings.
Christmas gift giving
If the children are old enough to make a Christmas wish list, it's ideal to share this with the non-resident parent. Try not to compete for who buys the best present – it is so hard to keep this up and children usually see right through it. Avoid promises that can't be kept as it can often lead to unnecessary disappointment.
Confirming the plan
Make arrangements well in advance so that everyone can make plans. Consider any travel arrangements. You could suggest an arrangement of alternating the years, so that you get to spend Christmas Day with the children every other year. You could even arrange a 'fake Christmas', when you get to do all the traditional festive things you like to do with your family, just on a different day. This way the children get to celebrate twice.
---
To book an appointment with a Relate counsellor, for Guernsey call 01481 730303 or use the online form at Relate.gg or for Jersey, call 01534 734980 or email at relateappointments@gmail.com