At TGI College of Further Education's recent Apprentice of the Year Awards event, Jack Collenette was named Apprentice of the Year 2022. Jack is undertaking an apprenticeship in culinary skills, working at Moores Hotel – one of eight apprentices currently on the programme.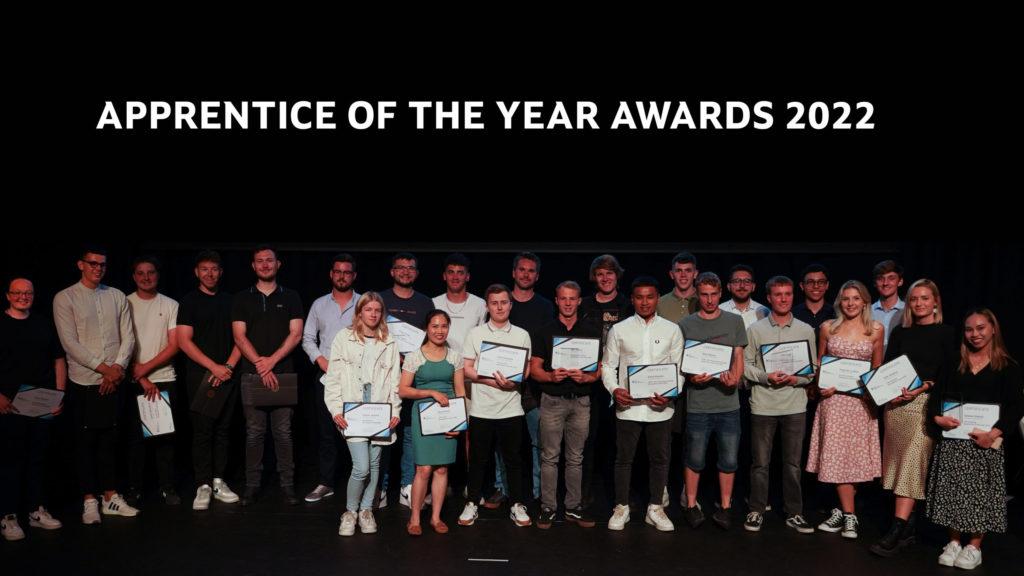 At the annual event, an apprentice from each of the College's range of vocational areas was selected as the Apprentice of the Year for their specific sector and Jack was then chosen as the overall winner. A new award was also introduced this year, given to an apprentice 'for the most distance travelled' – such as overcoming illness, or other such obstacles. This was awarded to Charlene Nelson, a retail skills apprentice working at the Channel  Island Cooperative Society. Other apprentices were given Recognition Awards for individual effort and achievement. All awards were presented by Vice President of the Committee for Education, Sport & Culture, Deputy Bob Murray.
Jack was selected by judges Louise Misselke, Principal, TGI College of Further Education, Simon Le Tocq, Chief Executive, GTA University Centre and Tracey McClean, Head of The Institute of Health & Social Care Studies, for his total commitment and hard work as well as his positive attitude and impeccable work ethic. He has also achieved outstanding grades for his work at College.
Louise said: "The calibre of nominees was such that selecting a winner was extremely difficult. All our nominees demonstrated high levels of technical and vocational expertise. All of them were supported by inspirational testimonials from their employers and the College lecturers. Jack really does go 'above and beyond' and is the epitome of a fantastic apprentice. Congratulations to all of our apprentices who have been recognised for their hard work and achievements this year."
Jack's love of cooking started at a young age and he now writes a regular food blog and has nearly 3,000 followers on Instagram where he posts pictures of his culinary creations. He said: "My love of being in a kitchen started early, baking with my Nan and the joy of making people happy with good food stayed with me and led me in to the hospitality industry. There is nothing more rewarding than seeing the satisfied faces of guests and customers. I have a passion for new flavours and producing amazing plates of food."
"I am absolutely thrilled to win Apprentice of The Year and would like to congratulate all the other nominees who are amazing. It is wonderful to be recognised but I must also say a huge thank you to my colleagues and the team at Moores who have supported and guided me."
In the long term, Jack aims to keep on learning, and improving and eventually he hopes to run his own kitchen one day.
Moores Hotel's HR Manager Davina Mansell said: "Jack has overcome a number of obstacles in the early stages of his career. He is totally dedicated to his craft and committed to the hospitality industry. He constantly strives to further his knowledge and to expand and improve all aspects of his culinary skills and repertoire. During his six years here at Moores, he has worked in all three of the hotel's busy restaurants and has gained valuable experience in many different styles of cooking. He is a real team player – always the first to assist and support his colleagues.  Jack is a great asset to the hotel and has a wonderful career in the hospitality industry ahead of him."
Jacki Hughes, Executive Principal, The Guernsey Institute added:  "Our aim at The Guernsey Institute is to create an inclusive centre for learning.  Apprenticeships will continue to play a key role in our delivery of professional and vocational training. We plan to expand the range of programmes available through the apprenticeship model in the future as we continue to drive progressive change and impact through learning and development. There is a real and growing need for individuals to re-skill and up-skill to support the local business community and apprenticeships will form an important part of that training. Congratulations to Jack and to
all those who received awards."
Vocational area winners:
Liam Croal – Built Environment
Max James – Carpentry & Joinery
Shay Watson – CIOB Site Supervisory Studies
Matthew Stuckey – Electrotechnical Technology
Sasikan Kaeosi – Hairdressing
Tom Sangan – Engineering (Mechanical)
Ethan Tonks – Motor Vehicle
Andrew Willcocks – Horticulture
Leon Collenette – Plumbing Studies
Drew Baudains – Engineering (Welding)
Jack Collenette – Culinary Skills
Charlene Nelson – Retail Skills