A fundraising initiative has been launched to ensure the most vulnerable secondary school children get the nutrition they need.
Did you know…
only 25% of children and young people are getting their five fruits and vegetables a day
as many as 1,000 children may be going without a hot meal each day
15% of adults don't have the skills to cook a meal from scratch
How many of us spend £3.90 on a coffee and a croissant, without really thinking twice about it?  Could you donate just one day, or even a whole week of those breakfasts or lunches, to help Jersey's more vulnerable children have a hot meal at lunchtime, and achieve their full potential at school?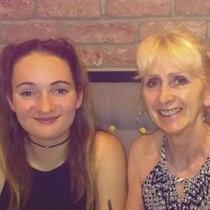 The fundraising is the initiative of Audrey Laurens-Chalmers and her daughter Mollie.
Audrey, the owner of Fit Footwear Central, a shoe shop in St Helier, set-up the crowd-funding page to raise money for food vouchers for vulnerable children in secondary schools in Jersey. These vouchers can be used to buy a nutritious hot or cold lunch, which not all parents can afford to do.
Audrey says: "Feeling hungry can affect behaviour and learning and, with your donation, we will be able to help."
Caring Cooks have launched their 'Flourish' programme in five secondary schools. They are a Jersey charity and registered NPO and were founded in 2014.  They firmly believe that good food and nutrition from birth and throughout a child's life is crucial to successful development, in all areas of their lives.
Working with Haute Vallee, Grainville, Les Quennevais, and Hautlieu secondary schools, the donations will be managed by Caring Cooks, who will work with the schools to ensure the money raised goes to those who are most in need.  This will allow the students who otherwise may not be able to afford a meal at lunchtime, to have a hot meal, or a cold lunch such as a sandwich and a fruit pot.
Yvonne Corbin, Fundraising and Relationships Manager at Caring Cooks of Jersey said: "We are delighted with Audrey and Mollie's fundraising efforts.  Their passion and commitment for what we are doing here at Caring Cooks is heart-warming and we hope that many people will support this extremely important campaign"
Audrey added: "The initial target is enough to pay for 1,282 meals, as we feel that goal is at least a good start."
"Thanks so much for reading and we hope you feel you could give something, no matter how large or small.  Together, we really can make a difference."